From 70 to 80% of products where discounts were on offer, surprisingly, Flipkart was more liberal than Amazon during the reviewed period.
About 30% of the electronic products on Amazon and 19% on Flipkart have sold with no discounts during October. The irony is that October is rated as the month of festivals where these two companies make huge claims about discounts and deals!
According to Actowiz Solutions' research, Flipkart has offered 26.3% discounts on average across the mentioned categories compared to Amazon, which provided merely 10.6% discounts!
And the exciting fact is that Amazon was publicly running its leading sale called 'The Great Indian Festival' for the whole month; Flipkart settled its 'The Big Billion Days Sale' on 10 th October.
The pattern is a bit different from the week-long data reported last month. Through the initial week of this festive season, these companies have provided no extra discounts on 30% of product categories, including pro,
Though Amazon continues to follow this trend, Flipkart looks to be a bit aggressive there.
On the product level, for air conditioners, Flipkart has offered discounts for 84% of products, while Amazon provided that only for 73.1% of products. Laptops have seen a minimum of 87% of the products on Flipkart with discounts, whereas on Amazon, it was merely 76.3%!
After the poor show during the festive season last year, customers' demands for fashion were back in the year, with new platforms and affordable models targeting all Tier II users.
Smart TV fascinatingly had a diverse pattern. Whereas Amazon had 72.1% of products available at discounted pricing, Flipkart had merely 63.7% of smart TVs available at a discount.
Fascinatingly, on Amazon and Flipkart, a minimum of 2.5% and 3.1% of the electronic products had a price hike in this period under reviews, respectively.
Sellers choose the pricing of Amazon products. Their investments in infrastructure and technology have permitted them to save in cost and constantly provide great pricing to customers. Their partnership with sellers, banks, and ecosystem partners helps them add more value using exchange offers, no-cost EMIs, and prompt bank discounts.
Ahmedabad-based web scraping company Actowiz Solutions has made price comparisons with rates shown on 1 st October, the last business day before a sale, and a month-long sales period starting on 3 rd October.
For this analysis, Actowiz Solutions has crawled pages of the electronics category that houses products like cameras, headphones, air- conditioners, laptops, refrigerators, microwave ovens, washing machines, smart watches, and smart televisions. The company has scanned 2,285 Amazon products and 3,131 Flipkart products.
According to professionals, customers have become happy with e-commerce shopping during the pandemic providing it as an added benefit. It helps the marketplaces to avoid massive discounts to store customers. Convenience looks to have taken preference over discounts for most customers shopping online.
Continuous government vigilance has discouraged markets from giving significant discounts on these platforms. In the past few months, the government has been very serious about the business models of these foreign e-commerce companies.
These two e-commerce websites are also experiencing an investigation by the CCI (Competition Commission of India) under the Competition Act Section 3.
As Flipkart and Amazon didn't mention the GMV (Gross Merchandise Value) of the goods sold in the month, both these websites have said that Tier II-III towns have become significant contributors to the sales this festival season.
How Can E-Commerce Discount Data Scraping Help you?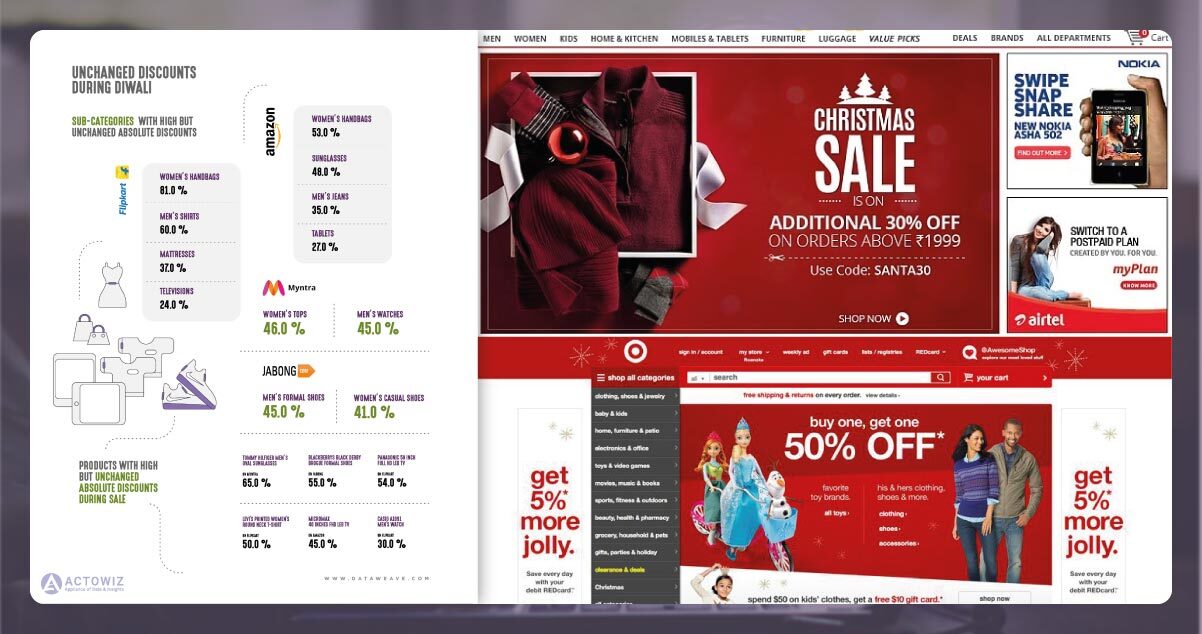 At Actowiz Solutions, our E-Commerce price discount data scraping services help you track products' discounts and prices by comparing them with the competitors' prices and discounts. We help you by providing different services like:
E-commerce Price Automation
E-commerce Price Scraping
E-commerce Price Discount Data Scraping
Research shows that around 61 % of online shoppers make price comparisons before any purchase. Our e-commerce price discount data scraper helps you organize flexible price strategies services as per customers' demands. We extract e-commerce product data with different price optimization methods to increase website traffic. Furthermore, we change the frequency of the time frame to compare different product prices.
For more information about e-commerce price discount data scraping, contact Actowiz Solutions now! You can also reach us for all your mobile app scraping and web scraping services requirements.