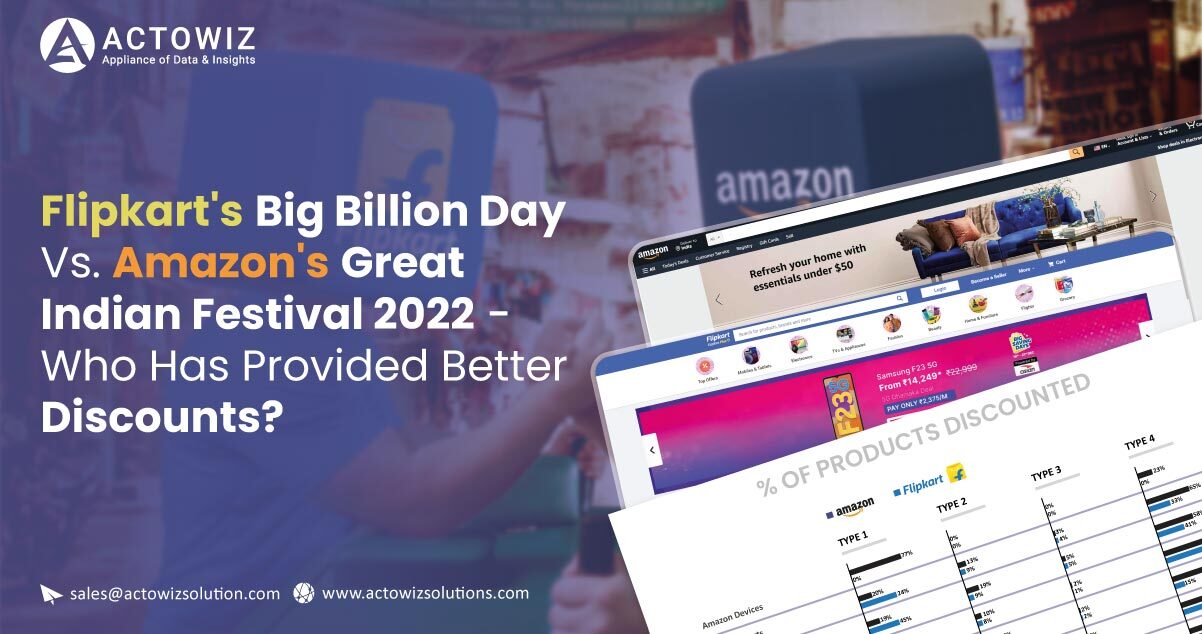 The Great Indian Festival 2022 has finally arrived, overlapping with Flipkarts Big Billion Day Sale. Flipkarts sale came on 16-21 October, whereas Amazons (in India) began on October 17.
It is expected that Amazon and Flipkart will have reached $3.5 billion in sales within only four days! The sales have exceeded all the estimates made for this year. On the final day of the Sale, Flipkart expected to get ten times growth compared to the 2021 Big Billion Day sale. We at Actowiz Solutions have carefully analyzed the discounts offered across common categories to observe if customers got better discounts and deals.
Our Method:
We analyzed the best 500 products in categories like electronics, Fashion – men & women, Amazon devices, personal care, grocery, and baby products. The prices on products across this sale point were related to pre-sale pricing to recognize the discount trends across popular brands and categories.
The Judgement:
We segmented all the products that we were pursuing in the subsequent:
Type 1: These products got either valued similarly or were reduced on sales in comparison to pre-sale
Type 2: These products got either loved again or an observed price increase in sales in comparison to pre-sale
Type 3: These products saw both pricing increase & decrease during the sales in comparison to pre-sale
Type 4: These products whose pricing sustained to be similar even during this sale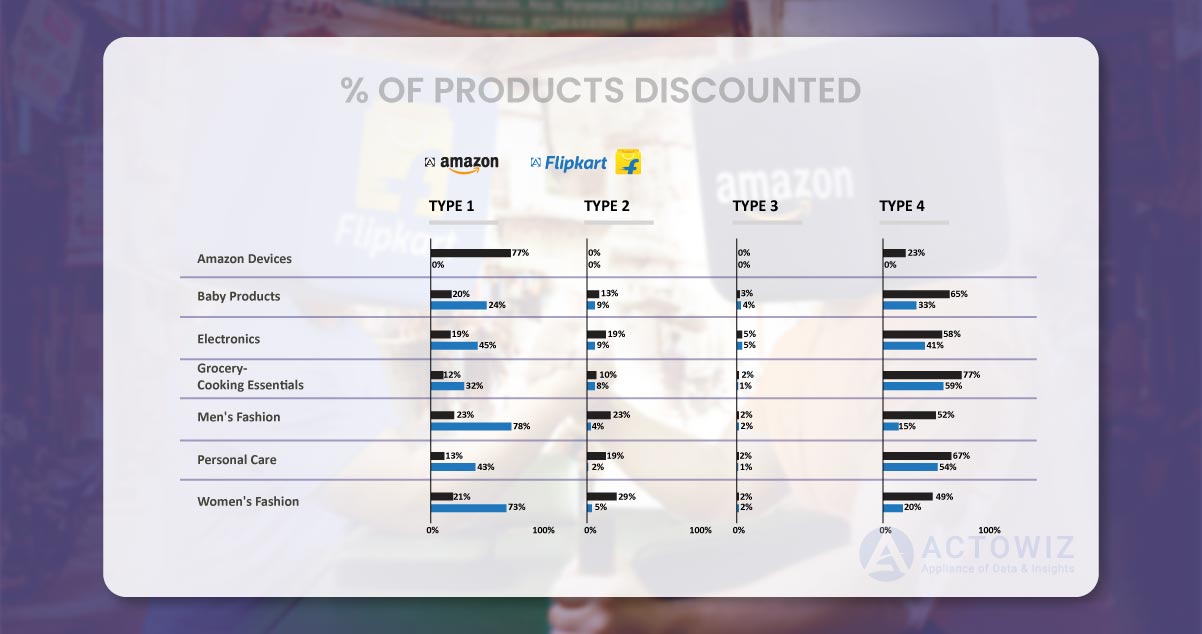 Flipkart offered exceptional deals to its customers for categories we have looked at in the Big Billion Day sale associated with Amazon. Flipkart has reduced 54% of products during this sale, while Amazon offers a 26% discount.
Along with more reduced products, Flipkart has also provided extra discounts compared to Amazon.
Amazon has provided a 13.2% extra discount; most of the average discounting could be accredited to 33.8% discounts on all Amazon devices. This increased the price for 16% of products during this sale period, whereas Flipkart has hiked the prices by 6%. 56% of the products sold on Amazon have continued to be sold at similar prices even during this sale.
Added Discounts for Premium Products
Premium-ness depends on the accurate prices of products before any sale event. It was divided into lower, medium, and higher premium-ness levels, indicating high selling prices.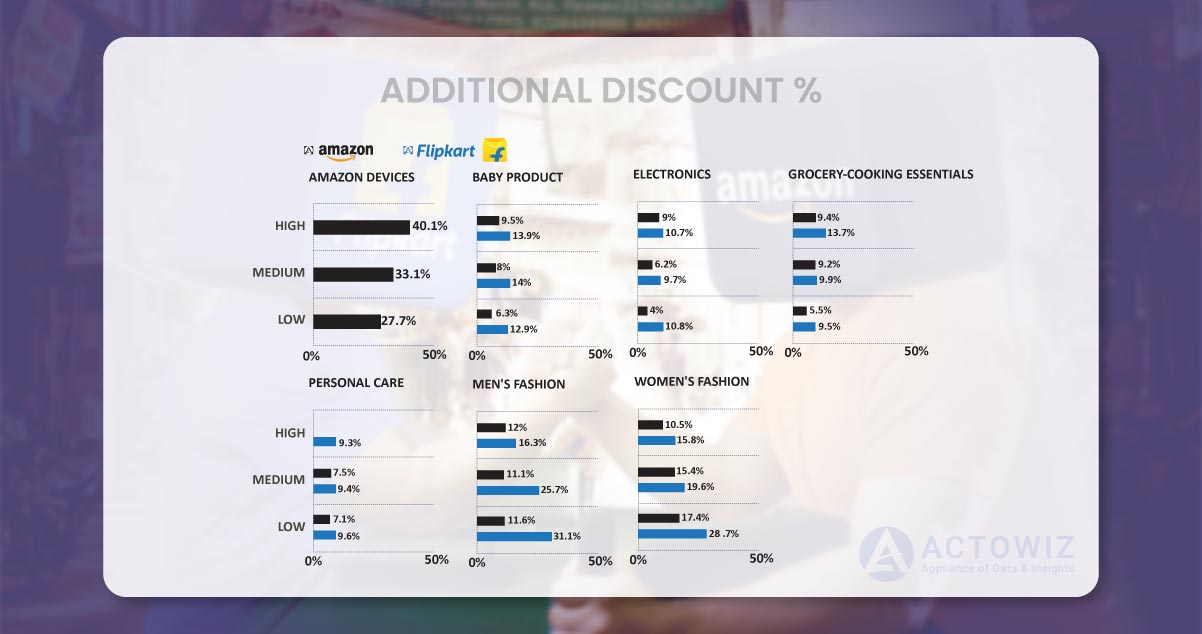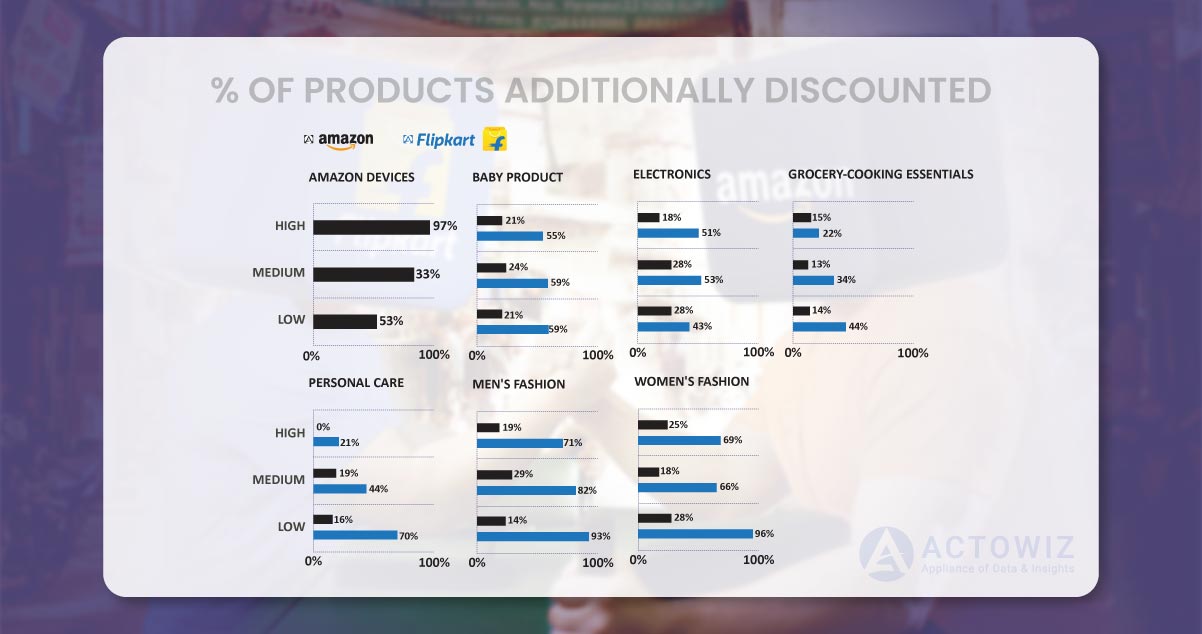 With Amazon devices, grocery-cooking, electronics, and baby products prerequisites, Amazon exhibited a direct association between extra discounts and premium-ness as Flipkart didn't look to follow any particular patterns regarding product premium-ness.
Flipkart provided the highest discount for premium-based products in the Fashion category in comparison to the rest.
Top Brands with Extra Discounts:
We have looked at many famous brands in categories to come at brands sold at maximum discounts. These brands looked a minimum of 20 times in the top 500 rankings we have considered.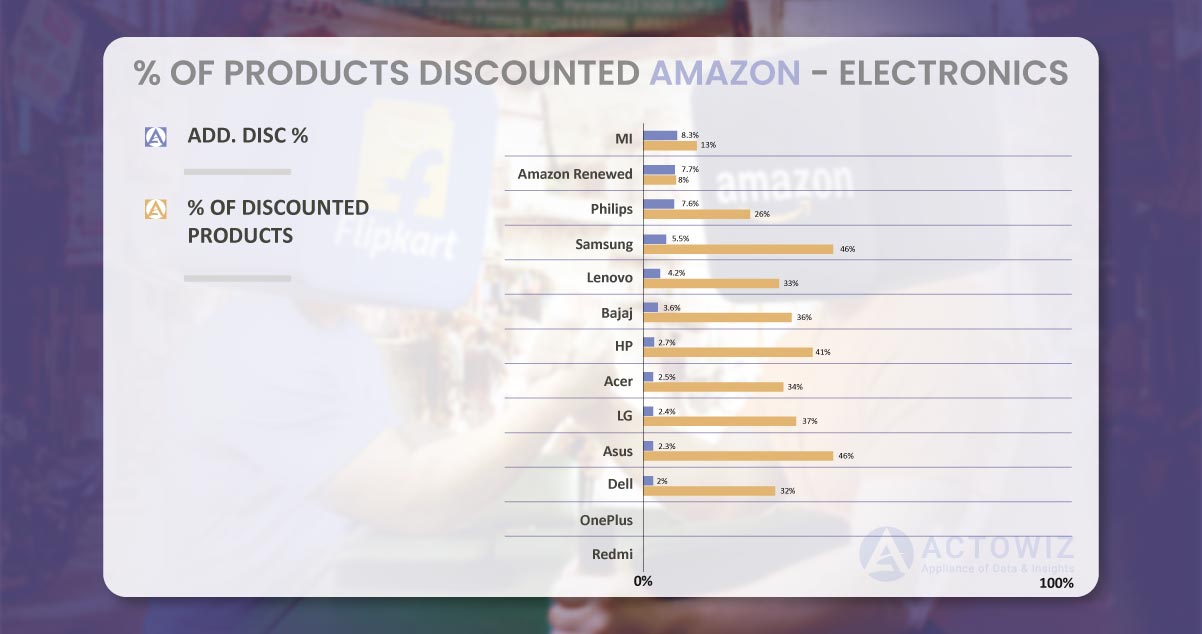 Philips, Samsung, Acer, Bajaj, Asus, and Lenovo, known brands in both Amazon and Flipkart in the electronics segment, were getting sold at a much deeper discount on Flipkart (nearly double) in comparison to Amazon.
A brand called Avita was enormously popular under a sub-category of laptops on Flipkart and was experiential to get a maximum discount during this sale.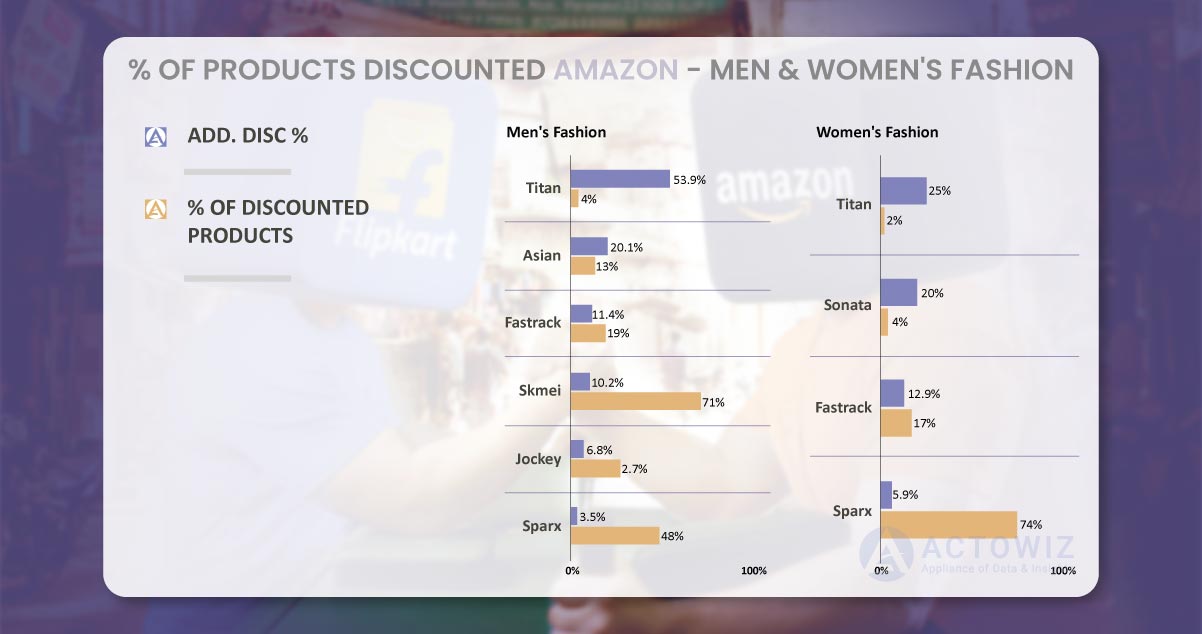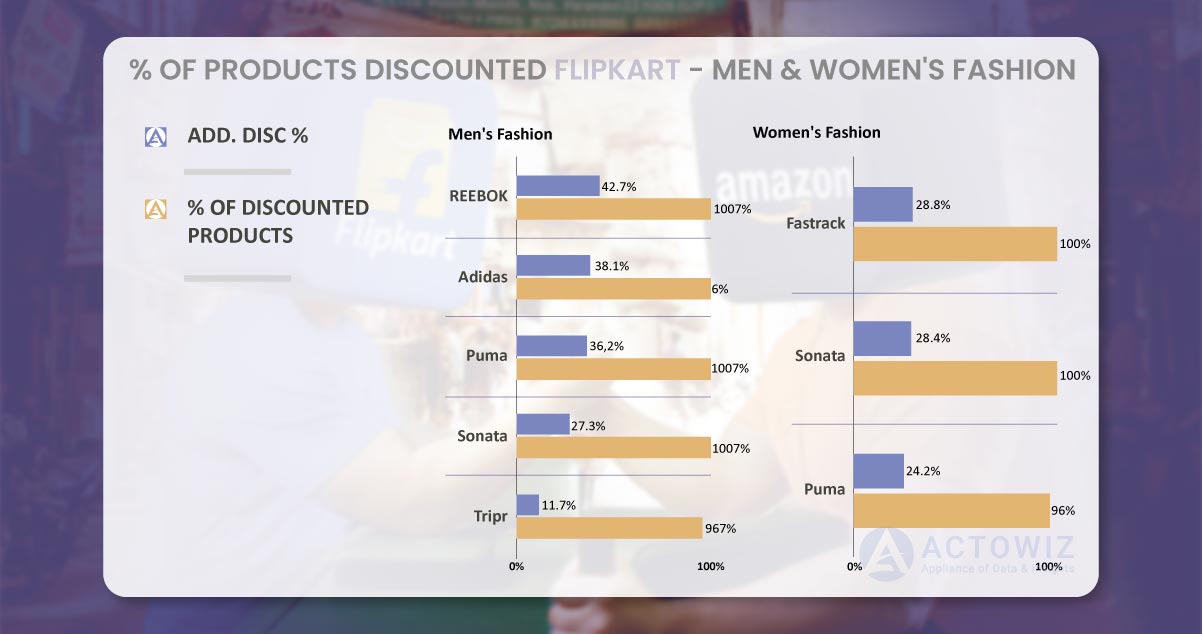 In the Fashion category, Titan was the maximum sold brand, having 53.9% extra discount, but merely 4%, as well as 2% of products, provided discounting in the mens and womens fashion correspondingly. Reebok in mens Fashion and Puma, Sonata, and Fastrack in womens wear on Flipkart with discounts across nearly all products.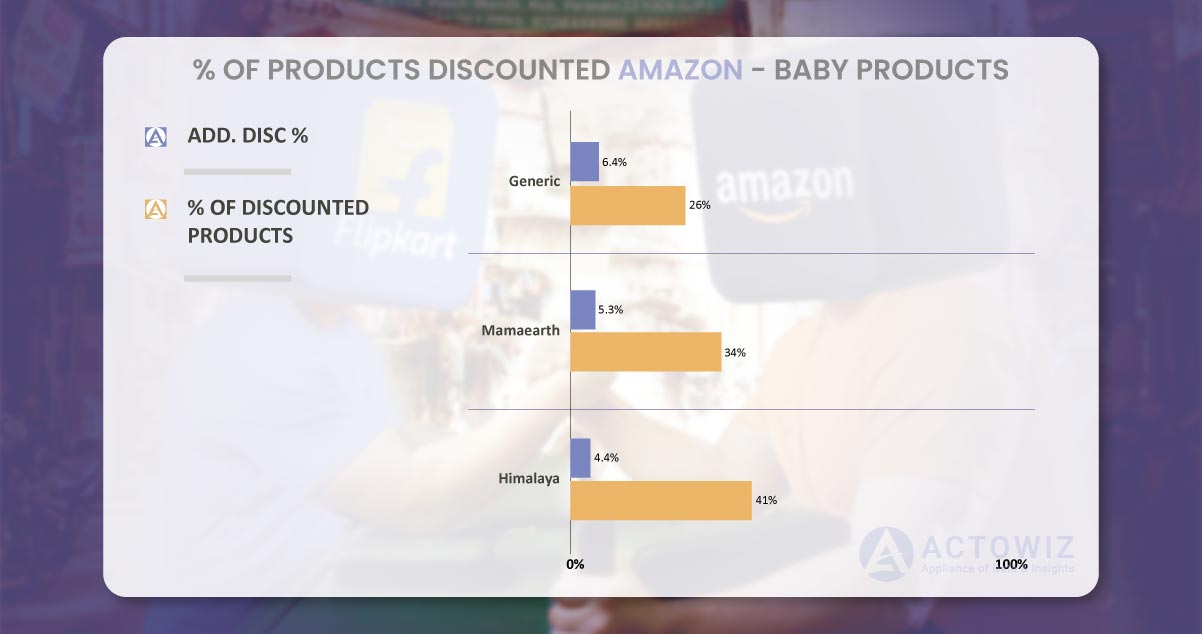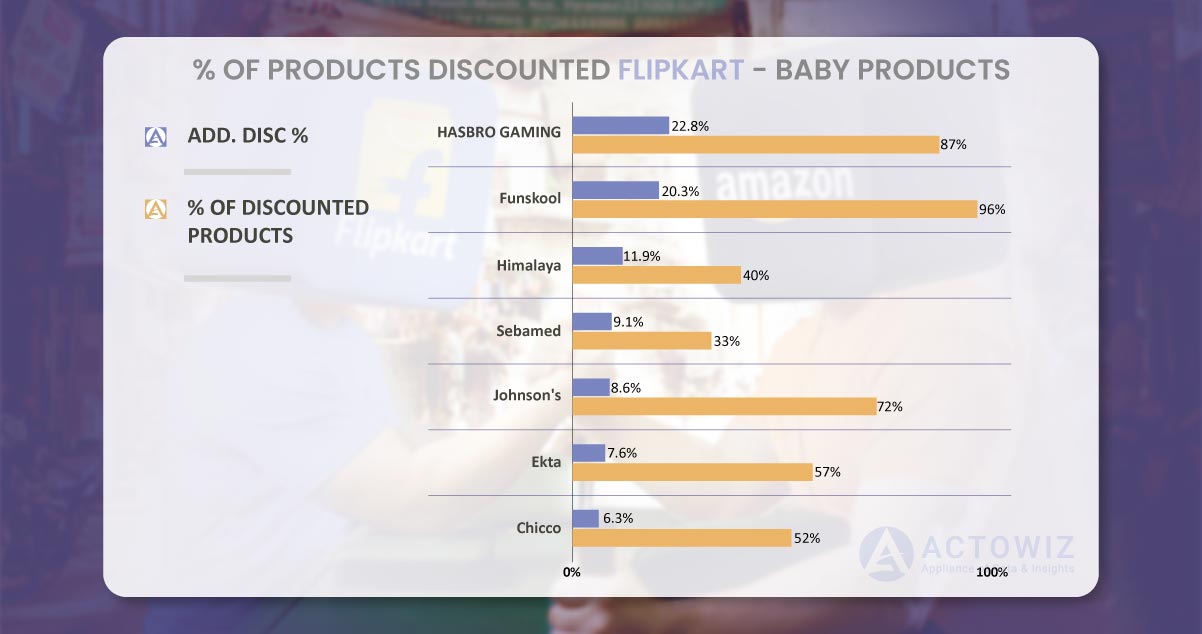 For the BayCare segment, Hasbro gaming at Flipkart had the maximum extra discount, trailed by Funskool. All these brands had over 85% of the products discounted.
Johnsons was shared on Flipkart and Amazon and was provided at a higher discount on Amazon in comparison to Flipkart. Though, 31% of products were cut-rate vs. 72% on Flipkart.
Most Noticeable Brands
We have looked at all top 200 ranks in every sub-category to restrict the most prominent brands across this sale time.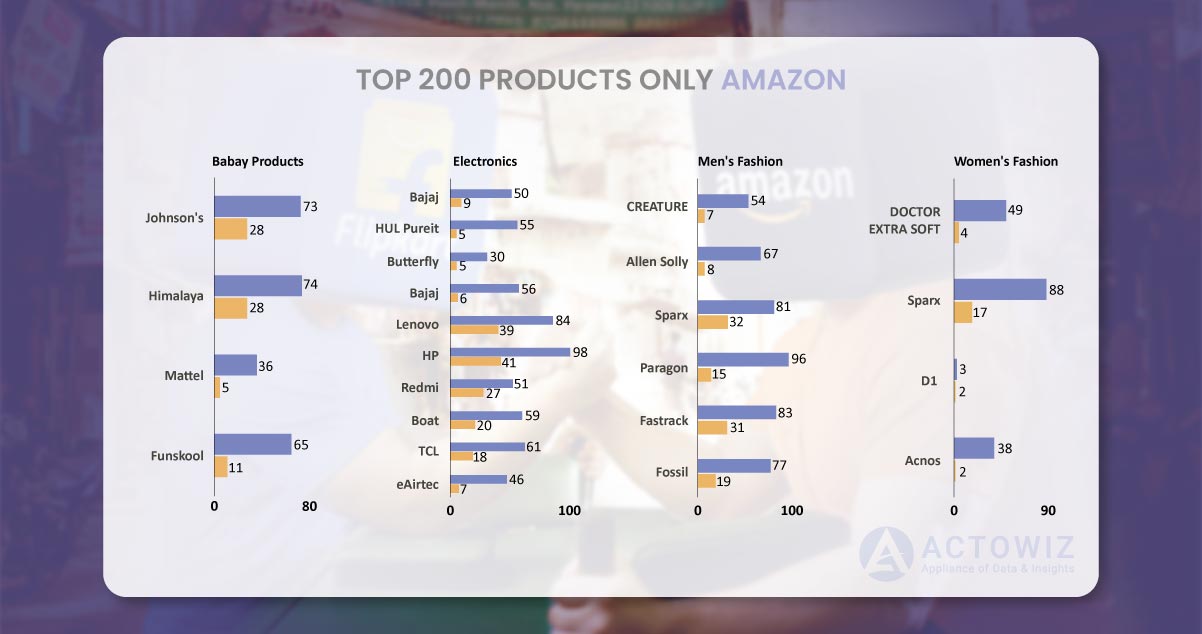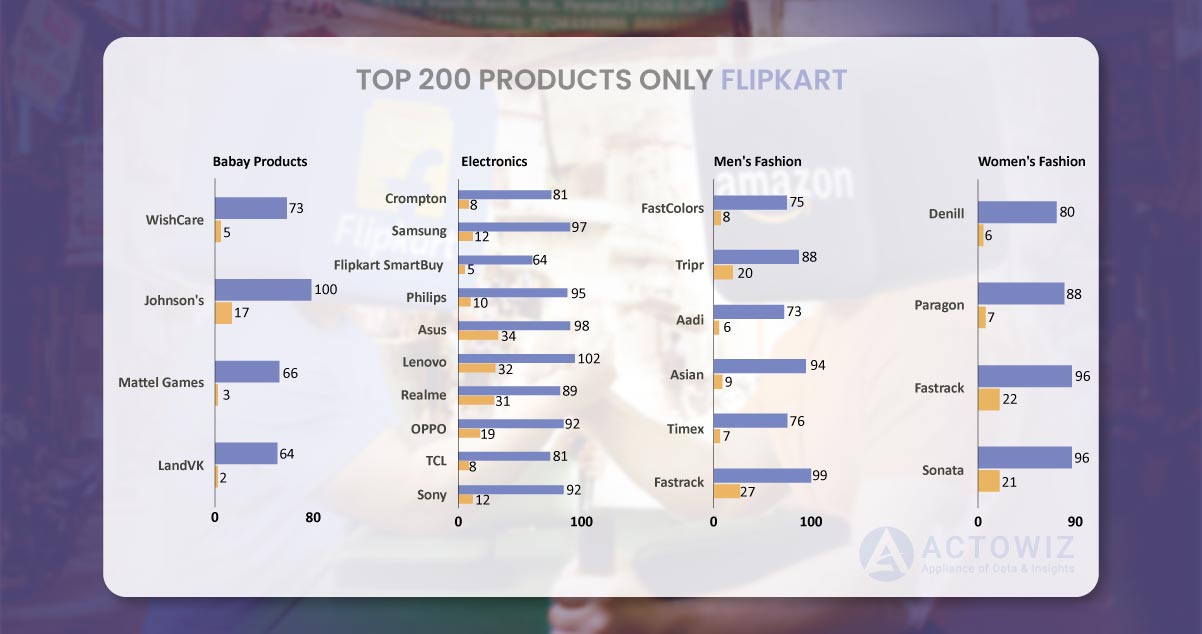 A laptop sub-category had different brands holding most products in all categories and sub-categories. It is detected both in Flipkart and Amazon, in which brands like HP, Asus, and Lenovo have over 33% of the initial 200 products.
Brands like Boat and Redmi on Amazon, OPPO, and Realme on Flipkart dominated the "Mobile" category. All these brands happen at least 24% in the top 200 rankings.
Who was the Winner?
There are different ways to analyze this. To start with, the collective sales of Amazon and Flipkart during this festive time in India reported over 90% of gross sales of the e-commerce industry. This amounts to 55% of year-on-year progress. Digging further, we observe Flipkarts offerings were much more aggressive.
Flipkart reduced 56.8% of different products at an overall discount of 15%. In contrast, Amazon maintained its typical watchful approach to ignoring, having merely 28.4% of products, with available discounts at 12.8%.
As we have observed, there are different ways to see this; what looks to show up from the two players is the customer. In the end, the consumer has purchased more, suggesting that the condition returns to a resemblance of routine. Getting by numbers, Flipkart looks to have won this round undoubtedly.
So, Flipkart has won in sales numbers; however, the real winner is the 'consumer.'