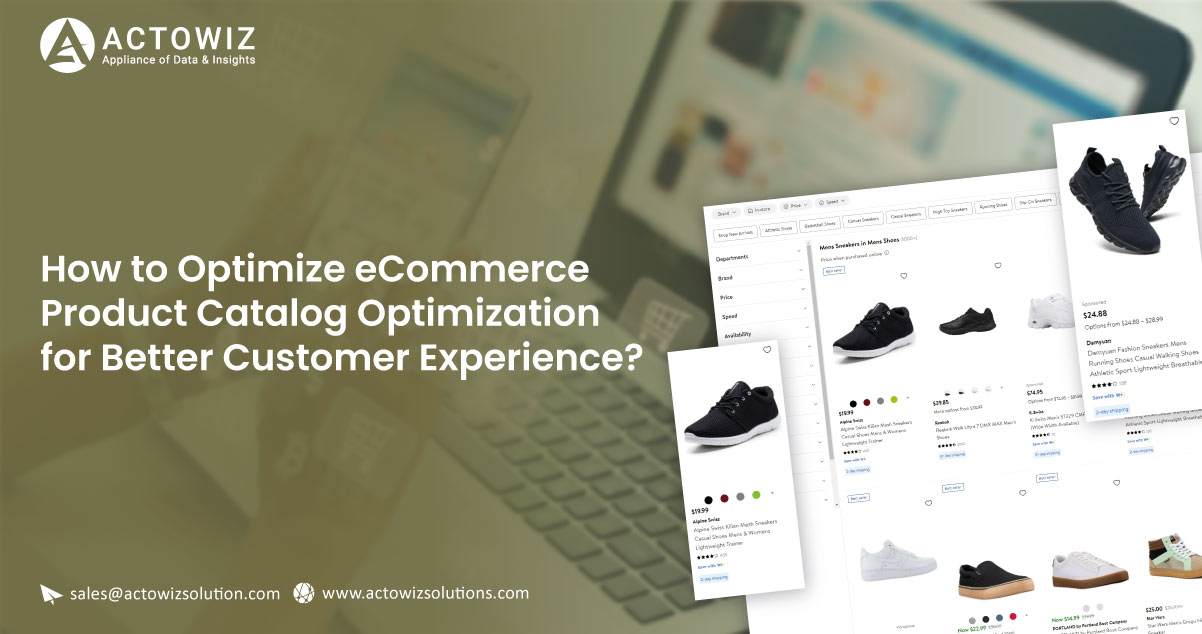 What is Product Catalog Management in E-Commerce?
Product catalog management is a procedure of organizing & managing a catalog of services or products. Being an essential part of any e-commerce business, catalog management includes creating and sustaining product descriptions & setting prices, and organizing inventory levels.
Combining a catalog organization with e-commerce management apps is recognized as e-commerce catalog management. The aim is to represent product data & messaging across different sales channels steadily. This important customer-first sales strategy can 'make or break' suppliers.
Well-optimized product catalogs are essential to improve customer experiences and quick buying decisions. Concentrating on making precise and efficient product descriptions, appealing visuals, and alert interfaces increases the win ratio of catalogs.
Sales in e-commerce are projected to exceed $6.35 trillion by 2027, and 95% of purchases will be done online by the year 2040.
Do you want to grab opportunities the eCommerce industry provides in the 21st century? Are you well-equipped with existing eCommerce product catalogs for better customer experiences and conversion traffic flow into sales?
For different eCommerce players, low conversion and high return rates resulting in poor customer experiences are the main challenges, and not in competition. Stats indicate that merely 2.86% of eCommerce traffic becomes converted, while 30% of the products bought online get returned, making the customers dissatisfied.
An Amazon business performance analysis showed a direct connection between the returns of products bought online and products having poor catalog details, descriptions, and photos.
Can a Well-Optimized Product Catalog Improve Your Customer Experience?
E-commerce product catalog management is essential to effective product identification with quicker product discovery. E-commerce product catalog optimization assists in cross-selling, theme-based bucketing, and up-selling.
Around 69% of the visitors' purchase from eCommerce websites which answer different questions about products, and 9/10 visitors will purchase a product if you have visually represented it well in a catalog. All these numbers explain that quality catalogs improve customer experiences and convert traffic to sales.
Things You Should Know About eCommerce Product Catalog Optimization
Which are the techniques of Product Catalog Optimization?
Product catalog optimization comprises extensive activities associated with analyzing, measuring, prioritizing, modeling, and implementing different actions for better productivity. Product catalog optimization addresses manufacturing problems like slower production lines and long pending work, which is in progress.
What are Different Types of Product Catalog Management?
There are mainly two types of product catalog management - physical and digital. Both types allow businesses to manage and showcase products and allow customers to purchase.
What is E-Commerce Channel Optimization?
E-commerce Channel Optimization is utilizing Analytics, Machine Learning, and Automation to optimize e-commerce channels to win during the purchase moment and drive money-making market growth.
Which Factors Influence the Success of Any E-Commerce Website?
The factors that influence the success of any e-commerce website include:
Brand Name
Customer Services
Easy Check-Out Procedure
Multichannel Marketing
Personalized Buying Experiences
Search Engine Optimization
Store Design
Which are the Important Factors in E-Commerce Website Optimization?
The main important factors to consider while doing E-Commerce Website Optimization include changes in page titles, decreasing page loading speeds, minimizing inadequate user experiences, using the right keywords, and creating well-written content.
What Makes Good Online Catalogues?
You wish customers to go through the page meaning good descriptions and quality photographs. It also means a beautiful page layout, good promotion usage, and space for particular features or products.
Which are Different Kinds of Catalogs?
Different kinds of catalogs include Alphabetical Catalogue, Alphabetic-Classed Catalogue, Book Catalogue, Card Catalogue, Classified Catalogue, Dictionary Catalogue, Machine Readable Catalogue, Microform Catalogue, Printed Catalogues, Sheaf Catalogue, Visible Index
Which are the Steps for Conversion Optimization?
The conversion optimization procedure has four key steps: research, checking, implementation, and study. With these steps, you have to plan a real content strategy to assist people in knowing how to utilize products or market new services.
Why is Cataloguing Important for E-Commerce?
eCommerce Catalog Management is essential to run any online retail business successfully. It helps in distributing precise and comprehensive product details to customers.
How to Optimize eCommerce Product Catalog Optimization for Better Customer Experience?
1. Real-Time Product Data Updates
"Out of Stock" announcements can displease customers and could finish the whole eCommerce business. The complete fulfillment of consumers' demands is a chance for e-retailers, though updating product data in real-time is challenging.
Automated product data updates in real-time assist online sellers in assessing special days in a month/ year at precise times when products have high demand. Using automated systems assists online retailers in acquiring products in advance to avoid out-of-stock positions and get an edge.
2. Standardized Images Matched with Your Brand
Product photos help immensely in selling online. Zoomable product images with HD quality force customers to take a brand seriously. You don't need to spend too much on product photography and can use specialized photo editing service providers. They will edit your product images, make them worth publishing, and helps maintain your brand's reputation.
Consider some aspects of standardizing product photos:
Background Removal
Batch Procedure Corrections
Color Correction
Consistency and Lighting
Image Compression and Sizes
Shadow Manipulation
Straightening and Cropping
Assess the culture of your targeted audience, company, demographics, etc., before starting a photo shoot and editing them. You can use expert eCommerce photo editors for finalizing the styles, tone & viewpoint of product photos. Instagram is an excellent example of uniform looks & feel of product images.
3. Central Product Data Source
Here are a few items that make maintaining product data sources exciting.
9,998 taxing jurisdictions within the USA
Keeping tabs on inventories
Maintain shipping logistics
Matching contract-specific prices for customers
Obedience to product protection guidelines of various counties, states, and countries
Separating product pricing during the eCommerce sale
Suppliers' data, including SKUs
Product Information Management Systems assist in getting and managing centralized product sources. It collects information about all products or items on sale with complimentary products to get sold along.
PIMs are the source for information including:
Product Name
Product Category
Product Description with Pricing
Product SKUs - IDs
Product Sub-Category
Inventory Status
Shipping & Handling
Suppliers & Taxation
Central product source allows you to give a combined product catalog to all eCommerce and sales channels. It makes a brand customer-centric. Consistent, accurate, and compliant product data is essential for making a rewarding customer experience.
4. Accurate & Reliable Product Descriptions
30% of online shoppers have expressed their readiness to purchase from online retailers they had never bought from, in case their catalogs had helpful product descriptions.
When a consumer gets your product very quickly, an informative, accurate, detailed, and constant product description ensures that visitors purchase the specific products they want. Higher quality listings will result in more sales.
3-Steps Product Description Model includes:
Complimentary comments regarding product and customer
Easy and quick recommendations
Highlight product advantages that complement product features
Purchasing products online without touching, feeling, or trying is awkward. Customers can't read the packaging to understand the product. So the product description gives them complete details if they want to purchase a product.
5. Organize Customer's Journey Mapping
All online shoppers these days look for a flawless and personalized experience. They wish their brand to understand more about their options across different touchpoints. They assume an eCommerce platform to help them continue shopping from the point they left– without plugging in past details.
Different customer journey layers include:
Customer journey mapping assists you in predicting expectations, pain points, requirements, and more. You get empowered to understand correctly with the buyers and get clear feedback about the brand.
We are collecting information from customers' journey maps to collect actionable insights and implement them to originate and develop attractive marketing campaigns, high conversion ratios, landing pages, and more.
How Can You Map Your Customer Journey?
An enhanced and connected customer experience comes when you get the right products accessible whenever your customer needs them. Your eCommerce stage should answer all their questions in all the mediums like a call center, e-commerce vs. in-store, online chat environment, or omnichannel.
6. SEO-friendly Digital Catalogs
Making eCommerce catalogs considering SEO makes your items come in Google's top results, brings organic traffic, and provides the best products to customers.
Keywords are the best ammunition, but a suitable catalog structure gives traffic-engaging content for different search engines, precise product data, and falling costs.
Catalog structure systematizes your content per categories, families, subcategories, and tags. This regulates the ease of finding your product on different search engines like Bing and Google, ultimately improving customer experience.
7. Well- Optimized and Mobile-Friendly Catalogs
It doesn't matter how splendid your products are or how attractive you show them online; you will lose sales and get dissatisfied customers if your digital catalog isn't mobile-friendly. The rules & regulations while designing mobile-friendly catalogs are entirely different.
To provide wonderful customer experiences on mobile, an eCommerce platform needs:
Fewer products on every page allow you to get bigger and HD-quality products images
Have extra product information accessible with only a click
Larger fonts to make product data readable without zooming it
Make CTAs start from the background
Use fonts having an optimal display for mobile screens
8. Digital Catalog Accessibilitys
Many readily accessible online tools can assist you in making a suitable catalog brand. However, mere catalog creation is not sufficient. Your catalog has to meet all customer expectations and change visitors into sales and gainful returns.
Confirm that the catalogs you use to create your brand reputation and better revenue are readily available and shareable on social media, emails, media portals, and catalog-sharing websites.
Important catalog customization characteristics include:
Downloadable features
Multi-lingual texts
Link highlights
Single & double-page layout alternatives
Right-to-left orientation
Vital catalog accessibility characteristics include:
Downloadable GIF, PDF, or active flipbook formats
Email-friendly
Embeddable catalogs
Share catalog-like video content
Shareable on different social media platforms
Expert product catalog management service providers make mobile-ready catalogs that are changeable to PDF or other digital formats and are HTML5-compliant.
Conclusion
Improvements in optimizing your catalogs prove to be the main drivers for delivering improved customer experiences and making them evoke your brand. Catalog optimization lets your consumers get quality information; it helps them decide what to purchase and why, improving the overall buying experience.
The retail environment has changed intensely, with increasingly eCommerce consumers searching for variety, convenience, and competitive prices. Customer experience determines which brand will win and which will lose. Product catalog optimization for superior customer experience is crucial to eCommerce businesses' success in today's digital age.
For more information, you can contact the Actowiz team. We offer the best web scraping service and mobile app scraping services worldwide.