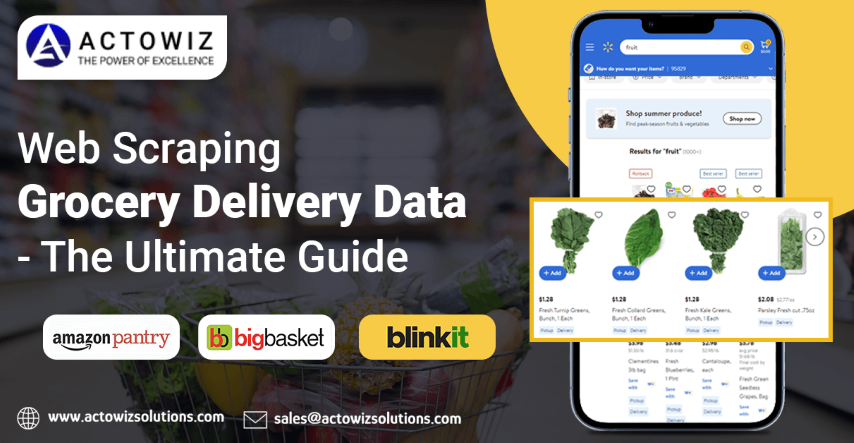 According to the latest report by ResearchAndMarkets.com, the worldwide size of the online grocery market is projected to reach $2,158.53 Billion in 2030, with a CAGR (Compound Annual Growth Rate) of a whopping 25.3% for the duration of 2022-2030!
The ever-changing consumer behavior, increasing preference for contactless shopping, as well as obedience to social distancing norms, with a paradigm shift towards purchasing the latest food & grocery online, predominantly during the outbreak of the Corona Virus pandemic –are a few key factors, which are projected to lead the market growth in the predicted period.
Because of advancements in digital technologies, logistics support, as well as the busiest lives of people, the delivery of online groceries is leaping!
If you need to increase and expand your grocery app services or start a new service, grocery data scraping is a solution, which can assist you inch closer to your business targets.
Why It's Very Important to Extract Grocery Data?
The objective behind each grocery delivery business that uses a data extraction service could be different.
You may target the manageable data fields, or focus on a few that are vital for completing specific business goals.
Let's discuss some reasons:
Analyze Buying Trends of Consumers
As with better logistics delivery, it is easy for customers to order groceries online and get the same at your home.
The manageable interface of widespread platforms, supple payment alternatives, as well as additional discounts are helping the industry grow.
E-commerce opportunities will constantly grow and the retailers will identify their customers better with better shopping alternatives.
Improve Your Pricing Strategy
If your brand is registered on the grocery delivery app, a competitive price strategy should be your primary aim.
Similarly, if you are using any grocery delivery app, the providers and discounts provided by other apps can assist you in making better marketing strategies.
Data Fields You Can Scrape from Different Grocery Delivery Platforms Online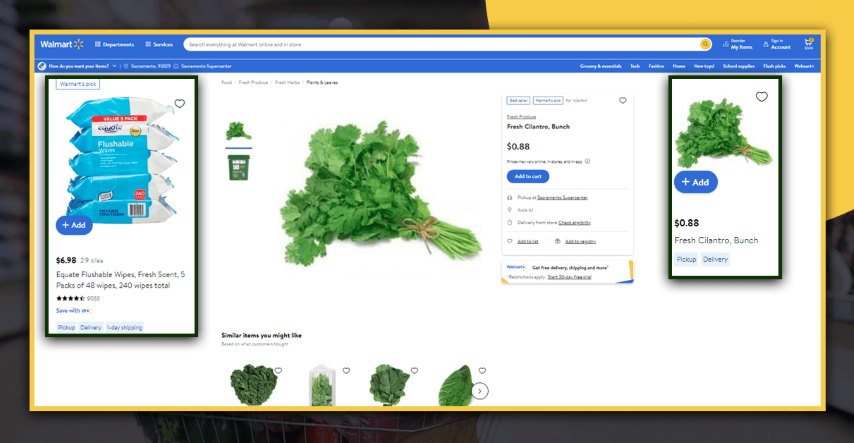 Different fields can be scraped from various online delivery apps. Here are the most common extracted data points:
Store/Grocer's Name
Geo-coordinates
Address
Product's Name
Images
SKU
Categories
Categories
Specifications
Pricing
Best Offers
Discounted Pricing
Available Services
When the data is gathered, it is prepared, and various quality checks are done before offering the data.
All the data are offered in the well-structured format to provide significant insights to associated businesses.
What You Can Do with the Extracted Grocery Data?
Web scraping services could be advantageous to all businesses, which are related to grocery deliveries and selling.
Just because the business is presently booming, this could be an exceptional time for the business to use benefit from trustworthy data scraping services to get an edge!
Let's understand how scraped grocery data might be utilized by different businesses:
Grocery Retailers
If you have an offline grocery business, it's easy to upgrade operations as well as offer customers using online convenience.
Before you list on any well-known grocery delivery platform, it could be helpful if you initially analyze the offering of domestic grocers in the area.
Online Retailers
Being an online retailer providing products in various categories, it's easy to add grocers to get the benefit of the increasing segment.
Because groceries are important, it could be the finest way of increasing sales and producing more revenue.
Also, specific grocers having more brand value will get additional customers and also improve sales of products on offer.
Bulk Grocery Dealers
For any dealer that sells bulk grocery products to the retailers, product insights that are popular among end customers could help you with better offerings
Extracted reviews data can provide detailed data regarding famous product categories in various localities as well as regions, helping you to get additional retailers for wholesale products.
Expanding Your Business
If you want to increase your grocery services to any new region or city, you may want a complete overview about the current grocery data delivery services as well as sellers in that area.
You should think about a customized grocery delivery data extraction solution like Actowiz Solutions as well as utilize location data to assist you to fulfil your requirements and expectations.
How a Customized Grocery Data Scraping Solution Can Help You Collect Grocery Data?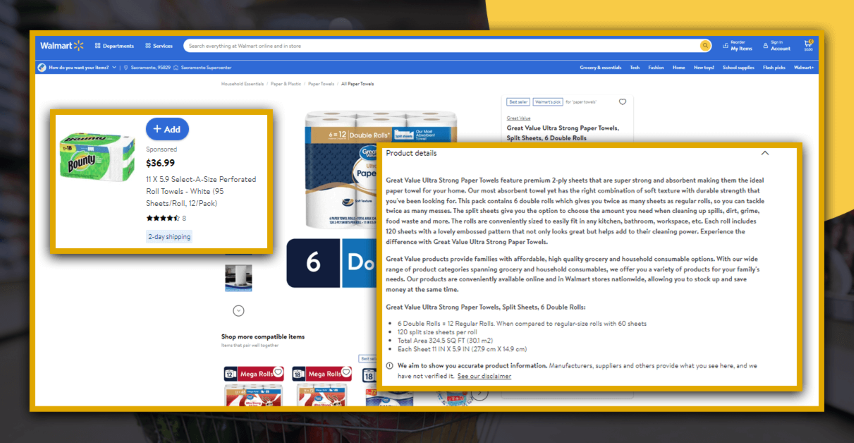 The grocery industry is gradually increasing due to convenience and easy usage.
Grocery data monitoring needs a web extraction service provider, who can consistently collect data as per the schedule.
Data scraping solutions service providers like Actowiz Solutions can provide customized solutions to extract necessary data points to help you begin.
Actowiz Solutions also provide customized website scraping APIs that don't have any API to assist you to get this.
Actowiz Solutions collect publicly accessible data online and it is among the top data scraping providers worldwide.
Region-Wise Grocery Data Scraping
Scraping region-wise grocery and menu data can be a hard job to do, primarily if you don't understand how to deal with that.
Having manual data needs ample resources and sufficient time.
We provide region-wise grocery data extraction to quickly get data and assist you to find files, images, data, etc. utilized in grocery.
By extracting region-wise grocery data, you can easily find extreme data, suitable for you because they have a huge database, which is easily usable.
Actowiz Solutions provides top region-wise grocery data extraction services to scrape location and region-wise menu data.
Grocery Menu Data Scraping from Different Grocery Stores
Extracting grocery menu data in different grocery stores could be a helpful job, mostly if you don't know how to do it.
Use grocery data scraping and avoid tedious work. It's easy to find files, data, images, etc. using grocery data extraction.
Our grocery menu web scraping services can be utilized using various analytics and data specialists for various apps or business needs.
Grocery Menu Pricing Data Scraping with Item Convertors
Online grocery app extraction services help you extract data like grocery name, menu, pricing, i.e., add-ons as well as variants, which are important for all grocery businesses.
You can defend your website IPs from getting blocked and remove identical data, as well as set the pricing menu comparison.
We scrape website images with hidden data too because it is very important for all businesses. Collected data are accurate and you can easily use them for marketing analysis.
Item-Wise Packaging, Delivery Charges, & Discounts Data Scraping
Actowiz Solutions deals with all the imperfect formats well. You could extract data from different available resources in different formats.
If you want data points including text data, prices, reviews, product descriptions, or digital resources like images.
Prices and products change constantly at regular intervals because of normal feature updates or changing prices to become competitive.
You won't lose any updates because you can plan data scraping on a daily, weekly, or monthly basis.
Competitive Prices Intelligence and Scraping Grocery Delivery Apps
Competitive price intelligence helps businesses in using various data insights, which we have found.
An easily used software works for you through recognizing the required data, data extraction from the web, emptying data, merging datasets, perceiving quality controls, as well as providing ready-to-use reports and modified data visualizations for specific business requirements.
With grocery data scraping, we help in growing customer generation values and market reach.
We help in lowering customer acquisition costs and fast-track market growth.
Our quick and easy solutions provide you with important data insights and also upscale your level as per business needs.
Brand Monitoring with Grocery Delivery Data Scraping
The food industry requires brand monitoring to manage the incapability of gathering a great amount of data and take well-informed decisions, incapability of considering customer sentiments, and lack of consistent food quality.
Brand monitoring can help you track the success of competitors in the food delivery business and help you recognize the brand insights.
You can use brand monitoring in the grocery delivery industry to make imaginative content campaigns and policies, optimize campaigns, cooperate with the influencers, provide better customer experiences, and observe product launches.
Actowiz Solutions' brand monitoring service for grocery delivery apps help you trail Engagement, Leads, Conversions, Reach, as well as customer sentiments.
For seamless grocery delivery data scraping solutions, contact Actowiz Solutions now!