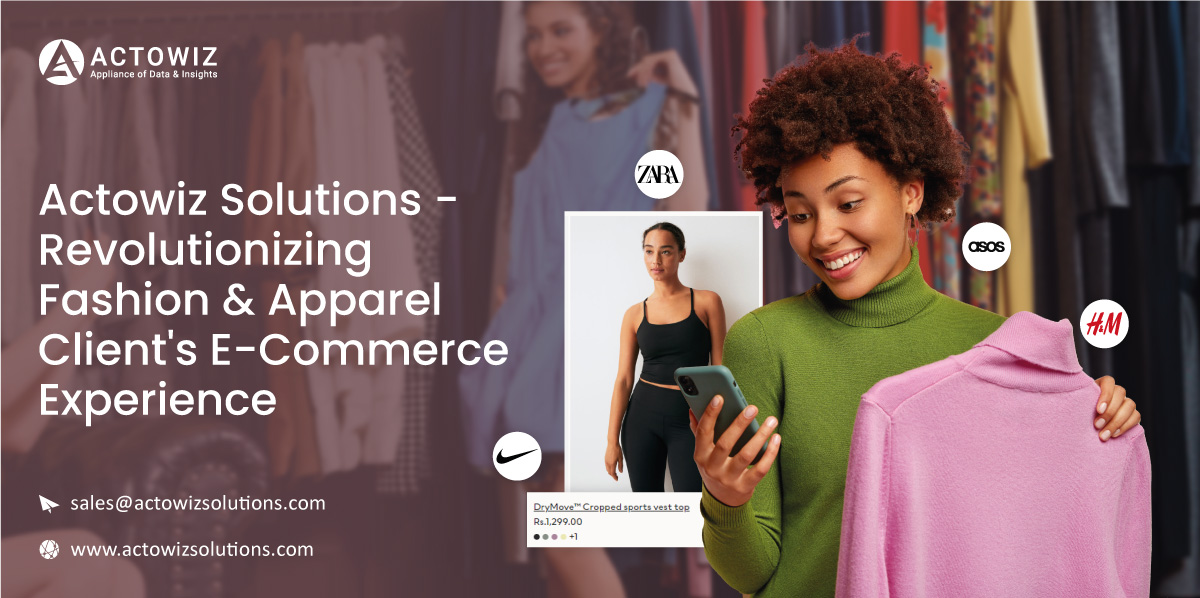 Client Background
Our client, a prominent fashion and apparel brand, has been a significant player in the industry for over a decade. With a strong offline presence, the client expanded into the online market to tap into a broader customer base. However, the client faced numerous challenges while establishing a robust e-commerce platform.
Challenges Faced by the Client
Outdated Website Design: The client's existing website needed to be updated and clunky, leading to a poor user experience and high bounce rates. A visually appealing and intuitive interface would have allowed potential customers to purchase.
Limited Mobile Compatibility: The existing website must be optimized for mobile devices, significantly losing potential customers who prefer to shop on their smartphones and tablets.
Lack of Personalization: The client struggled to provide personalized recommendations to customers based on their preferences, leading to a generic shopping experience that could have engaged visitors more effectively.
Inefficient Inventory Management: The client needed help managing their vast inventory, often resulting in product discrepancies, overselling, and unsatisfied customers.
Inadequate Payment and Security Features: The e-commerce platform needed more secure payment gateways, raising concerns among potential buyers about the safety of their transactions.
Actowiz Solutions' Approach
Actowiz Solutions, a leading technology and digital solutions provider, analyzed the client's challenges comprehensively and proposed a multi-faceted approach to solving them.
Revamped Website Design: Actowiz Solutions researched current fashion and apparel trends, user preferences, and competitor websites to design a modern and visually appealing e-commerce platform. The new design focused on enhancing the user experience, making it more intuitive and engaging for visitors.
Mobile-First Strategy: Actowiz Solutions adopted a mobile-first approach during the website redesign process to ensure a seamless and user-friendly experience for mobile users. This strategy aimed to maximize the client's reach to potential customers who primarily use smartphones and tablets for online shopping.
Implementing Personalization Algorithms: Actowiz Solutions integrated advanced machine learning algorithms to analyze customer data and behavior. By understanding their preferences, the platform could now offer personalized product recommendations, tailored promotions, and customized shopping experiences.
Streamlined Inventory Management: Actowiz Solutions developed a robust inventory management system allowing clients to track, update, and manage their extensive product inventory efficiently. This streamlined process helped prevent overselling and improved overall customer satisfaction.
Enhanced Payment and Security Features: Actowiz Solutions integrated secure and reliable payment gateways, instilling confidence in customers about the safety of their transactions. Additionally, the platform underwent rigorous security testing to ensure data protection and prevent potential breaches.
Results and Impact
Actowiz Solutions' holistic approach and innovative solutions led to remarkable outcomes for the fashion and apparel client:
Improved User Engagement: The revamped website design and mobile-first strategy significantly enhanced user engagement, reducing bounce rates and increasing the average time spent on the website.
Increased Conversion Rates: The personalized product recommendations and tailored promotions boosted conversion rates, as customers felt more connected to the brand.
Efficient Inventory Management: The streamlined inventory management system reduced product discrepancies and overselling, improving overall operational efficiency.
Higher Customer Satisfaction: The secure payment gateways and data protection measures instilled trust in customers, leading to higher customer satisfaction and loyalty.
Business Growth: With the enhanced e-commerce platform, the client experienced substantial business growth, expanding their customer base and increasing online sales revenue.
Conclusion
Actowiz Solutions' comprehensive and innovative approach to revamping the fashion and apparel client's e-commerce platform helped them overcome significant challenges and achieve remarkable success. By combining cutting-edge technology, user-centric design, and personalized experiences, Actowiz Solutions played a pivotal role in revolutionizing the client's online presence, establishing them as a significant player in the competitive fashion and apparel e-commerce world.