The Indian smartwatch industry was esteemed at $1.8 billion in 2022 and is projected to grow over four times by 2028! In the past five years, the Indian smartwatch industry has increased from zero to Rs. 40.8 billion and is projected to continue rising. This creates a wonderful opportunity for the new brands to prove themselves in today's growing market and for current brands to expand their reach with more revenue.
In this given blog, we will study the smartwatch data of the most popular smartwatches we extracted and get the following characteristics of the Indian smartwatch market:
Data Cleansing
Before starting any analysis, we have to clean the data that we have scraped. The extracted data will have incomplete, incorrect, and matching data. Data cleansing or data cleaning is removing inaccurate data to improve the dataset's quality. It is a crucial step; with higher- quality datasets, you will get a more accurate Analysis.
Here, we have used a Python library called Pandas to remove duplicated and insufficient data from the dataset. Primarily, there were 957 datasets; after cleansing data, it became 896 records.
Data Fields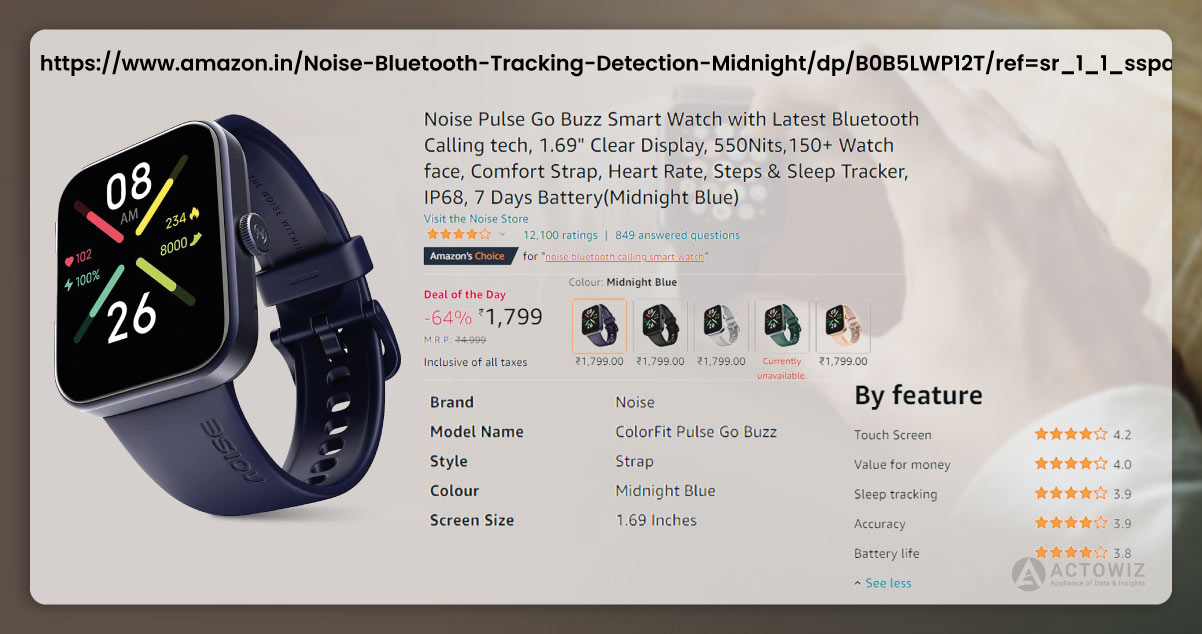 For every smartwatch, the following data fields were scraped:
Product URL: Address of any particular products available online
Product Name: Name of an outcome given on the site
Accelerometer: A sensor used to track heart, sleep, etc.
Battery Life: Amount of time any device works on a single charge
Battery Type: Material from which the battery cells are made
Bluetooth: Used for a wireless connection
Brand: A brand to which a product belongs, for instance, Apple
Description: A short detail about a product
Dial Shape: The shape of a smartwatch face, like a square or a circle
Discount Percentage: A percentage deducted from a product's MRP
Display Resolution: Total pixels available in the display
Display Size: A diagonal length of a display or screen
Display Type: A panel type including AMOLED etc.
GPS: Used for location tracking and navigation purposes
Gyroscope: A sensor used for tracking the motions of a smartwatch
Memory: A product's internal memory
Model Name: A particular product name utilized by a retailer
MRP: A product's Maximum Retail Price
Operating System: A software that supports the general functioning of a smartwatch
Sales Price: The selling price of products after discounts
Speaker: A virtual assistant that provides hands-free and interactive actions
Star Ratings: Overall product ratings
Strap Color: The color of a smartwatch strap-like white, black
Strap Material: Material from which a strap is made
Total Ratings: Total ratings received for a product
Total Reviews: Total reviews got by a product
Wi-Fi: Used for a wireless connection
The Tools We Have Used in This Analysis
We have utilized Pycharm Community which is a Python IDE for analyzing and visualizing the dataset. Pandas, a Python library, was used to analyze and manipulate the data. Matplotlib, another library in Python, was used for visualizing the data. We also used Datawrapper, an online tool, to create charts, maps, and tables.
Analysis and Visualization
By using the tools mentioned above, we have analyzed dataset and planned the given graphs:
Brand-Based Analysis
Product Ranges of Ten Different Brands
A product range can be defined as variations of one product which are parallel yet different. The variations are mainly minor changes in a product, including changes in shape, color, etc. These variations are created to target various customer segments. A product thrives in the market whenever it satisfies the requirements of an extensive section of different customers. So, getting an extensive product range is essential for various brands.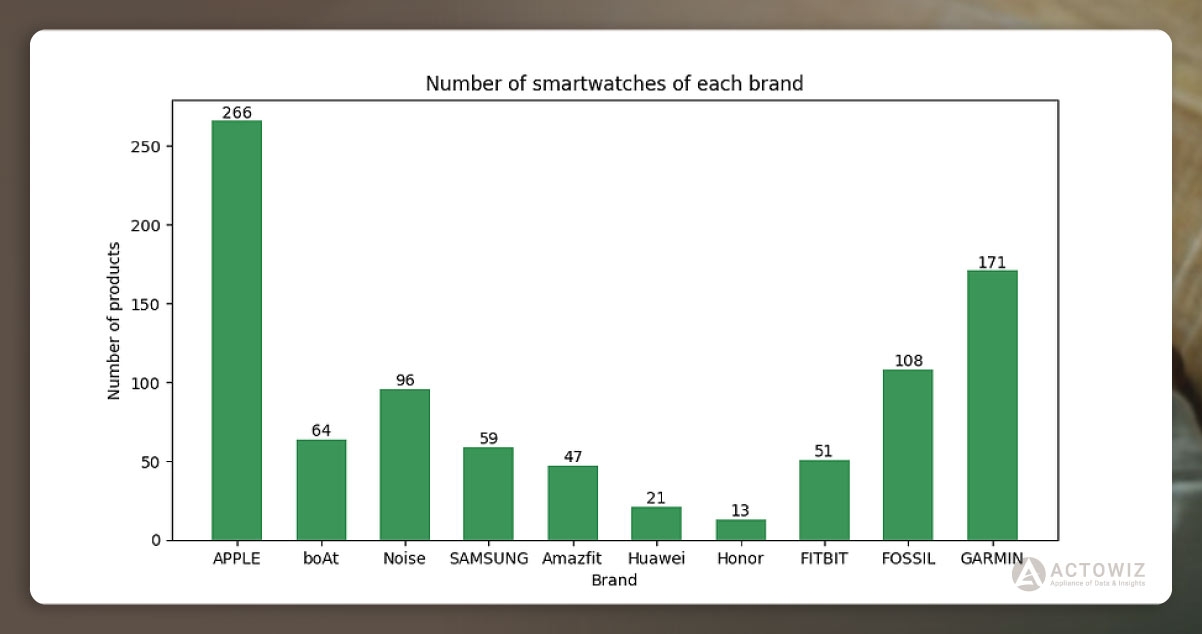 From our product range analysis of ten brands, the given conclusion has resulted:
Apple - the biggest product range with 266 products
Honor - the smallest products range with 13 products
Products Available With & Without Discounts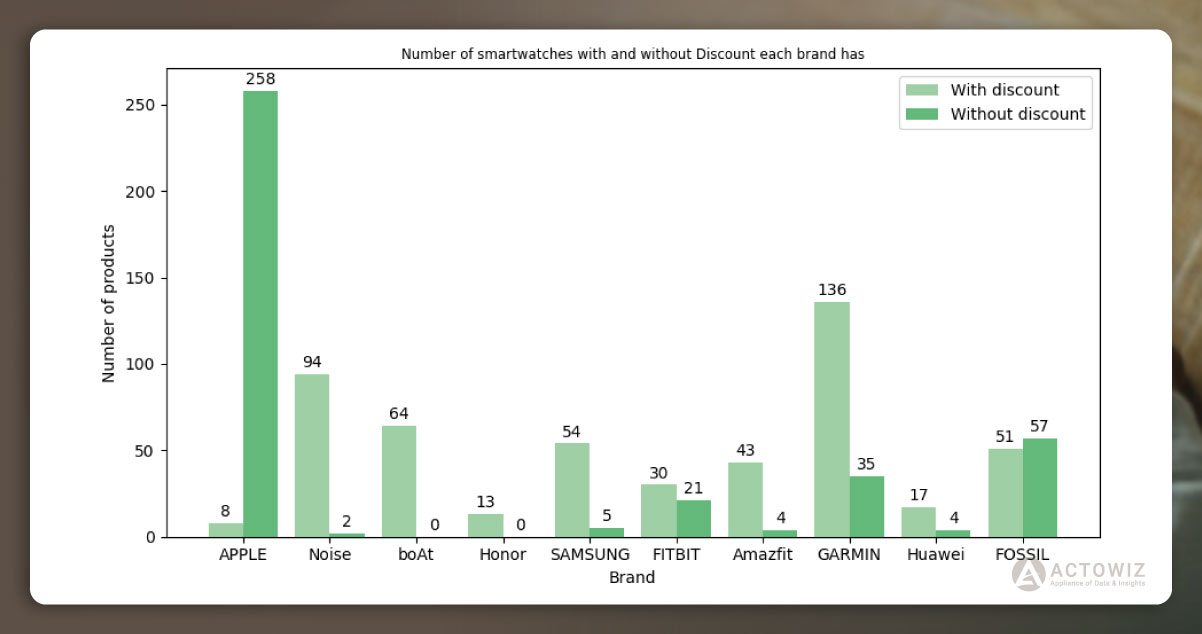 Among the most efficient ways of building customer loyalty is by providing them with special vouchers and discounts. A discounted sale is a wonderful way of drawing customers to products. It brings inactive and new customers and the is that the discounts attracts regular customers and also bring new inactive customers. Customers see a sale as a chance to save money to share this with others.
After doing an Analysis, we have come to the given conclusion from the dataset:
Garmin - maximum products on offer having discount with 136 products
Apple – minimum products on offer having discount with 8 products
Average Discounted Percentage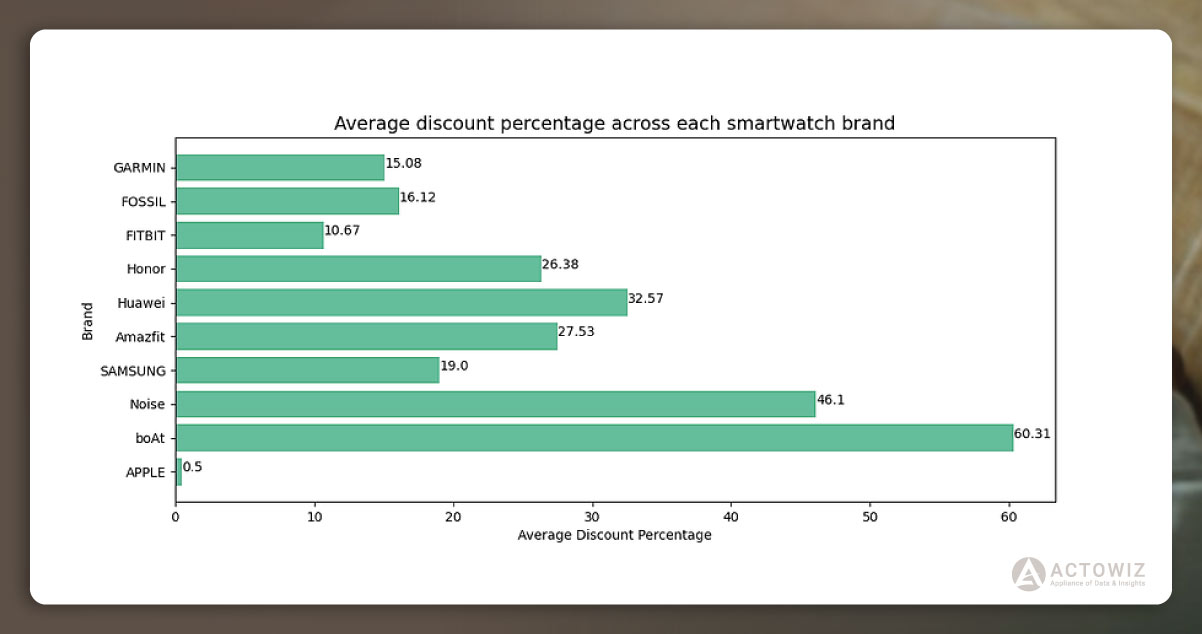 Providing discounts is an excellent way of attracting customers. This can get many benefits like increased sales, inventory clearance, better brand reputation, and more. However, it has a few disadvantages also.
After analyzing the average discount % of various brands, the results are as follows:
boAt - the maximum average discounted percentage with 60.31%
Apple - the lowermost average discounted percentage with 0.5%
Entry & Exit Product Prices for Every Brand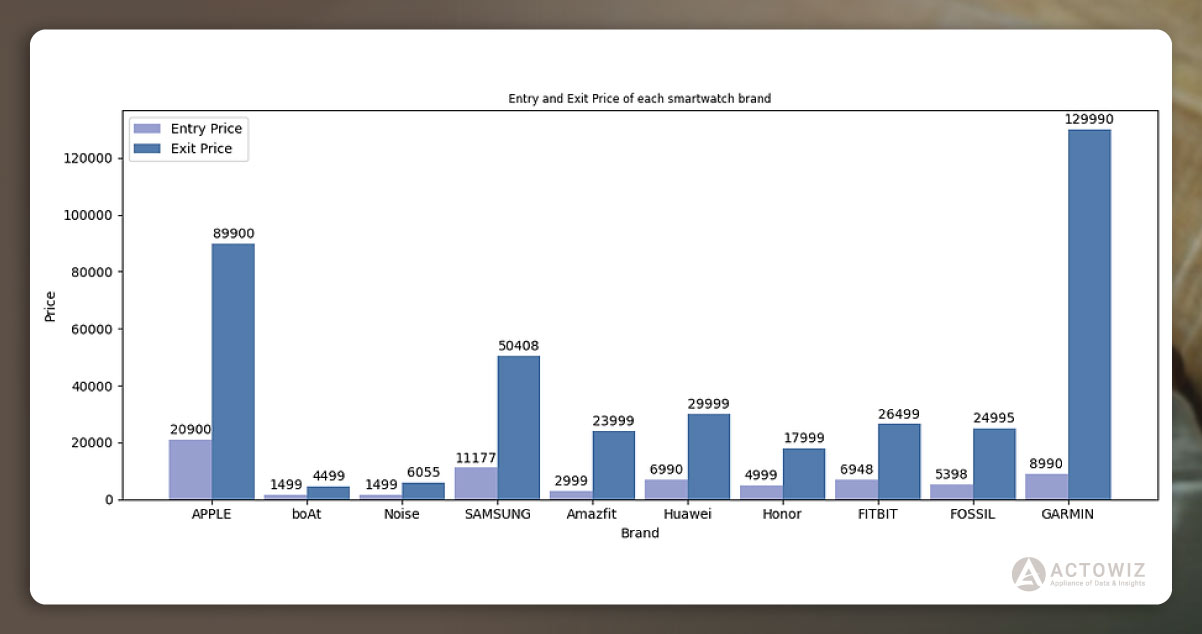 A brand's entry pricing is a product price with the minimum cost in a brand. Correspondingly, the exit pricing of the brand is a product price having the highest brand price. It provides a price range where a brand sells products. Maintaining the pricing range is an additional essential factor in the business, as too high or too low a price would kill customers' interest.
We have analyzed the entry & exit product prices of ten brands:
Apple - the highest starting price at Rs 20900
boAt - the lowermost exit pricing at Rs 4499
boAt & Noise - the lowest starting pricing at Rs. 1499
Garmin - the maximum exit pricing at Rs 129990
Average Sales Pricing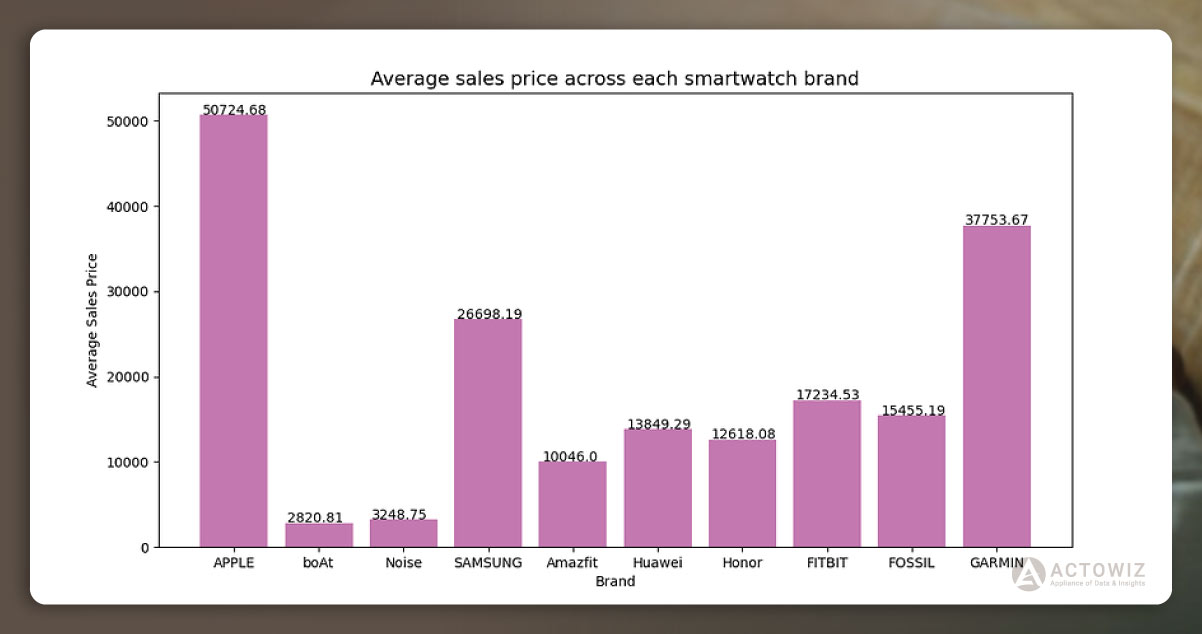 Average sales pricing is the critical performance brand indicator. It offers information on the efficiency of a company's position and sales in the market. An average sales pricing is visible to clients and assists them in comparing brands. Companies use it to regulate what type of price strategy they use.
Our Analysis of the average sales pricing of various brands is given below:
Apple - the highest average sales pricing at Rs 50724.68
boAt - the lowest average sales pricing at Rs 2820.81
Star Ratings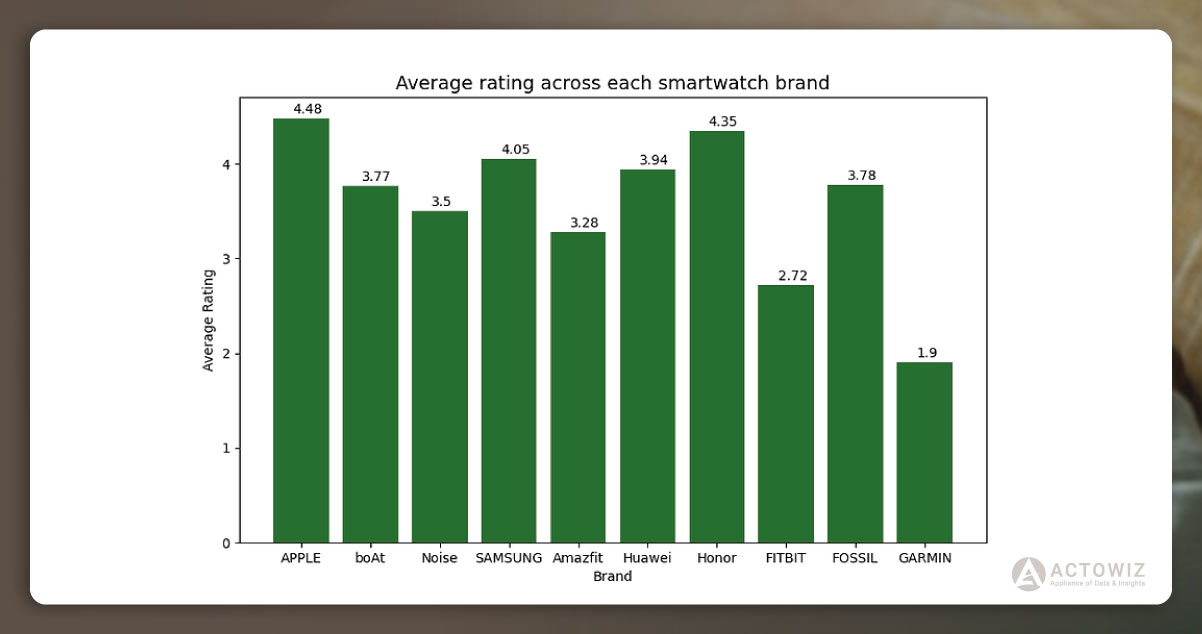 Star ratings or average ratings are the average ratings of the brand on all the products. Usually, ratings of 4+ are preferred by the customers. Customers want to purchase products from other brands that have good star ratings. Therefore, maintaining good star ratings is essential for maintaining a brand name available in the market.
We have analyzed the star ratings of every brand and their visualization:
Apple - the highest star rating of 4.48
Garmin - the lowest star rating of 1.9
Conclusion
In the given blog, we have looked at various factors in a brand's market growth. We have visualized and analyzed the datasets and concluded different points from that. We saw different strategies used by brands for attracting customers as well as how customers have reacted to them. We have analyzed many smartwatch specifications that can increase understanding of different brands to their customers.
If you want to scrape data for your business and get that extra edge, then we can assist! You can reach us for your mobile app scraping and web scraping services requirements. Contact Actowiz Solutions for more details.