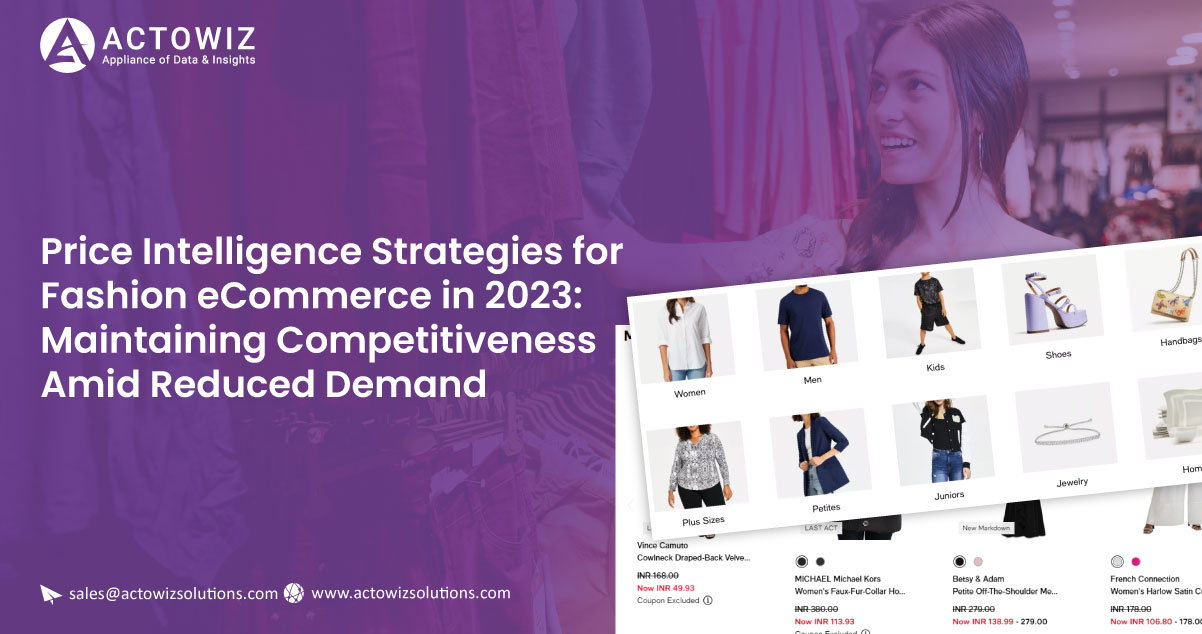 The fashion industry is presently in a phase of stabilization, having recently encountered significant disruptions. Fashion retailers adapt to evolving consumer preferences using ecommerce price intelligence while also grappling with challenges stemming from inflation and lingering supply chain issues from the COVID-19 era.
Inflation's effects have raised concerns about oversupply and dwindling sales, resulting in a disconnection between supply and demand. As consumers curtail their spending due to rising prices, fashion retailers face the challenges of surplus inventory, increased storage expenses, and diminished profit margins.
Consequently, these market dynamics have had a notable impact on the pricing strategies adopted by fashion retailers, leading to dynamic shifts in pricing and competitiveness across various periods, subcategories, and individual retailers.
To mitigate these challenges, fashion retailers should wholeheartedly embrace a data-driven approach, making the most of competitive and market insights. They should implement versatile and adaptable pricing strategies that enable advanced pricing and assortment management. By gaining a deep understanding of their market position and using fashion website data scraping, retailers can effectively navigate the impact of reduced demand and inflationary pressures while safeguarding their revenue and profitability.
At Actowiz Solutions, we harnessed the capabilities of our proprietary data aggregation and ecommerce scraping services to meticulously track and scrutinize the pricing strategies of prominent fashion retailers. This effort allowed us to unearth unique insights into their price competitiveness over the past year and better understand how pricing strategies varied across diverse subcategories.
Our Research Methodology
For this analysis, we conducted a comprehensive study tracking average price fluctuations among leading fashion retailers in the United States over 12 months. The aim was to gain insights into how pricing strategies evolved across various fashion subcategories in response to supply chain challenges, inflationary pressures, seasonal influences, and shifting consumer preferences.
Sample Size: We analyzed over 85,000 SKUs matched across five prominent retailers. Retailers Monitored: Our focus was on Walmart, Target, Amazon, Macy's, and Zappos. Key Subcategories Examined: Our analysis encompassed subcategories like Bottoms, Coats, Boots, Flats, Heels, Denim, Jackets, and Kids' Fashion. Analysis Period: The timeline of our analysis spanned from April 2022 to April 2023.
Our Analysis
While prices have generally been on the rise in several industry sectors, such as groceries, due to inflation, the fashion sector has witnessed a relatively stable pricing landscape, with occasional periods of price reductions. In fact, as of April 2023, average prices are 1.3% lower than in April 2022. This trend can be primarily attributed to consumers exercising caution regarding discretionary spending on fashion, as they prioritize essential needs. This shift in consumer behavior has led to decreased demand and retailer overstocking.
In the first quarter of 2022, clothing accounted for only 3.8% of the total expenditure by US consumers, a decrease from the 4.2% figure observed in 2019 before the pandemic. Furthermore, as of March 2023, approximately 50% of fashion retailers in the US still had surplus inventory, accounting for nearly 18% of their entire stock. In response to the declining demand, fashion retailers initiated various strategies, including offering complimentary items with purchases, bundling products, giving away excess inventory, and implementing price reductions.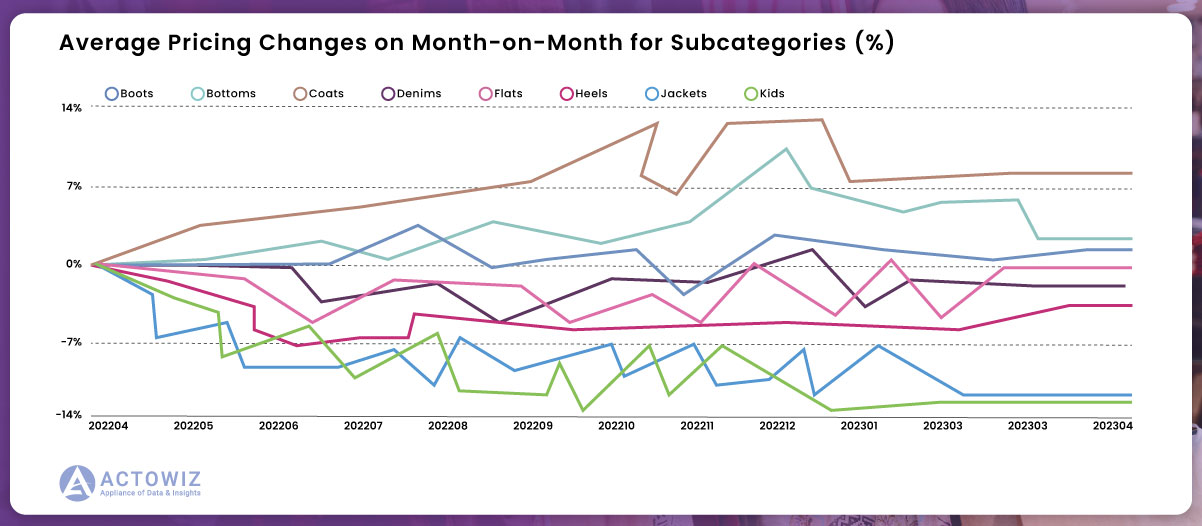 Our analysis, conducted at a subcategory level, unveils that during the winter of 2022, seasonal demand triggered the most substantial price increases, ranging from 5% to 10%, notably in categories such as coats, boots, and jackets. However, these elevated prices experienced a swift decline in the subsequent periods. In 2023, the stabilization of raw material costs and the ongoing decrease in demand for non-essential clothing and fashion accessories have contributed significantly to a notable drop in prices.
It's worth noting that some of these trends exhibit variations among retailers, as each confronts distinct challenges and responds in unique ways. We scrape fashion website data which indicates that certain retailers opted to raise their prices starting from the third quarter of 2022, driven by mounting pressures on their profit margins. In contrast, others have further reduced their prices due to increasing inventory levels.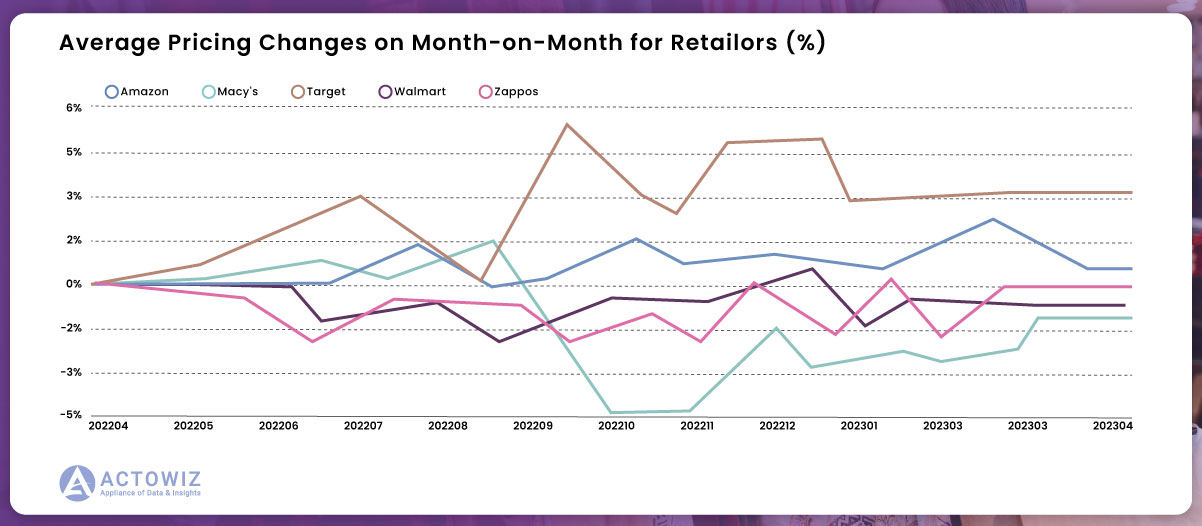 Spotlight on Our Capabilities
Matching products across competitor websites is a fundamental aspect of monitoring competitive pricing and analyzing price leadership. In the fashion sector, achieving precise product matching is no small feat. Websites often present myriad product variations, encompassing size, color, material, and more, without standardized representations. Consequently, fashion retailers often need help with pricing insights rendered useless due to inaccurate and incomplete product matching.
Actowiz Solutions boasts an industry-leading product-matching algorithm and scrape ecommerce pricing data that recognizes and utilizes many product attributes extracted from product titles, descriptions, and images. This leads to exceptionally high levels of accuracy and coverage in product matching. Moreover, our platform can match similar products based on diverse parameters, enabling our customers to gain a comprehensive competitive perspective.
For instance, in August, Target reported an 85% drop in profits during the second quarter of 2022, as consumers, concerned about inflation, scaled back spending on nonessential items. The company's price cuts did not yield the desired results, resulting in a 1.4% increase in inventory compared to the previous three months. Consequently, we observed a spike in Target's average fashion prices in August 2022, which have remained relatively stable. Walmart faced similar challenges and opted to raise its prices in October 2022.
Nonetheless, in August 2022, Macy's unveiled a strategy of increased discounts aimed at clearing surplus inventory in preparation for the holiday shopping season. In the same announcement, Macy's drew attention to the substantial rise in grocery costs, which had surged into double digits. This surge had a notable impact on consumer budgets, leading to shifts in consumer behavior and a heightened demand for discounts. Our data substantiates this pattern, revealing a significant price decline from October 2022 to January 2023.
By January 2023, Macy's had effectively managed its inventory levels, reducing them from $6.2 billion in October 2022 to $4.1 billion in January 2023. Consequently, average prices at Macy's began to rise.
For today's fashion retailers, striking a balance between expansion objectives and profitability is imperative. It necessitates a thorough examination of competitive and market insights consistently to navigate these challenging times successfully and alleviate competitive pressures.
Actowiz Solutions' platform empowers retailers with vital insights, providing them with the tools to secure a competitive advantage. By accessing precise, timely, and actionable information on pricing and product assortment, retailers can make informed decisions and maintain their leadership position in the market. To learn more, get in touch with us today!
You can also reach us for all your mobile app scraping, instant data scraper and web scraping service requirements.