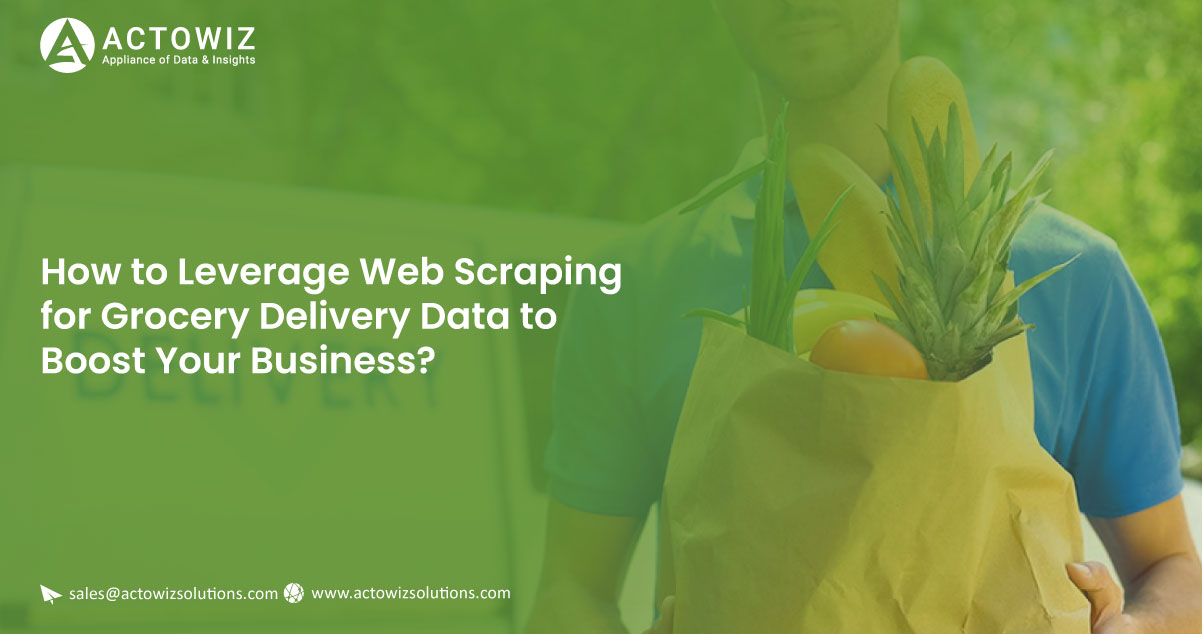 Thanks to the ever-evolving landscape of digital technologies, improved logistics support, and increasingly hectic personal and professional schedules, online grocery delivery platforms have transformed how individuals approach grocery shopping.
With an estimated % yearly revenue growth (20%) for 2021-2031, leading players like Walmart, Target, Publix, and Amazon Fresh are experiencing unprecedented order volumes.
Web scraping grocery delivery data through web scraping from the current market leaders is a valuable strategy for gaining deeper insights into the market. Established and aspiring grocery delivery businesses leverage grocery data scraping services to gain a competitive advantage.
What Makes Web Scraping Grocery Delivery Data Significant?
Online grocery delivery enterprises have the flexibility to employ grocery data scraping services to accomplish various objectives. They can extract all available data fields or concentrate on specific ones crucial for attaining particular business objectives. Here are some valuable insights that business proprietors can acquire through the process of grocery delivery data scraping
Consumer Purchasing Trends
Consumer Purchasing Patterns With advancements in delivery logistics, customers can now conveniently order groceries online and deliver them to their doorstep. The user-friendly interfaces of leading platforms, flexible payment choices, and added discounts are driving the expansion of this sector.
Web scraping can give businesses invaluable insights into consumer buying trends, enabling them to grasp customers' preferences and shopping habits. Refer to the graphs provided below to gain insight into customer purchasing trends.
The number of online grocery users continues to rise with the increasing number of internet users each year. The availability of the internet plays a pivotal role in influencing people's decision to opt for grocery delivery data scraper services.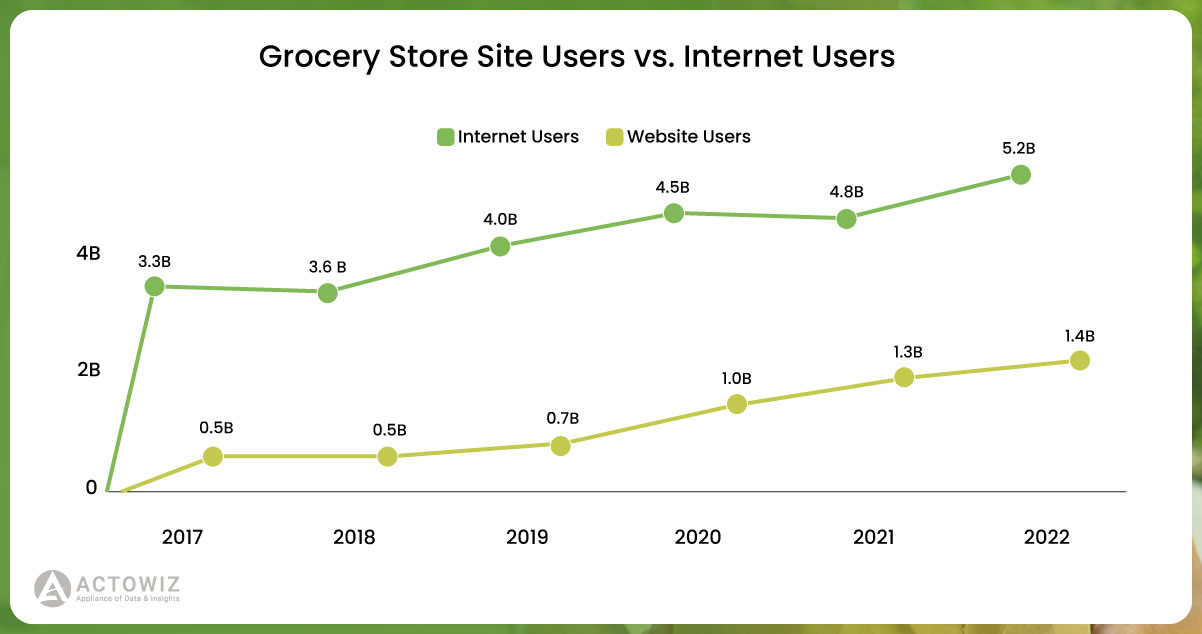 The United States presents a more promising market for online grocery businesses when compared to the United Kingdom.
Between 2018 and 2024, there has been a significant surge in the count of online grocery store users in the United States. 2018, the figure stood at 70 million users, but it is anticipated to soar to 161 million by 2024.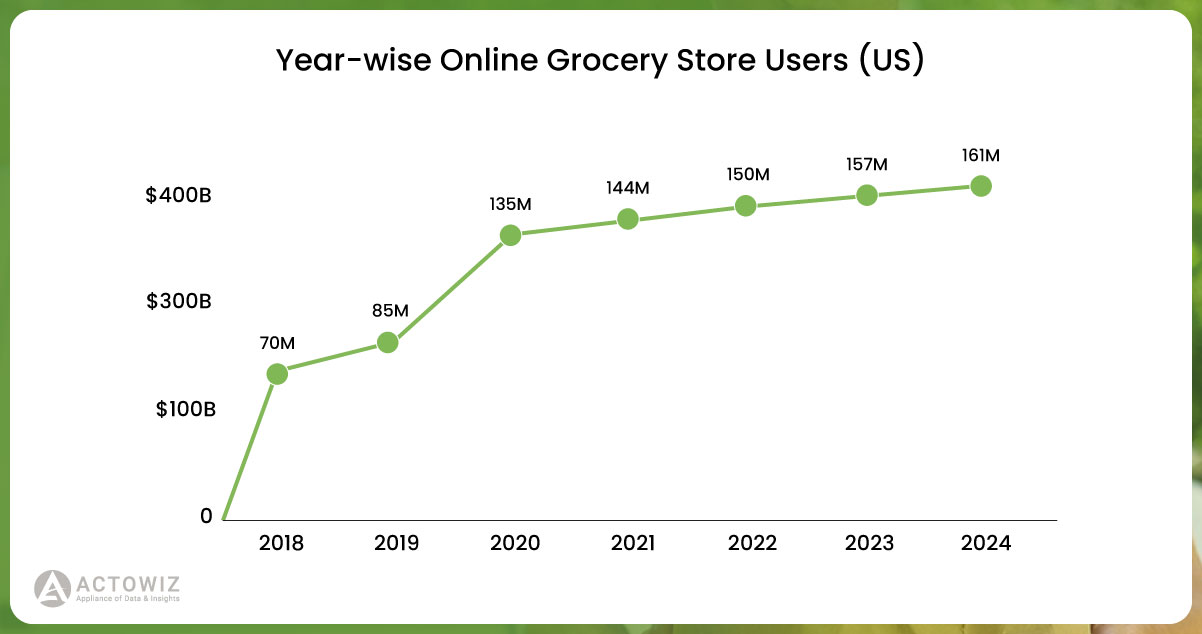 Walmart operates a greater number of grocery stores in the United States compared to its presence in Mexico or Canada.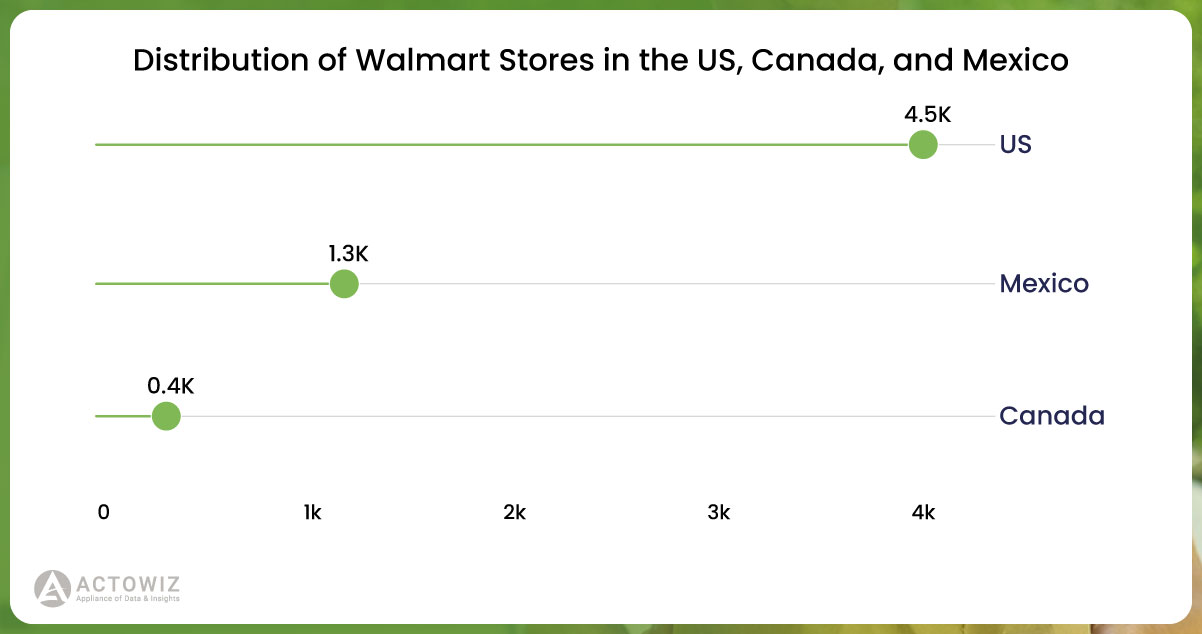 Better Pricing Strategy
Through web extraction of grocery delivery data, delivery platforms and retailers can improve their pricing tactics and marketing endeavors by examining the discounts and promotions offered by competitors.
The primary objective for brands featured on any grocery delivery platform is to establish a competitive price strategy. Conversely, if you operate a grocery delivery platform, gaining insights into the discounts and promotions offered by other platforms can aid in refining your marketing approach.
Information Extracted from Online Grocery Delivery Platforms
Scrape grocery delivery data services can prove highly advantageous for any business associated with the grocery sales and delivery industry.
Given the current thriving state of the industry, this is an opportune moment for businesses to leverage dependable web scraping solutions to gain a competitive advantage.
Web scraping enables businesses to retrieve data points from online delivery platforms. Here are some of the most commonly extracted data points:
Store/Grocer's Name
Address
Best Offers
Customer Reviews/Ratings
Discounted Prices
Geo Coordinates
Product Categories
Product Descriptions
Product Images
Product Names
Product Prices
Product SKUs
Product Specifications
Available Services
The collected data is cleaned and presented in a structured format to facilitate well-informed decision-making.
The following graphs provide insights into the current market leaders in the United States and their competitive performance:
In the United States, Walmart holds the largest market share at 46.80%, followed by Target and Publix.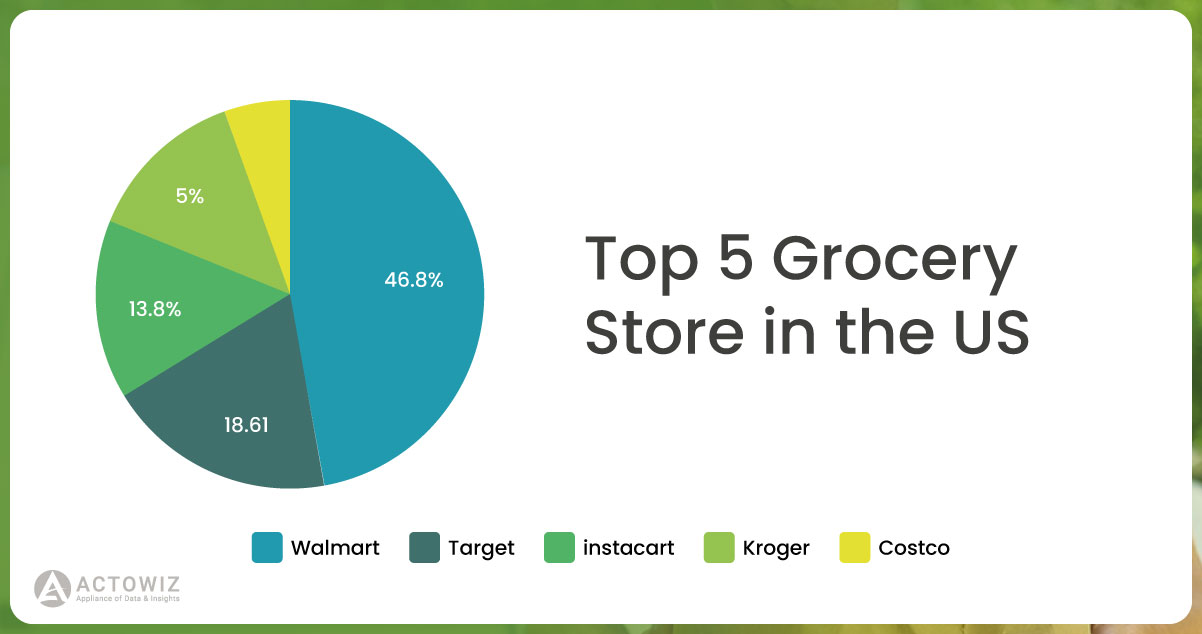 Walmart attracts a larger number of visitors compared to Amazon Fresh, while Tesco receives fewer visitors.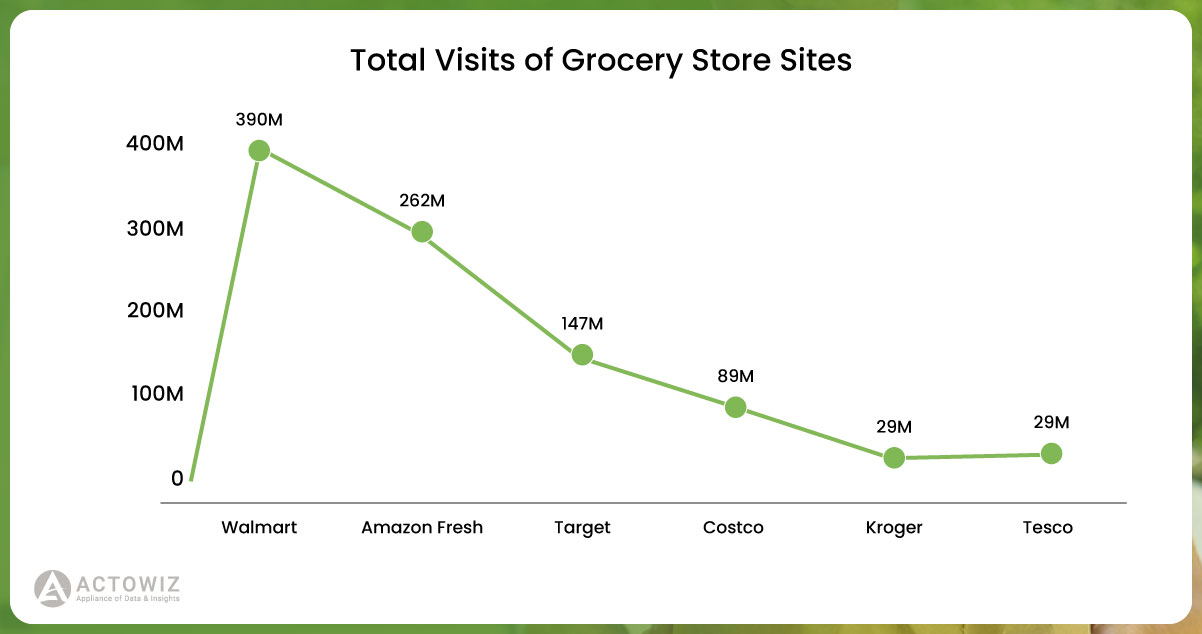 The Amazon Fresh website holds the record for the longest average customer visit duration at 7.19 minutes, while Walmart's website ranks lowest with an average visit duration of 4.58 minutes.
Walmart experiences the highest bounce rate, followed by Whole Foods Market and Target. The bounce rate represents the percentage of visitors who exit a webpage without engaging in any actions, such as clicking links, filling out forms, or making purchases.
Leveraging Scraped Grocery Delivery Data for Competitive Business Benefits
Grocery retailers, e-commerce platforms, wholesale grocery providers, competitors in the grocery delivery space, and enterprises contemplating growth can all derive substantial advantages from harnessing web scraping techniques to access grocery delivery data.
The global online grocery store market has demonstrated steady growth over the years and is projected to reach an estimated value of 2,150.8 billion USD by 2030, signifying further expansion.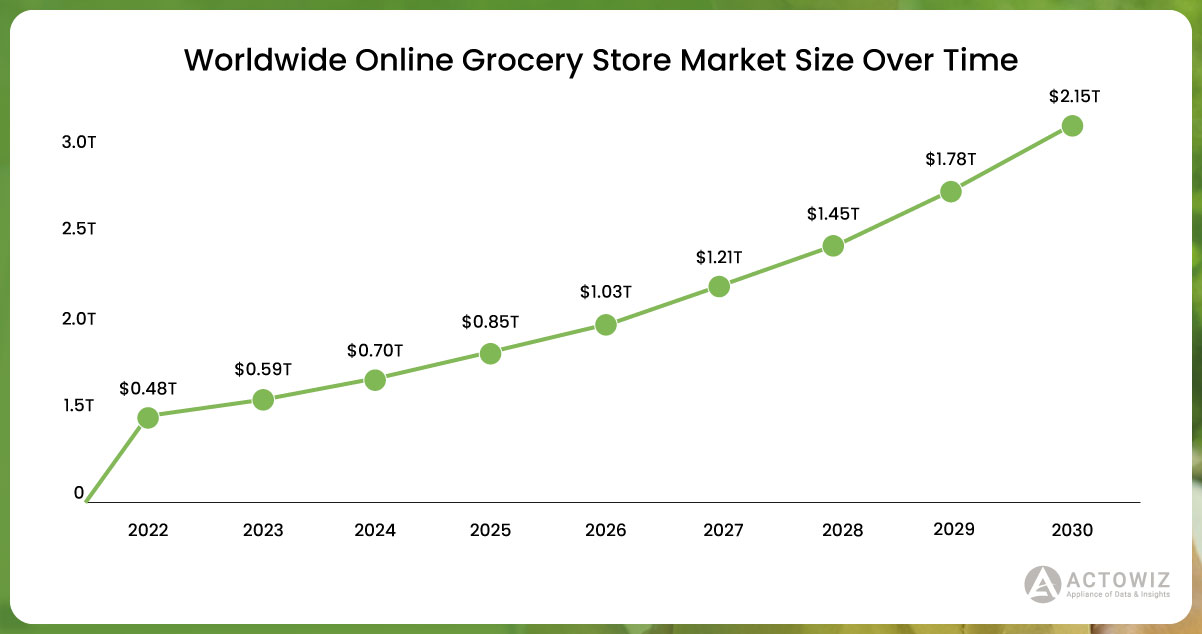 Grocery Retailers
If you operate a brick-and-mortar grocery business, you can enhance your operations and offer customers online convenience. Before listing your business on a prominent grocery delivery platform, conducting a thorough analysis of the offerings of local grocery stores in your vicinity through web scraping services can be highly beneficial for strategic marketing planning.
Online Retailers
As an online retailer offering diverse products, consider incorporating grocery items to enhance sales and revenue. Including high-value grocery items can draw in a more extensive customer base, thereby positively influencing the sales of other products.
Bulk Grocery Dealers
For individuals selling grocery products in bulk to retailers, gaining insights into the products highly favored by end customers can be instrumental in refining your product offerings. Using web scraping to extract data from ratings and reviews can give you in-depth insights into the most popular product categories within various regions and localities. This, in turn, can attract more retailers interested in your bulk product offerings.
Grocery Platform Competitors
In an industry where new entrants continually emerge, web scraping is a potent tool to enhance your business strategy. Whether you intend to introduce an online grocery platform or are already operating one, you're likely aware of the immense value that data extracted from competitor platforms through web scraping can offer. This data can deliver invaluable insights into the market dynamics, best-selling products, pricing strategies, and more, ultimately affording businesses a significant competitive advantage.
Business Expansion
For those contemplating expanding their grocery delivery services into a new city or region, it becomes crucial to understand the current landscape of grocery delivery services and sellers within that area. To achieve this, you should consider employing a tailored web scraping solution such as Actowiz Solutions, which can harness location-specific data to effectively align your expectations and needs.
Tailored Grocery Delivery Data Solutions
Utilizing web scraping to gather grocery delivery data empowers businesses within the fiercely competitive online grocery industry. It enables them to make well-informed decisions, fine-tune their strategies, and sustain a competitive advantage. Whether you are an established grocery retailer, an online merchant, a bulk distributor, or contemplating market entry, the adoption of web scraping can unveil invaluable insights pivotal to your success. By partnering with a reliable ally like Actowiz Solutions, you gain access to efficient and cost-effective data extraction solutions, positioning you to harness the opportunities within the thriving online grocery delivery sector.
Actowiz Solutions, a leading web scraping provider, offers bespoke solutions designed to extract the specific data points that businesses require. With dependable data-gathering capabilities and readily available web scrapers and APIs, Actowiz Solutions is the preferred choice for efficiently collecting publicly accessible data from diverse sources.
We are at your service for all your data collection needs, including mobile app scraping, instant data scraper and web scraping service. Feel free to get in touch with us to fulfill your requirements in these areas.