The global market of online food delivery services is projected to increase from $115.11 billion (2021) to $128.32 billion (2022) with a CAGR (Compound Annual Growth Rate) of 11.5%! This market is projected to rise to $159.46 billion (2026) with a CAGR of 5.6%!
The online food delivery market includes sales of food delivery services and associated services mainly for household usage. The food could be ready-to-eat or needs to be well-prepared for straight consumption. The food delivery service market online includes different companies associated with distributing packages acknowledged from hospitality formations and getting online portals or applications for sales.
Food chains and restaurants are using big data & analytics to know tastes and user preferences. You can utilize data extraction services to collect data from various food delivery platforms to adjust prices, improve marketing tactics, etc. If you wish to enhance your Zomato delivery business, data extraction is an ideal solution to help you reach your goals.
Why Extract Zomato Delivery Data?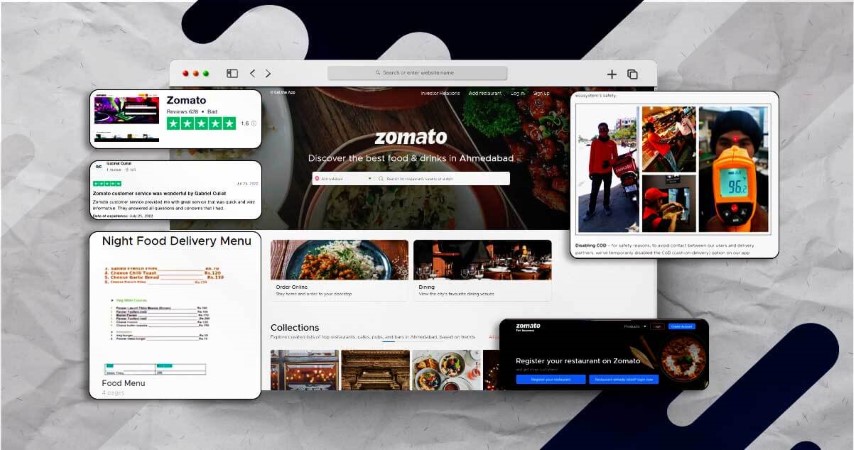 Data scraping is the procedure of stemming data from targeted sites or apps. Because the competition in Zomato delivery applications, restaurants, and associated businesses is steadily increasing, Zomato delivery businesses would require to take advantage of their data rapidly. Data like delivery paths, Zomato making time, etc. can optimize different services and help you get a competitive gain.
Extracted data from different platforms might be utilized in many ways. Let's talk about the reasons why you should think about Zomato delivery data scraping:
1. Customers are Using Zomato Delivery App Consistently
Zomato delivery app has become among the best solution for the customers' need to order Zomato online. Due to COVID-19 limitations, dining at home has become popular. This trend may continue in the future because people don't need to risk spreading the virus even if restaurants are allowed to provide dining services.
2. You can Find the Newest Menus and Kinds of Restaurants in Your Area.
Extracting Zomato menu data using the Zomato app is among the most effective ways of getting the newest options across various restaurant types, including multi-cuisine, fast Zomato, health foods, etc. If you run a restaurant, adding these cuisines to the menu is easy to get more customers. Furthermore, web scraping can assist you in finding multiple cuisine types as well as creative dishes given within the local area.
3. It Helps You Fix Your Menu Pricing and Improve Marketing Strategy
Menu prices are significant if you want to run your restaurant business. As you can get customers that order Zomato across various price points, a price strategy needs to correspond to others in surrounding areas. Correspondingly, the discounts they give are a critical encouragement for customers when ordering food using apps.
Extracting Zomato data will help you discover the price strategy of competitors. This can also provide an instant overview of their marketing tactics.
4. You can Analyze Your Customers' Reviews.
Customers need to review restaurant rates from where they order food through a delivery platform. Often reviews provide vital data about any restaurant's service and Zomato quality that could be helpful for the competitors. You could target other restaurants' weaknesses to improve their contributions and provide superior services.
5. It's Easy to Get a Detailed Summary of the Local Restaurant Business
If you want to open your restaurant, an all-inclusive overview of local restaurants could assist you in making a better business plan. Though you wish to increase business or open a new branch elsewhere, the scraped web data could provide valuable insights into the restaurant operations already available in the region.
Which Data Fields Can Scrape from Zomato Delivery Platform?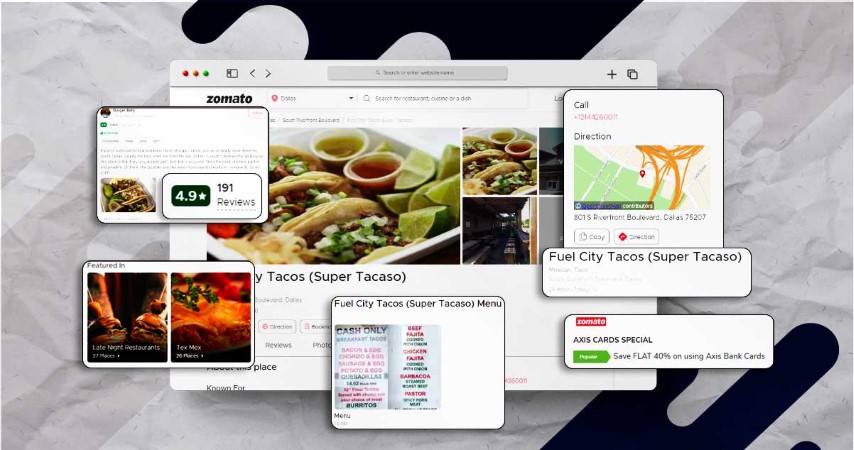 Many data fields can be extracted from the leading Zomato delivery website. Some of the most renowned data points comprise:
Restaurant Name
Address
Type
City
Zomato Menu
Contact Info
Menu Image
Discounts & Offers
Ratings
Reviews
Working Hours
Once the data is collected, it will be cleared and provided in a well-structured format.
How Can You Use the Scraped Zomato Delivery Data in Your Business?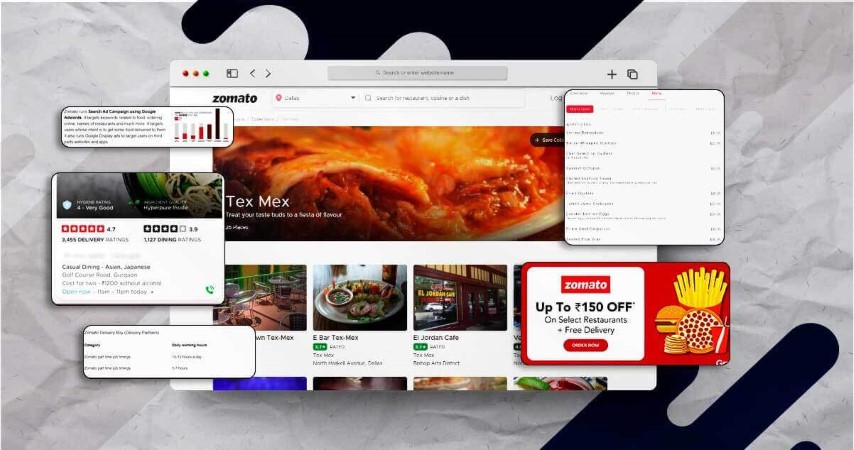 There are many ways in which extracted Zomato delivery data might be utilized for optimizing different business strategies.
Restaurant's Data

Monitor future restaurants in the locality and brand presence with data like the restaurant's name, types, menu photos, etc.

Discount and Prices Data

Beat the competition prices by extracting data related to discounts. You can deal with pricing strategies to ensure that offerings are viable.

Ratings & Reviews

As a multi-place brand, it's easy to understand the quality gaps in all locations and decide on the local branding strategies using data related to ratings.

Opening Times

Find which chains, as well as services, offer early breakfasts or late-night delivery options through understanding areas where competition provides limited working hours as well as taking benefits of the market.

Latest Marketing Strategy

Optimize all the marketing campaigns and link up with micro-influencers as per insights using competitive prices and delivery fee data
Extract Zomato Data Using Actowiz Solutions
The entire procedure of creating apps and websites has progressed over the years. No particular structure or rules that modern mobile apps or websites trail. The objective after data scraping might significantly vary between businesses. Therefore, a one-size-for-all approach is practical when choosing a data extraction solution.
The food industry is constantly changing, with viable features and prices. A customized data extraction solution like Actowiz Solutions can help monitor data per needs. Using a data extraction API may also ensure you get data from various sites in real time. Actowiz Solutions also creates customized web extraction APIs for multiple platforms that don't have a data extraction API to support you in finding this.
At Actowiz Solutions, we collect publicly accessible data online as well as are among the top data extraction service providers in the world. Our custom and pre-built data scrapers help you quickly scrape Zomato delivery data. For more information, contact Actowiz Solutions now!