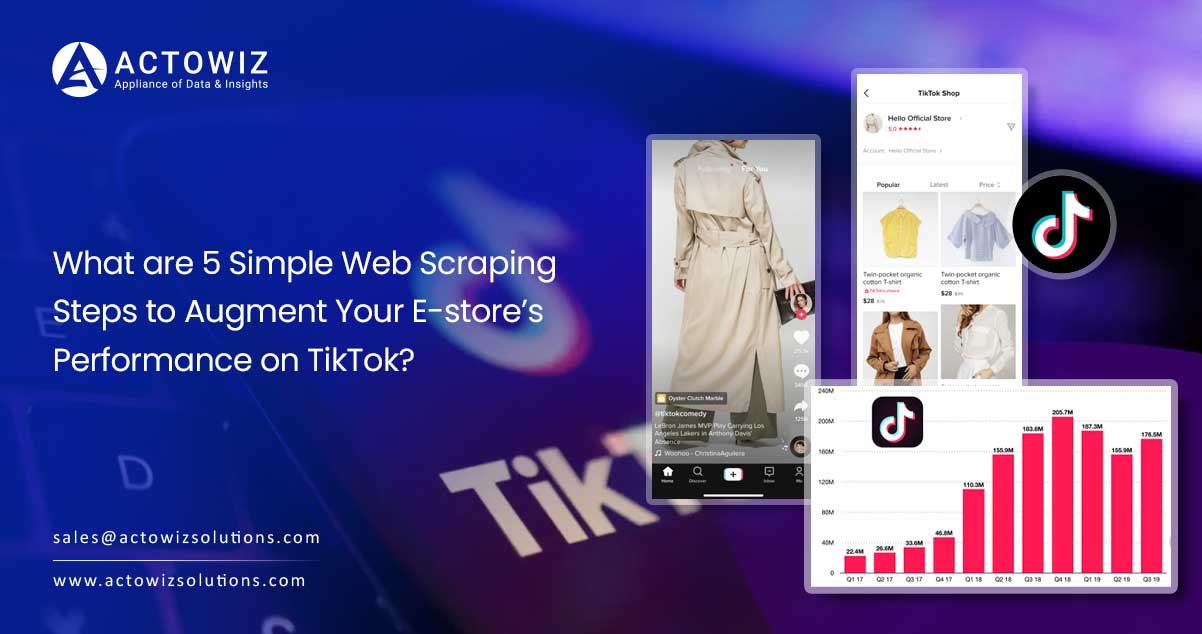 In the digital era, where businesses adapt to eCommerce platforms, social media is the successful medium for connecting with the targeted audiences. It is attainable only by seeking professional help from web scraping companies. To stay trendy, it becomes essential for every brand to modify its social strategy to stay connected with its young shoppers. Major social media platforms, like Instagram, Facebook, etc., are preferred to help increase brand visibility and strengthen online customer touchpoints. But, with the significant emergence of Gen Z, social media apps like TikTok have become trending among the young consumer to participate in the current disclosure and share the latest trends.
TikTok is the trendiest social media platform, continuously changing how we purchase things online. Several new platforms are constantly entering the market, while several others are losing the user's interest. But, with TikTok, there is something unique. Within a few years, it has become the most popular social media platform with continuously growing audiences. During its launch in 2016, this app aggregated 3 billion downloads by July 2021. Now, the question is, why is TikTok so popular? On web scraping TikTok data, we found that this platform possesses what users care about, i.e., short and funny content that can help them relieve stress. With more than 1.52 billion users and the usual overall engagement rate of 4.23%, this app can benefit advertisers to reach up to 884 million users across the globe.
Listed below are the five essential tricks to help boost your E-store's performance on TikTok
Use TikTok's E-commerce Features: The recent launch of TikTok's eCommerce features has proven to be highly advantageous. This feature allows users to shop directly from the app. Being a retail brand owner, you can easily leverage the advantage of this feature either by generating shoppable videos or associating with influencers to market your products. You can easily find out what competitors post using web data scraping services. The influencer content automatically gets tagged as paid partnerships. It will, in turn, help in converting viewers into customers.
Intensify User-Generated Content: User-generated content is one of the significant aspects of generating a solid community around your brand and enhancing engagement. Compared with the brand videos, the user-generated content has the potential to boost engagement rates by more than 22%, whereas the influencer engagement rates rise by an average of 15.86%. Hence, every brand must use influencer partnerships and trendy challenges to increase engagement. To showcase your product in a relatable and approachable manner, a brand can use methodologies like videos, unboxing, tutorials, reviews, etc. Followers get highly motivated by creating videos using products and incorporating brands into their day-to-day life. Several contests and giveaways can enhance your visibility and appeal to shoppers.
Curate Trendy & Entertaining Content: One of the key elements to gaining success on TikTok is by curating engaging, trendy, and entertaining content. Retail brands can create a 15-second video format to generate challenges and trendy videos for displaying new products to appeal to customers. Ensure your brand follows the 80/20 rule while posting content on TikTok—80% fun, engaging, informative videos, and 20% sales-oriented. Use the power of TikTok web scraper to find out what's trending.
Target Gen Z: The user base of TikTok is highly inclined to Gen Z. Hence, the brand must ensure to monitor and amplify the products, content, trends, etc., that can attract, especially this group and can easily align with their values, sustainability, diversity, and social issues. A brand can quickly increase its visibility and engagement by engaging young audiences. Monitor audience activity on your page to gain detailed insights and consumer sentiment related to your products and services. Make the most of the data to implement these suggestions in your retail strategy.
Competitors Analysis: Competitor analysis on TikTok can provide significant insights into what works and what doesn't. Continuous monitoring of prominent hashtags, popular formats by similar brands, and the type of influencer partnerships will help your business learn and adapt to the advanced TikTok environment. Creating your trends, TikTok audios, filters, etc., will help your brand stand out.
Conclusion
Thus, considering the above significant points and using relevant consumer trends, statistics, and insights, retail brands can quickly generate effective strategies on TikTok and boost their visibility to drive sales. Always remember that TikTok is the starting step to getting new audiences to your brand by maintaining competitive pricing, optimized product content, and attractive assortments. A company like Actowiz Solutions is a well-known web data scraping solution to help retail brands monitor competitor data and pricing across the digital shelf.
For more information, contact Actowiz Solutions now! You can also reach us for all your web scraping service and mobile app data scraping service requirements.