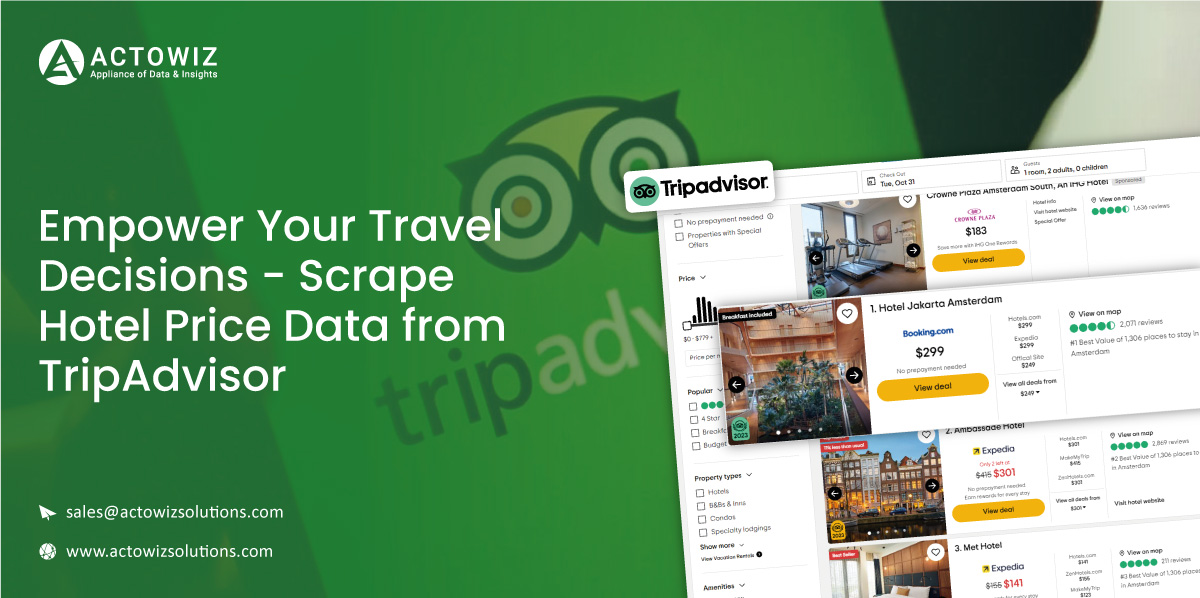 The Client
Client X (Confidential) is a prominent travel agency, specializing in creating tailored travel packages for their discerning clientele. Their commitment to providing the best travel experiences demanded access to real-time and precise hotel pricing data. This data would enable them to offer competitive rates and create unforgettable journeys for their customers.
Key Challenges
Real-Time Data Requirement: Client X needed to scrape hotel price data from TripAdvisor that was updated in real time. The travel industry's fast-paced nature meant that outdated data could result in missed opportunities and less competitive pricing.
Competitive Landscape: Understanding the pricing strategies of competitors was essential for Client X to maintain an edge in the travel industry. They needed insights into how rival agencies were pricing their packages using TripAdvisor hotel price data scraping.
Ethical Data Collection: Client X emphasized ethical data collection practices. Maintaining data integrity and adhering to legal standards was vital to preserve their reputation.
Key Solutions
Customized Scraping Strategy: Actowiz Solutions collaborated closely with Client X to create a tailored scraping strategy. This strategy focused to extract hotel price data from TripAdvisor, ensuring that the data was current and accurate.
Real-Time Data Integration: Actowiz Solutions implemented a solution that included real-time data updates. This ensured that Client X had access to pricing data that reflected the dynamic market conditions, allowing them to make timely and informed decisions.
Ethical Data Collection: Actowiz Solutions maintained ethical data scraping practices, adhering to legal standards. This approach protected the integrity of the data and upheld Client X's reputation for ethical practices.
Advantages of Collecting Data with Actowiz Solutions
Timely Decision-Making: With access to real-time pricing data, Client X could make timely decisions. This enabled them to offer customers competitive pricing and provide up-to-the-minute travel deals.
Competitive Advantage: By closely monitoring competitors' pricing strategies and being able to adjust their own rates accordingly, Client X gained a competitive advantage in the travel industry.
Data Trustworthiness: Actowiz Solutions' commitment to data accuracy and ethical practices meant that Client X could trust the data they received. This trust extended to their customers, strengthening their reputation in the industry.
Customization: Actowiz Solutions tailored the scraping strategy to meet Client X's unique needs. This ensured that the data they received was precisely aligned with their specific goals and their customers' travel preferences.
Final Outcome
Through TripAdvisor hotel price data scraping services of Actowiz Solutions, Client X overcame their challenges and harnessed the power of real-time hotel pricing data from TripAdvisor. This data played a pivotal role in making well-informed, timely decisions, enhancing competitiveness, and upholding their commitment to ethical data collection. The final outcome was a strengthened position in the travel industry and a reputation for providing customers with the best travel deals and memorable experiences.
Conclusion
This case study exemplifies the transformative impact of Actowiz Solutions in the realm of travel data scraping. The partnership with Actowiz Solutions allowed Client X to not only meet their data needs but also excel in delivering exceptional travel experiences to their customers, all while maintaining the highest ethical standards.