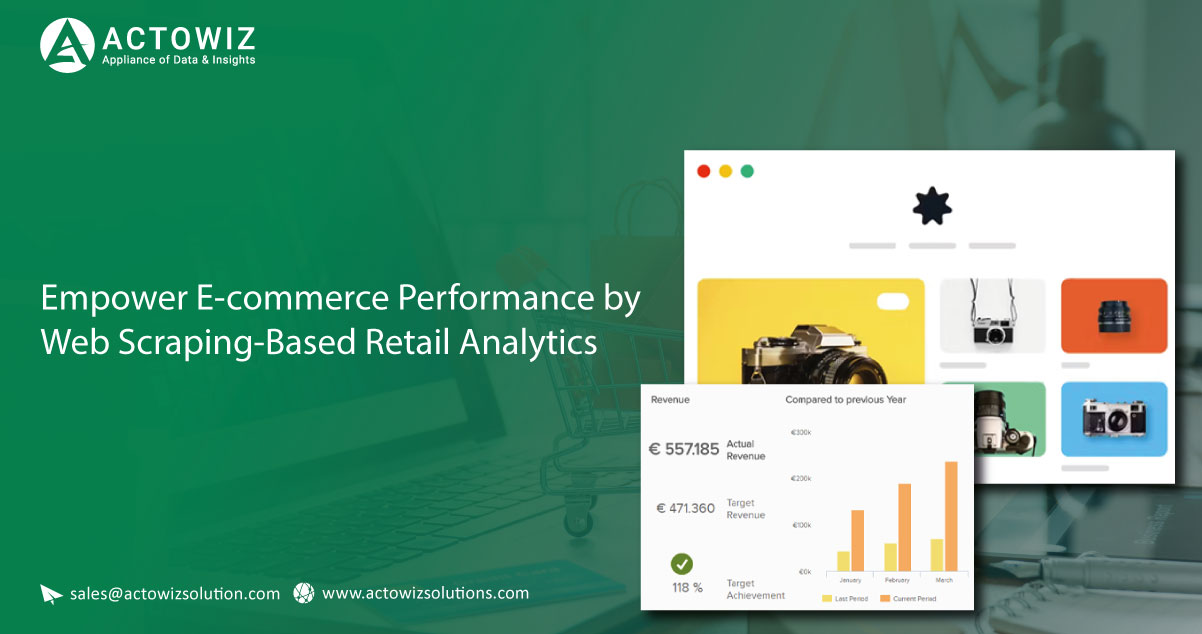 In the 21st century, any retailer or brand can't depend on a single key performance metric since technology, trends, and exponential growth in customer expectations regularly. But, the current challenge for retailers and brands is to shift through the ever-growing retail world, its complexity, and its competitive nature.
Considering the observation scale and depth brands should maintain for all the products, the web scrapes any valuable data like discounts, brand, existing sizes, color, fabric, digital, analog, stock availability, and more. Tracking competition with real-time, powerful, robust software solutions without benchmark quality is tedious and time-consuming for retailer brands.
The leading retail analytics service provider using web scraping like Actowiz Solutions extract the data at a large scale to retrieve Insights out of billions of data points. We visualize these insights using multiple retail analytics dashboards to take quick actions. We've designed the output format for your brands to fulfill real-time requirements such as tracking competitor actions and many other factors. You can check out the scope of the retail analytics dashboard below.
The Study of Discount and Price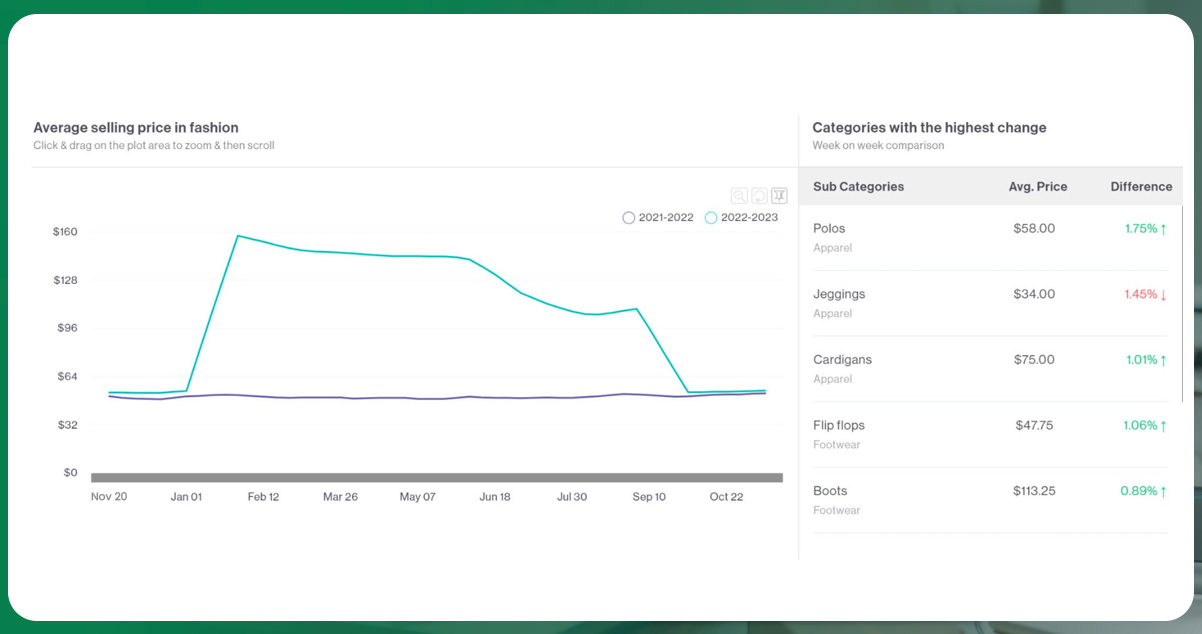 Retailers can use pricing intelligence, the most pivotal touch point of customers in the retail industry, to tweak their ticket prices according to the competition level in a similar category. The above image shows the average selling price of multiple US fashion product categories we've extracted in our retail dashboard for study. Here, the sections of price analysis show the product pricing data selection; for instance, retailers can take the reference of the average selling price of a cardigan to adjust their product pricing using average market prices.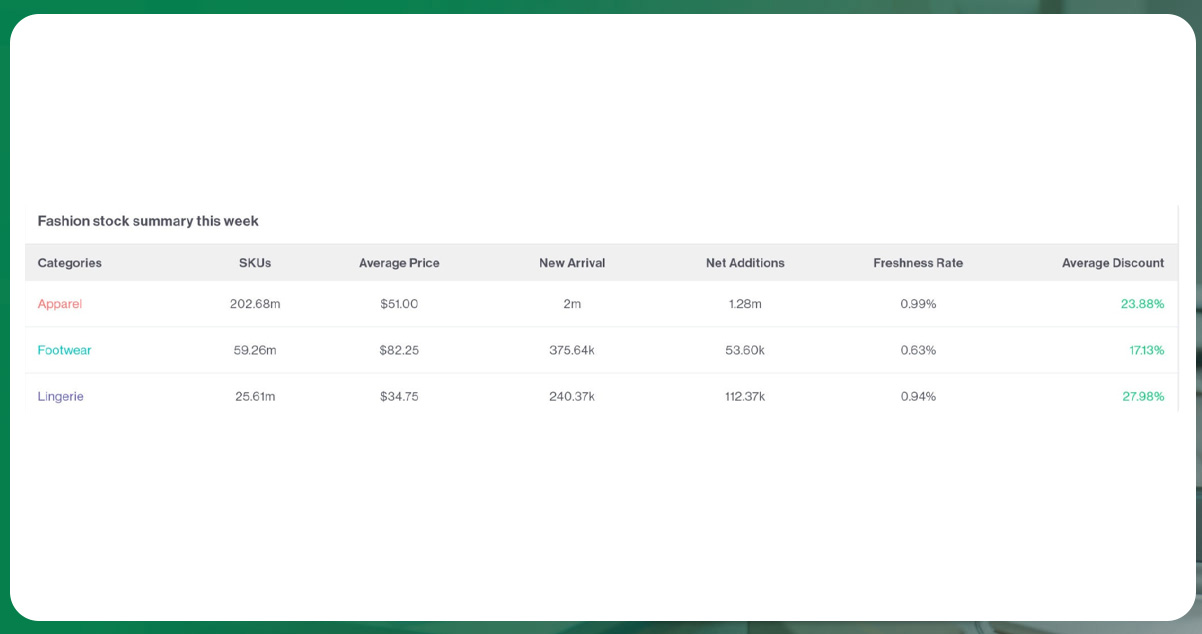 Discount offers are essential in the eCommerce industry. Retail sellers can increase or decrease the offer to remain competitive and attract customers by offering discounts. Retail analytics lets you easily observe how other brands and retailers apply discounts on various categories and durations. To check the competition level, you can compare average discounts across brands and retail sellers. As you can check in the above screenshot, a footwear company offering 10 percent discounts on its products may opt to study pricing and discount data to overview its efficiency. Typically footwear brands offer about 17 percent discounts on similar products.
New Launching Products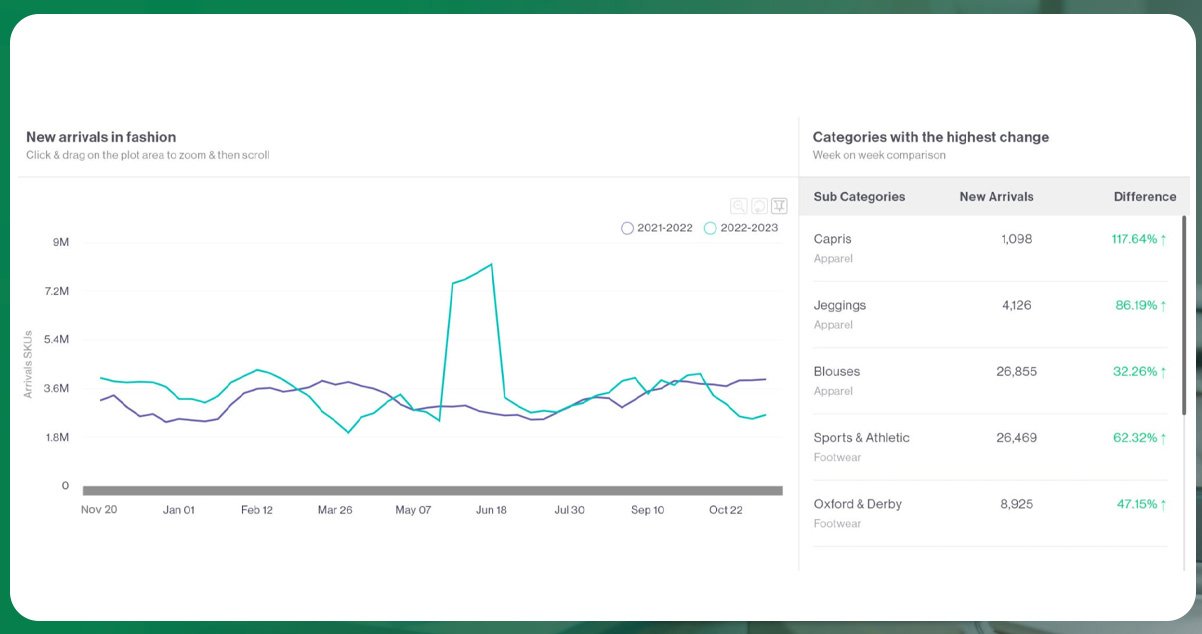 New product launch events are staples to all retailers as these events allow for optimizing prices and visibility on the retail marketplace. Competitive retail sellers can review these new offers and check if they need to introduce these products in their catalogs. Similarly, retail brands can find gaps in the catalog of their competitors to increase visibility in case of stock availability. In the above image, you can analyze these new launches by specific category and their growth scale inside the category over time.
Retail Dashboard to Compare Prices
The state-of-the-art software with product matching capabilities strengthens its accuracy allowing customers to encourage the pricing strategies with accurate retail data analytics. Along with capabilities to analyze prices, we offer a dashboard that compares, analyzes, and monitors product prices across several product categories for retailers. Retailers can access the price issues briefly in the below snippet alerting them to overpriced or underpriced products, like the first listed item.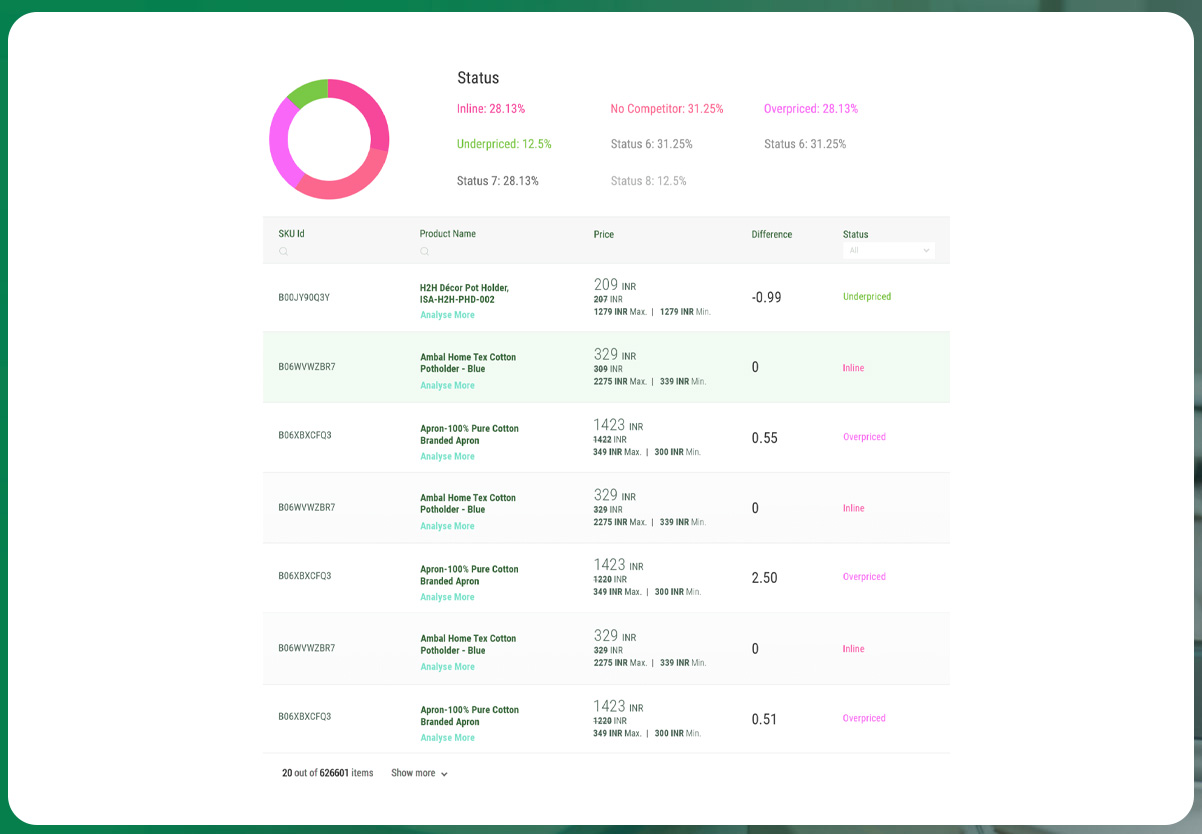 Then, this tool can assist retail brands in discovering fraudulent selling companies and use MAP monitoring to discover MAP Violations by assessing product pricing accuracy on third-party platforms and the marketplaces, which you can see below. From here, a company can directly tackle the issue using a deeper study of every MAP violation.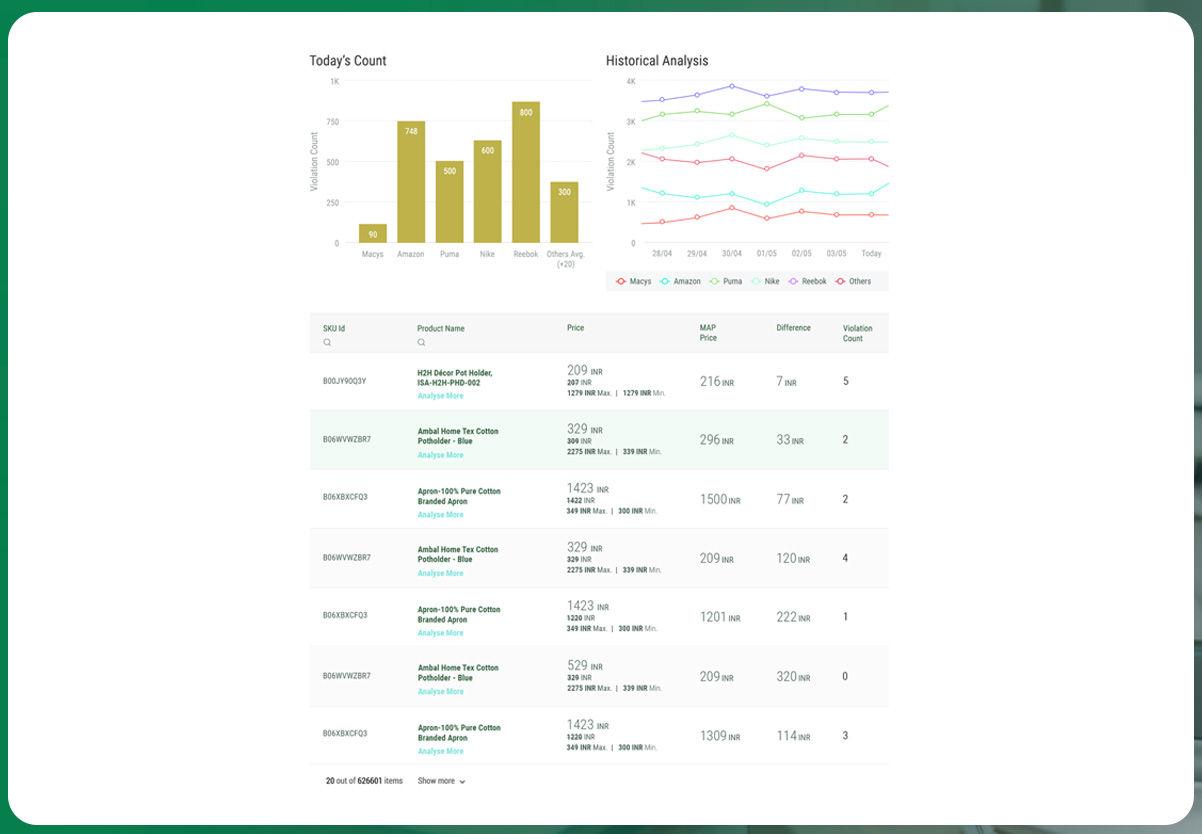 The Dashboard for Daily Summary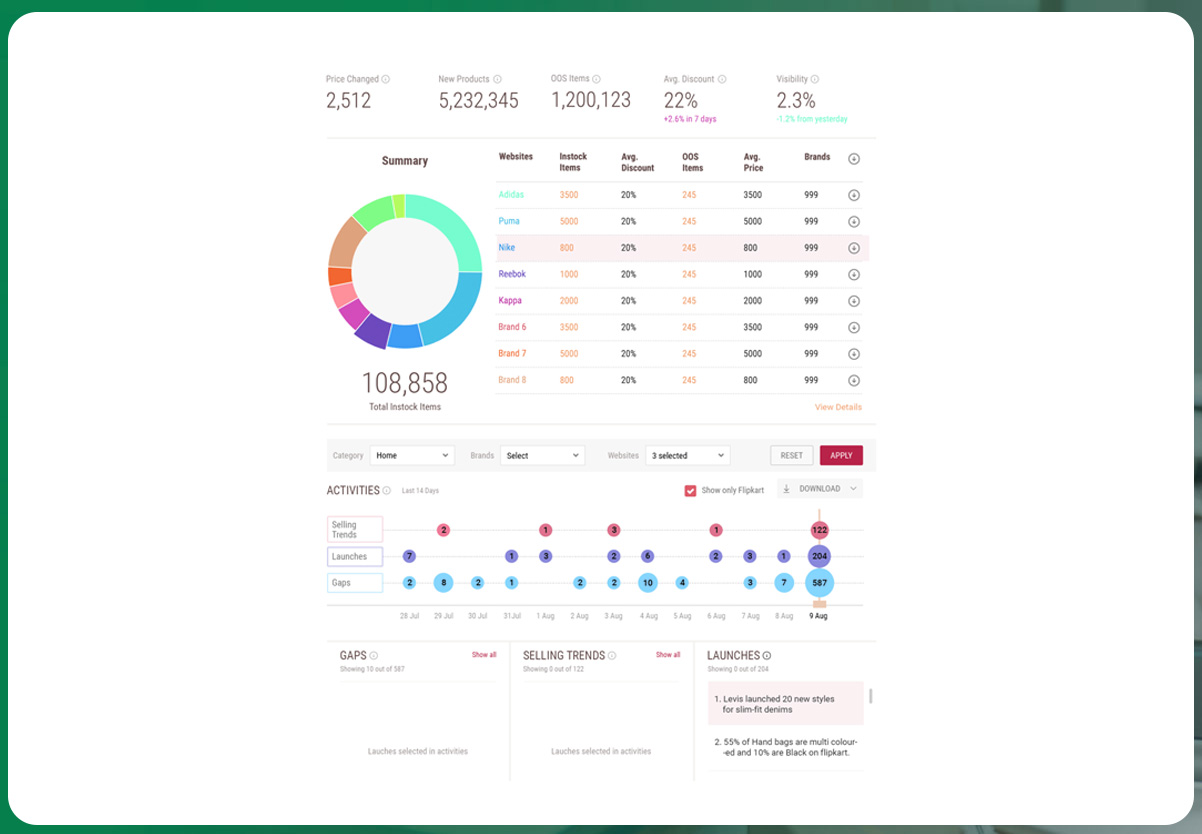 The above retail dashboard of daily summary shares a quick review of what your top competitors are up to. You can update the competitor list in the customized format you need to monitor. The above picture displays the retail dashboard for US-based fashion categories across leading retailers. As per the above-displayed data, we can discern the average rate of discounts and out-of-stock products for every listed brand, allowing retailers and brands to develop data-backed and informed product offering strategies.
Overview of Categories Using Retail Analytics
Retailers and brands can compare product categories across websites, companies, and marketplaces. Use this space to categorize the data into actionable and straightforward visual data with summarizations for convenience. You can consider price differences, highest discounts, item counts, and other data points for comparison to help keep an eye on competitors worldwide.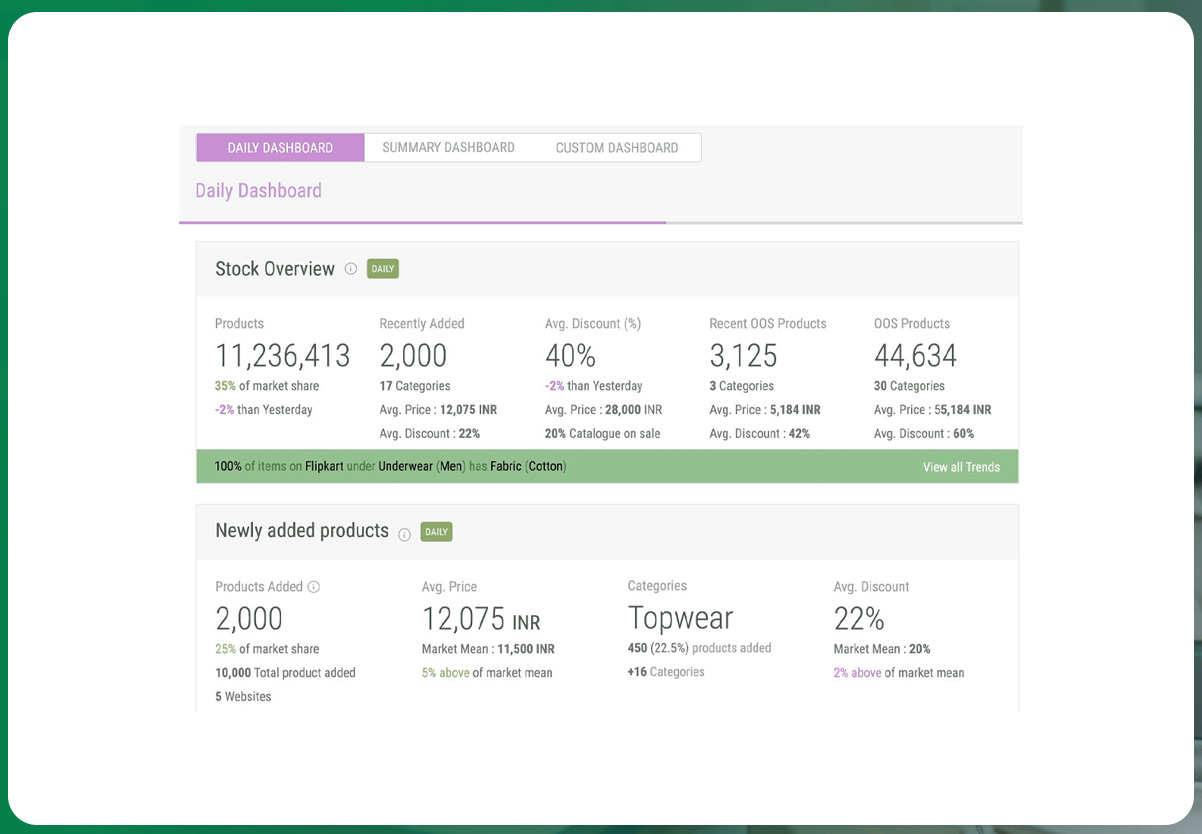 You can see a single screen displaying instant action items below, where prices decrease in recently out-of-stock products, a few categories in ladies' fashion, and how retailers are in focus fares against the average discount offers.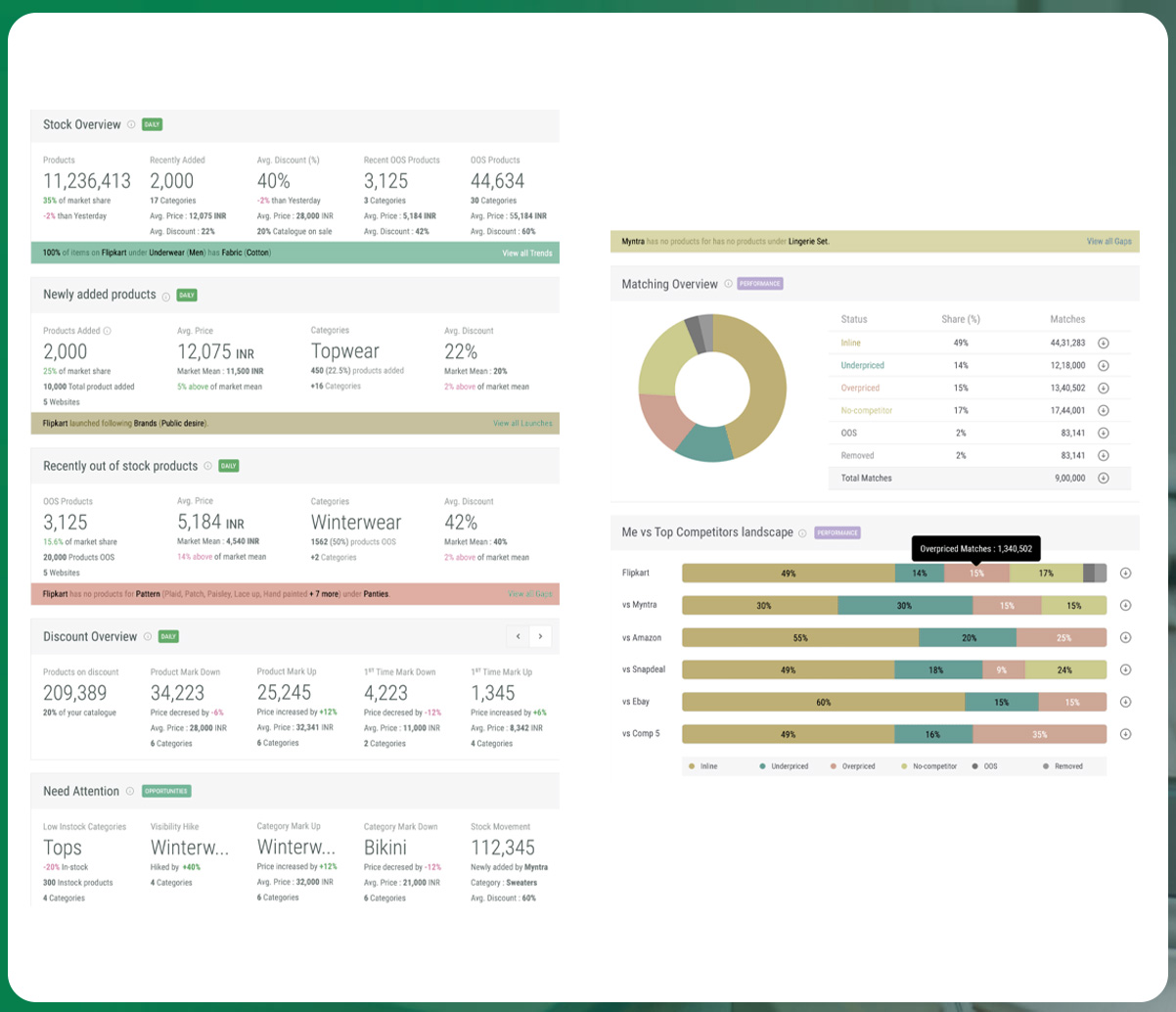 It is one of the Intelligence Retail sellers' categories to execute in their merchandise inventory assortment and follow the correct path. Then, the retail analytics dashboard breaks down categories into different attributes and studies them to help in data-driven decision-making. Note the below live retail analytics dashboard that gauges the Shirts category from Amazon. Polyester and cotton are the top materials in the market, with button-down collar variation being the most popular. Further, black and blue colors are the most favored on the Amazon after multicolor.
Insights and Trends
It is crucial for retail to keep monitoring new launches, product preference shifting, seasonal trends, and recent buying trends inside the industry over time. Using the live retail dashboard that you can see below, retail sellers can access valuable insights: new trends, like collars of round neck type, increase in the stock, new launches, and more to go correctly in key sales seasons, fill gaps in Assortment, allowing the essential items to fall behind.
Clear and Concise Report Dashboards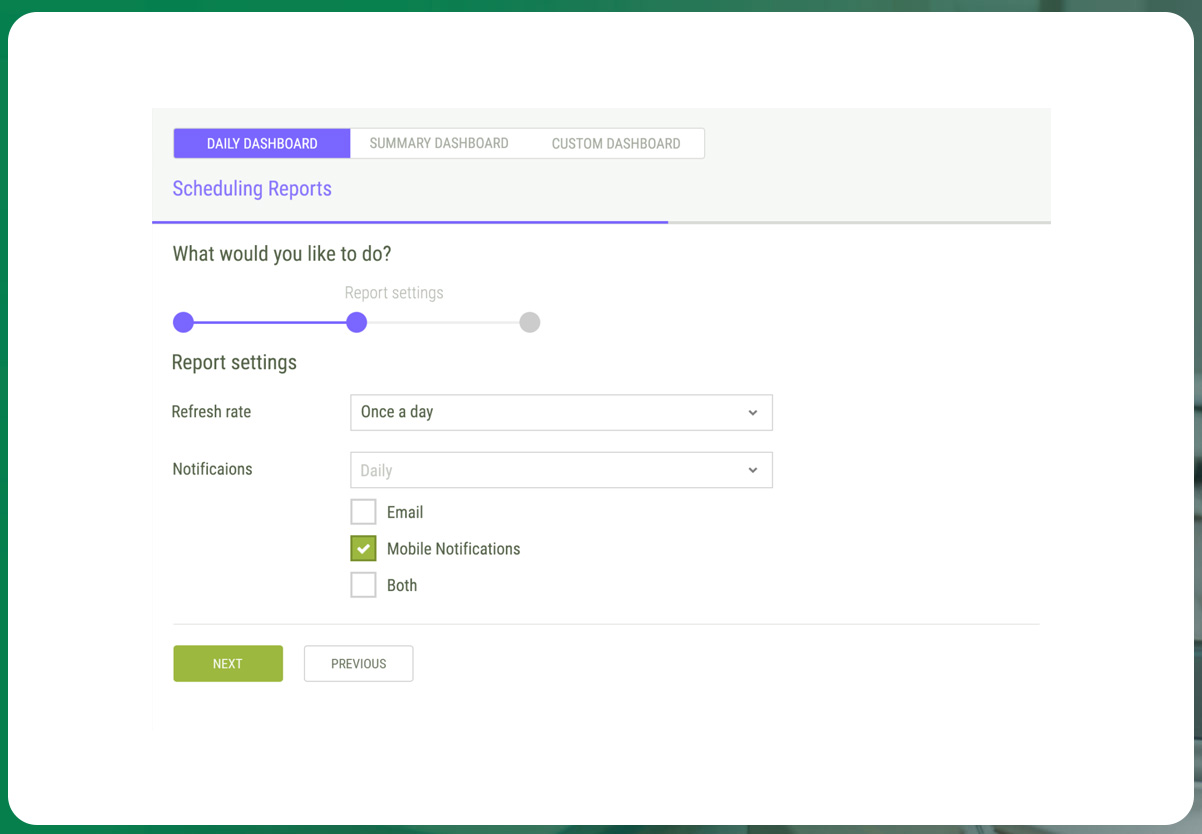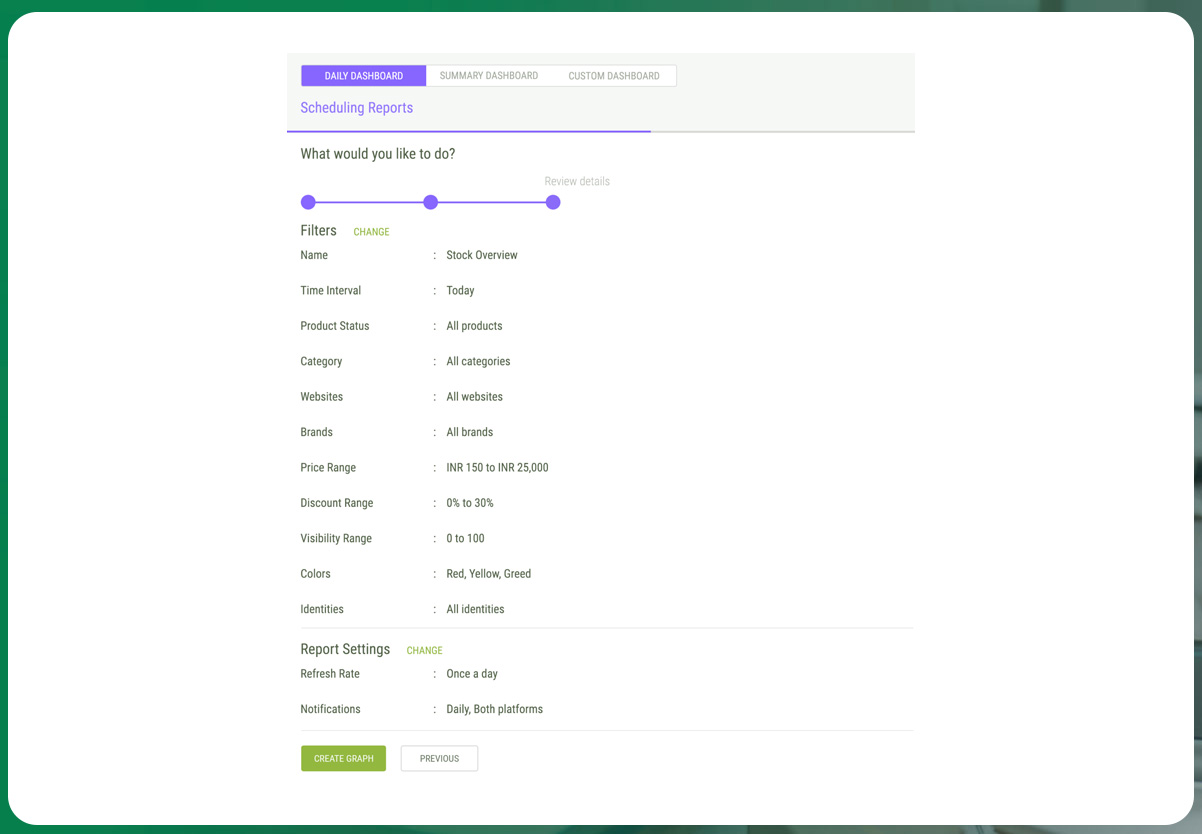 This way, retail analytics can help retailers and brands track competitors, optimize pricing, and offers on competitive eCommerce products using web scraping. If you have any queries or need customized solutions for retail analytics, MAP monitoring, or web scraping, contact Actowiz Solutions.