The eating habits of people underwent a significant transformation during the lockdown, particularly with the growing familiarity of ordering food online from the comfort of their homes. Leading the charge in the Indian food delivery industry are two key players, Zomato and Swiggy, who have seen remarkable growth during this period. In fact, according to the ETC Group's Research Report, Swiggy is ranked as the ninth largest and Zomato as the tenth largest food delivery company in the world.
As the competition intensifies, these food delivery giants continuously explore new strategies and experiment with innovative approaches to gain a competitive edge and dominate the market. In this research report, we will comprehensively analyze Zomato and Swiggy to decipher who is best positioned to emerge victorious in the food delivery race.
Unveiling the Phenomenal Growth: A Look into India's Booming Food Delivery Industry
The food delivery industry in India experienced a remarkable surge, reaching a valuation of $5 billion in 2020. With an impressive compound annual growth rate (CAGR) of 30%, it is projected to expand further and hit approximately $21 billion by 2026. Despite occasional fluctuations influenced by various factors, this industry remains one of the fastest-growing sectors in the country.
The substantial growth observed in recent years can be attributed to several key factors contributing to the industry's success.
Covid-19 Pandemic
The lockdown significantly impacted the restaurant industry, leading to a decline in footfall as people stayed indoors. In response, many restaurants embraced online platforms facilitated by food aggregators. With heightened awareness of hygiene and safety, individuals began to opt for the convenience of ordering food online rather than venturing out to make their purchases.
Digitalization
2016 JIO sparked a revolutionary change in the digital landscape by offering affordable high-speed internet services. This transformative move proved a game-changer for cloud-based tech companies, opening up access to a broader audience for their services. Zomato and Swiggy were among the beneficiaries of this digital revolution, enabling them to accelerate their expansion into various cities much faster.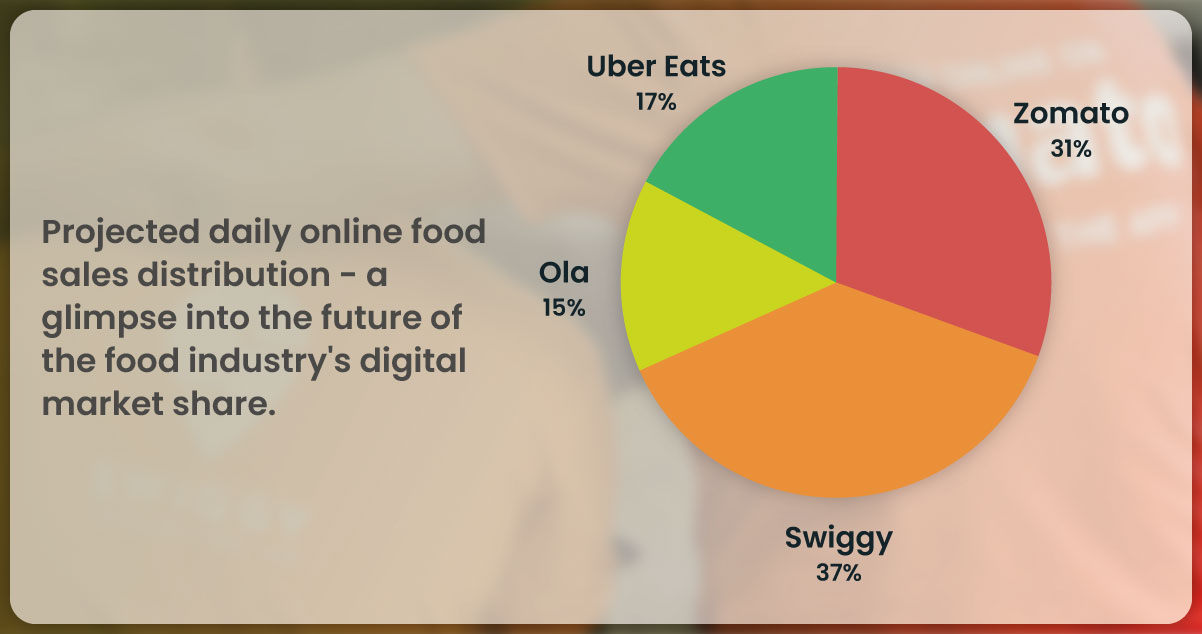 Zomato Innovations
Zomato has consistently been at the forefront of innovation, continually seeking ways to enhance the customer experience. Their dedication to introducing novel ideas has resulted in several groundbreaking initiatives that have the potential to reshape the market. In this article, we will delve deeper into the innovative strides taken by Zomato to maintain a leading position in the highly competitive food delivery race.
Hyperpure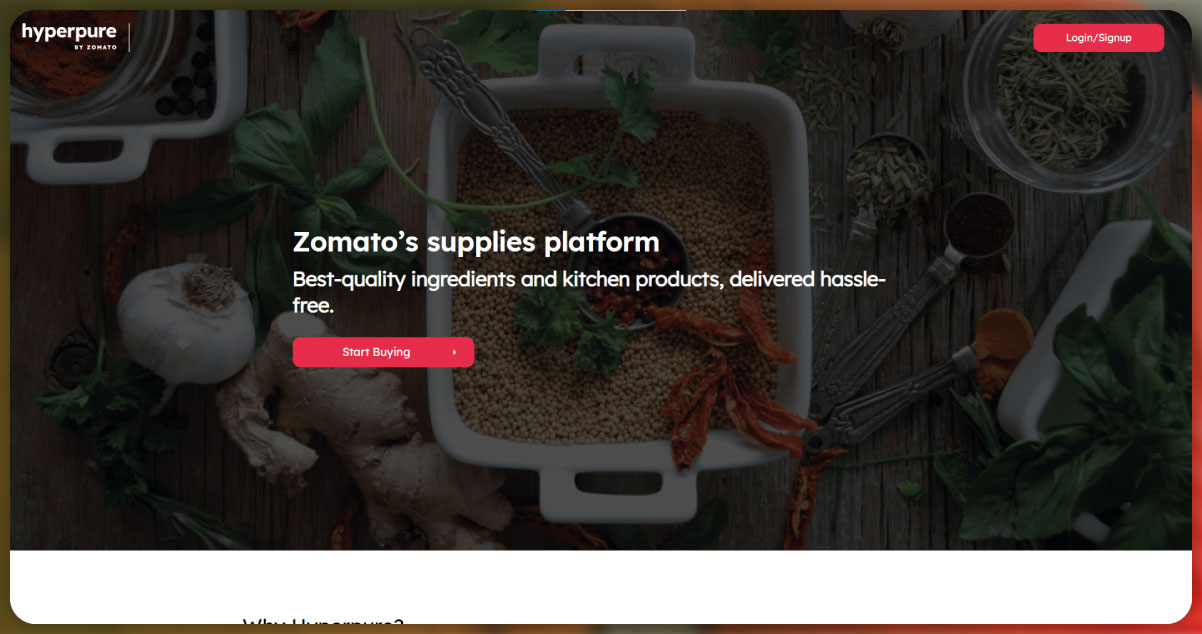 ‌‌Zomato's Hyperpure is a pioneering initiative to revolutionize how restaurants procure fresh, premium-quality ingredients. By offering a vast selection of over 1200 ingredients and kitchen products, Hyperpure provides a seamless direct delivery service to restaurant addresses, alleviating the burden of daily kitchen commodity purchases for restaurant owners.
Zomato has established a robust network of professionals, including farmers, mills, producers, and processors, for product outsourcing to ensure a reliable and efficient supply chain. The sellers on Hyperpure undergo a stringent verification process, ensuring that only trustworthy and committed partners are appointed, fostering long-term partnerships. With Hyperpure, Zomato empowers restaurants to access top-notch ingredients conveniently, elevating the overall dining experience for their customers.
Zomato Instant: Experience the Magic of 10-Minute Deliveries!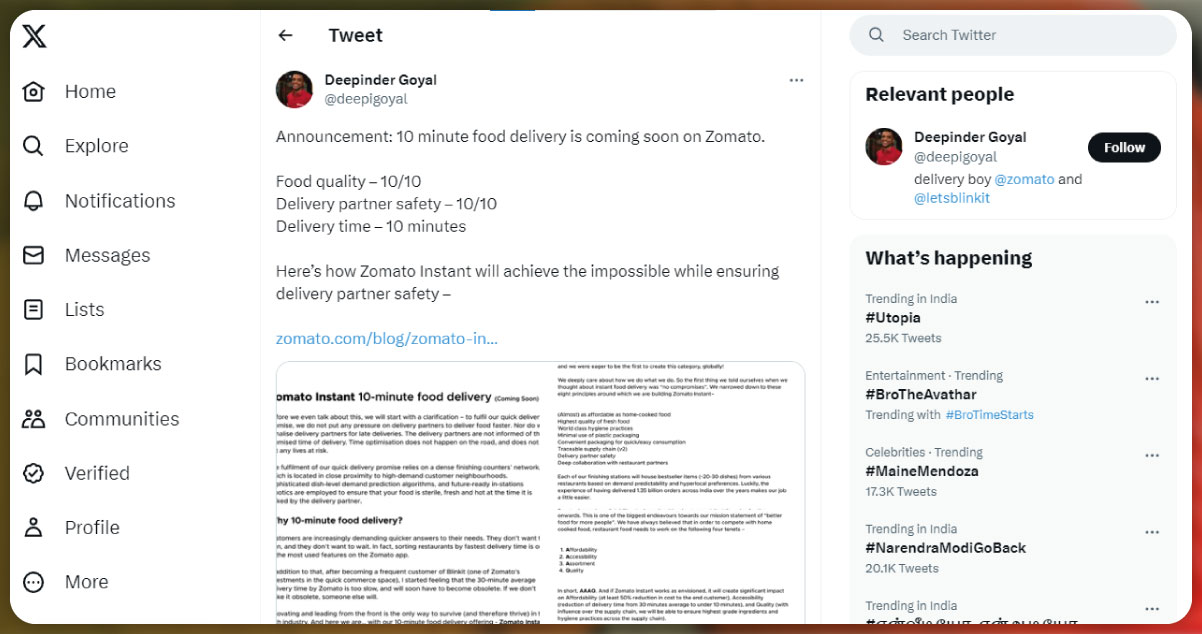 Zomato's user data speaks volumes about customer preferences, as the most popular app feature is sorting restaurants by delivery time. This trend indicates a strong desire for faster delivery services, with customers unwilling to wait. Responding to this demand, Zomato introduced "Zomato Instant," – an impressive 10-minute food delivery service from various restaurants.
Despite the swift delivery promise, Zomato ensures that no undue pressure is exerted on their delivery partners or restaurant associates. Surprisingly, delivery partners are not informed about the promised delivery time, and no penalties are imposed for any potential delays.
The key to Zomato Instant's success lies in its sophisticated demand prediction algorithm. Leveraging this advanced technology, a strategically positioned finishing stations network is established near high-demand areas. This network ensures that each order is fulfilled promptly, allowing customers to enjoy their favorite meals with minimum waiting time.
Zomato Intercity Legends: Unveiling Seamless Interstate Food Delivery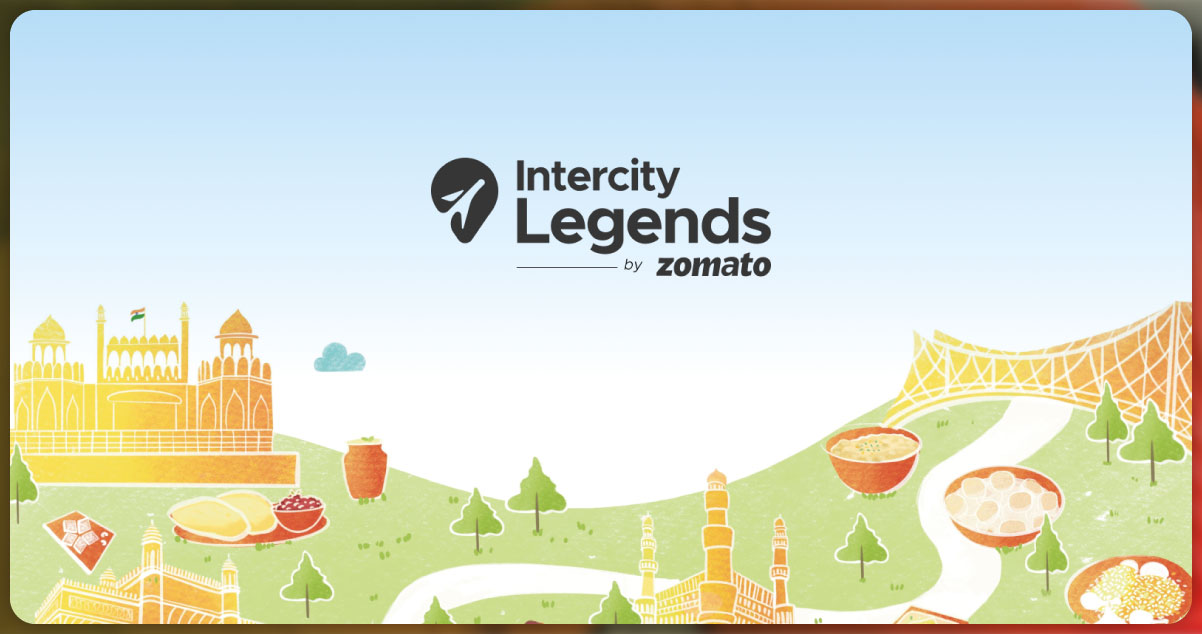 Zomato has introduced a remarkable concept called "Intercity Legends," where you can savor legendary and famous foods from various states delivered right to your doorstep. Are you craving biryani from Hyderabad or rasgullas from Kolkata? Now you can indulge in these iconic dishes and more as Zomato bridges the gap between cities and states through this unique culinary experience.
Although still in its pilot stage, Intercity Legends has garnered an overwhelmingly positive response. Currently available to select customers in Gurgaon and certain parts of South Delhi, this innovative initiative showcases Zomato's commitment to bringing the flavors of different regions closer to its patrons.
When you place an order through Intercity Legends, your culinary delight embarks on an extraordinary journey via a flight, arriving at your doorstep with meticulous packaging. Zomato's well-designed logistic system ensures that your order reaches you within the stipulated timeframe, ensuring a seamless and delightful food experience like never before.
Enhancing Delivery Precision: The Power of Voice Directions for Order Deliveries
Zomato, consistently striving to elevate user experience, has introduced a new feature in its app to address the challenges posed by imprecise mapping in India. With this innovative addition, users can now provide voice instructions for accurate directions to their homes, making the delivery process smoother and more efficient.
To utilize this feature, users must access the delivery instruction tab and hold down the record button to offer relevant information about their delivery location. By leveraging voice instructions, Zomato aims to overcome the issues faced by delivery partners in locating delivery addresses, reducing the need for customer calls, and avoiding potential delays that might impact customer satisfaction negatively.
This user-friendly feature empowers customers to provide precise and clear directions, ensuring that their orders reach them with greater accuracy and promptness, enhancing overall satisfaction with the delivery experience.
Empowering Local Eateries: Street Vendors Thriving on the Zomato Platform
Street food holds a special place in our hearts as the best, most affordable, and most delectable alternative to traditional restaurants. We often find comfort in the familiar call, "Let's head to the local street vendor for some mouthwatering chole bhature from 'Kallu's' stall." However, during the lockdown period, these street vendors faced immense hardships.
In a collaborative effort with the government of India, Zomato took a proactive step to support these street vendors by bringing them onto its platform. The government introduced the Prime Minister Street Vendor's AtmaNirbhar Nidhi scheme (PM SVAnidhi scheme), offering working capital loans and promoting digital payments to empower these vendors.
As a result of this initiative, Zomato successfully onboarded approximately 965 street vendors from various cities, including Bhopal, Nagpur, Vadodara, Ludhiana, and Jabalpur. Through this significant move, Zomato not only provided a lifeline to struggling street vendors but also brought the flavors of these local delicacies to a broader audience, preserving and celebrating the essence of street food culture in India.
Swiggy Innovations
Swiggy is equally determined to stay ahead in the race for innovation, continuously taking significant strides to enhance its delivery services and elevate user experience.
AI for Better Delivery Services
Swiggy has embraced the power of AI technology to address various challenges encountered throughout the delivery process. By leveraging advanced AI capabilities, Swiggy has implemented a system wherein delivery executives cannot mark their status as 'Arrived' until they have reached the restaurant. This integration with GPS for location tracking ensures complete transparency and reliability in the delivery process.
Recognizing the immense value of data today, Swiggy efficiently harnesses it to enhance its services. AI is crucial in predicting future orders, understanding customer behavior, and facilitating interactions based on historical data. With this intelligent technology, Swiggy offers a personalized list of restaurants tailored to each user's preferences, considering factors such as previous orders, reviews, search history, and interactions. Additionally, the AI-driven system recommends different dishes customers are most likely to order, further elevating the overall user experience.
Swiggy One: The All-in-One App Experience for Seamless Integration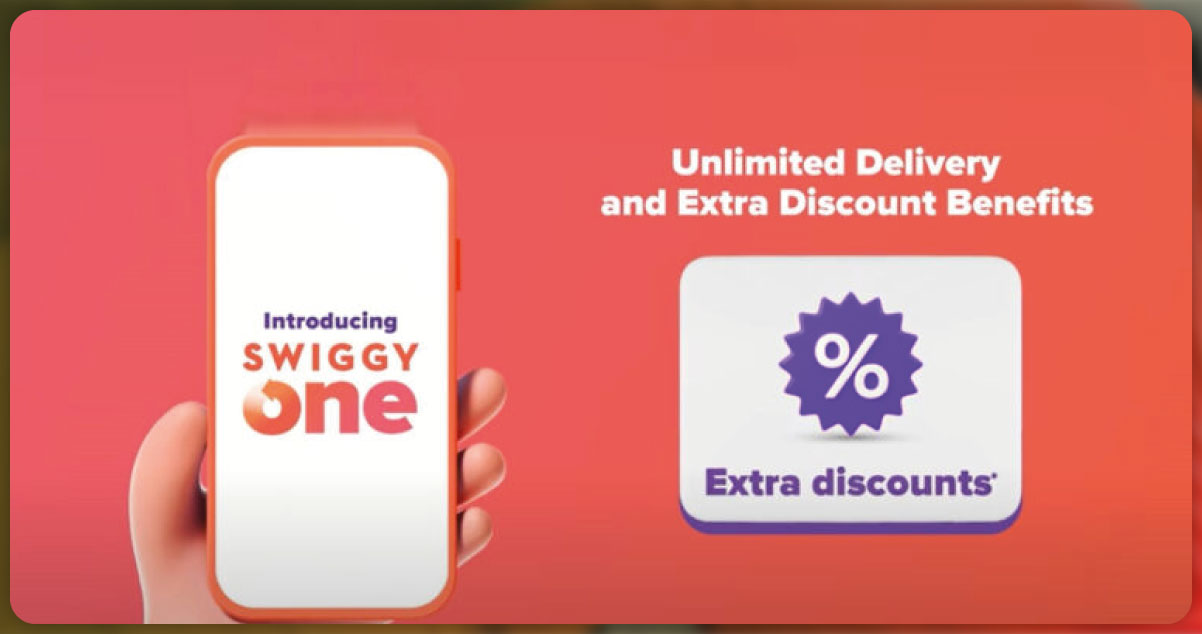 Swiggy embarked on its membership journey in 2018 with the launch of Swiggy Super, which offered free delivery on restaurant orders. Over time, Swiggy expanded its services with offerings like Instamart and Swiggy Genie, catering to the growing demand for quick commerce.
Recognizing the convenience of consolidating these services, Swiggy took a significant step by integrating all its offerings under one comprehensive platform called "Swiggy One." Users no longer need to install multiple apps or manage separate accounts. With just one app, Swiggy, users can access a wide range of services, including ordering food from restaurants, purchasing groceries through Instamart, and availing Swiggy Genie for deliveries.
By unifying these services, Swiggy One simplifies the user experience, allowing customers to access all services seamlessly. Additionally, members of Swiggy One can enjoy exclusive benefits such as discounts and free delivery, making it an all-in-one solution for their food and quick commerce needs.
Delivery by Drones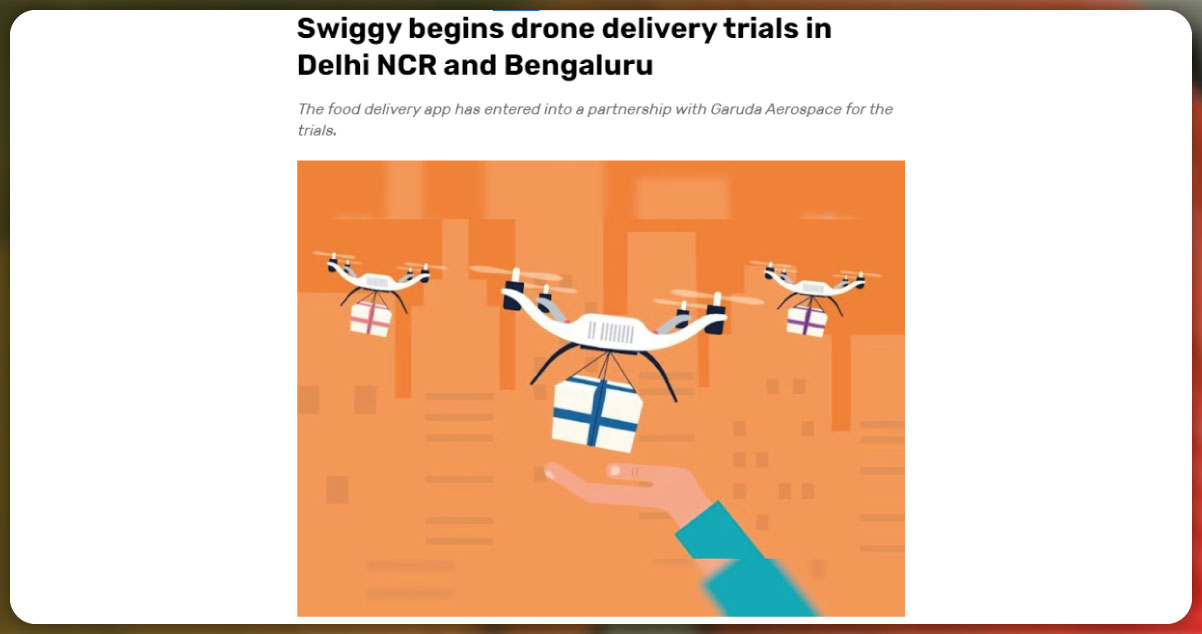 The food-tech industry in India is undergoing a revolutionary phase, with Swiggy at the forefront of innovation. Embracing the future of delivery, Swiggy is actively working on implementing drone deliveries, and numerous pilot projects have been conducted to bring this concept to reality. The critical idea revolves around efficiently transferring goods from dark stores to the nearest seller location, ensuring faster and more convenient delivery for customers.
Garuda Aerospace successfully initiated the initial drone delivery trial for grocery services in Delhi-NCR and Bengaluru. Building upon the lessons learned and the performance achieved during this first trial, Swiggy is gearing up to conduct a second trial in collaboration with Techeagle, Marut Drone Tech, and ANRA Technology.
With such groundbreaking initiatives, Swiggy is paving the way for a new era of delivery services, leveraging cutting-edge technology to enhance customer experiences and redefine the food-tech landscape in India.
Empowering Visual Experiences: The Impact of Multimedia Cards on User Engagement
To build lasting customer trust, prioritizing a better customer experience has become paramount for companies today. Recognizing the direct correlation between user experience and customer retention, businesses actively take measures to enrich user interactions on their platforms.
Keeping up with the evolving trends, Swiggy has introduced an innovative solution called "Multimedia Card Insights." Departing from traditional images and Lottie animations, this new era of multimedia cards utilizes informative videos to showcase product overviews. By harnessing the power of videos, Swiggy aims to provide customers with a more immersive and engaging experience, ensuring a deeper understanding of product features and enhancing overall satisfaction on its platform.
Face-Off: Zomato vs. Swiggy - A Comprehensive Figure Overview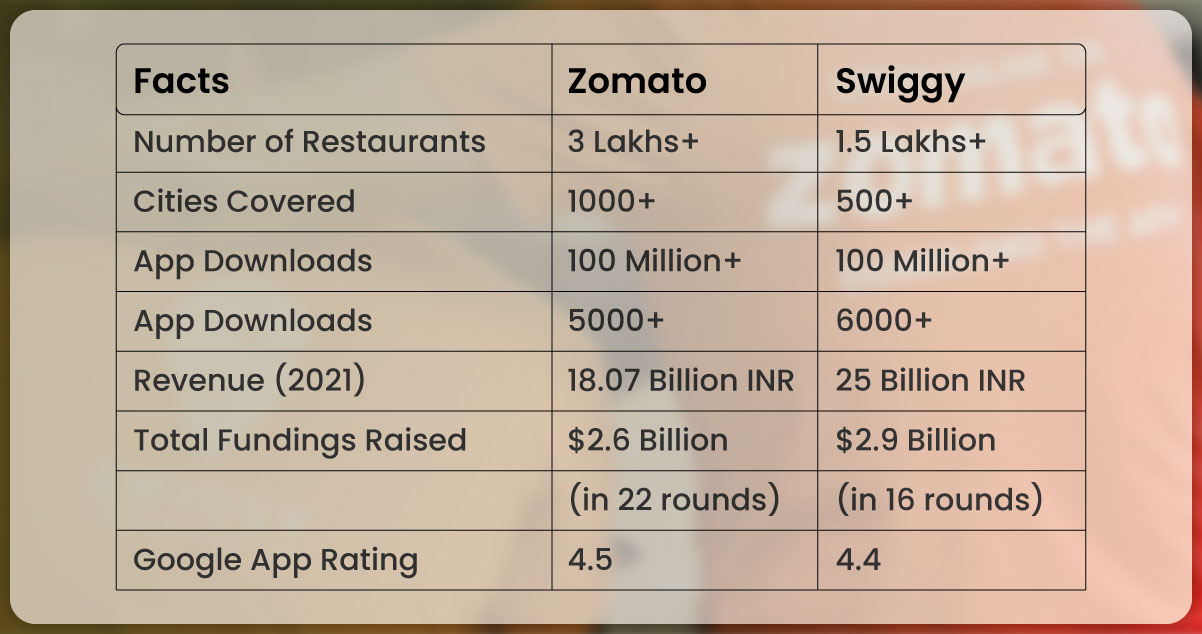 Zomato Marketing
Zomato's exceptional marketing strategy has consistently fortified its strong presence in the market. The food delivery industry has witnessed a significant shift, and Zomato's marketing efforts have played a pivotal role in making it a fascinating landscape. In this article, we will explore some of the standout marketing initiatives undertaken by Zomato that have contributed to its popularity and success in the ever-evolving food delivery market.
Zomaland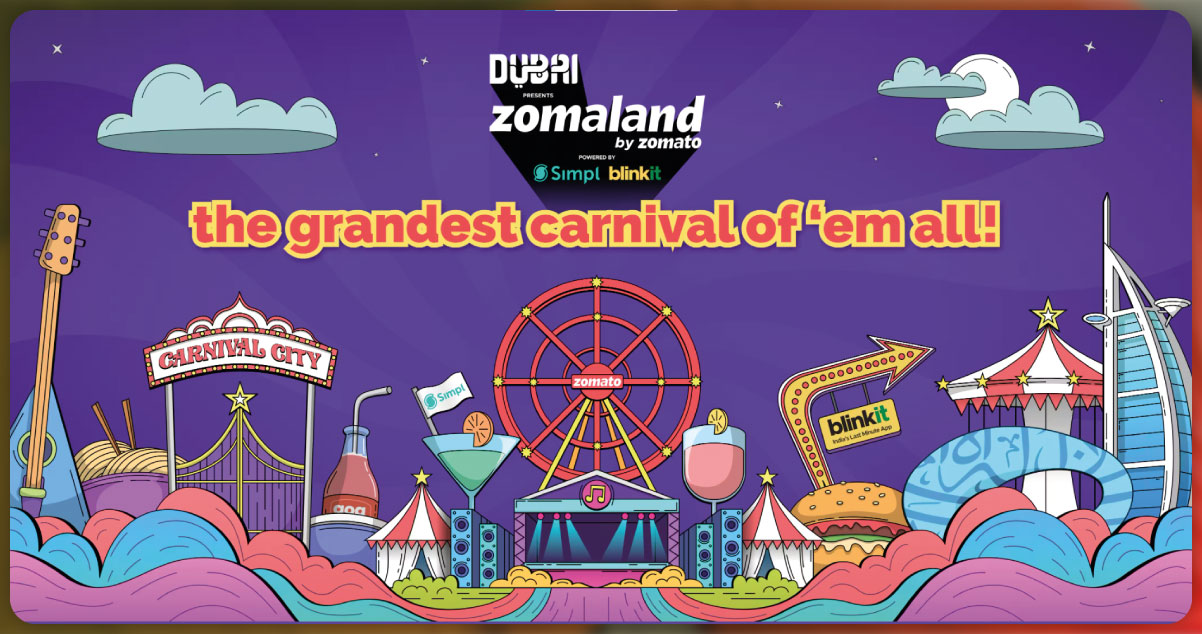 Zomaland, the much-awaited food carnival curated by Zomato, offers a delightful blend of top-notch restaurants, captivating performances, and an array of exciting attractions, creating a remarkable food festival experience. The event was first launched in 2019 and quickly gained immense success, drawing over 1.5 lakh visitors, featuring 300+ restaurants, and serving more than 3.5 lakh delectable dishes. Notably, renowned artists such as Hardy Sandhu, Badshah, Divine, etc. graced the occasion, adding to the thrill of the festival.
With Zomaland season 2 in full swing, the energy and excitement are palpable in cities like Ahmedabad, Mumbai, Pune, New Delhi, Bengaluru, Kolkata, and Hyderabad. This captivating marketing event by Zomato has established itself as one of the most popular and successful food festivals, drawing food enthusiasts and music lovers alike to indulge in a delightful celebration of flavors, performances, and experiences.
The Power of Memes: Exploring the Impact of Creative Marketing Strategies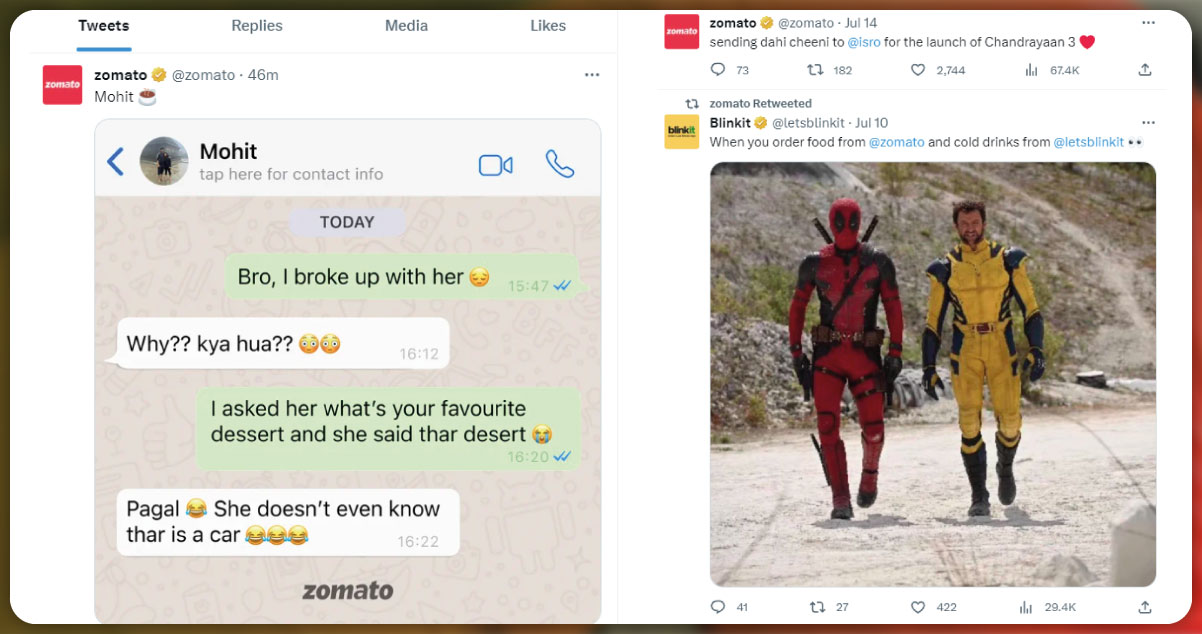 Zomato's meme and creative marketing approach stand out as industry leaders. Their social media handles are a treasure trove of imaginative marketing memes that resonate with the audience and effectively convey the brand's messages engagingly and excitingly.
Swiggy Marketing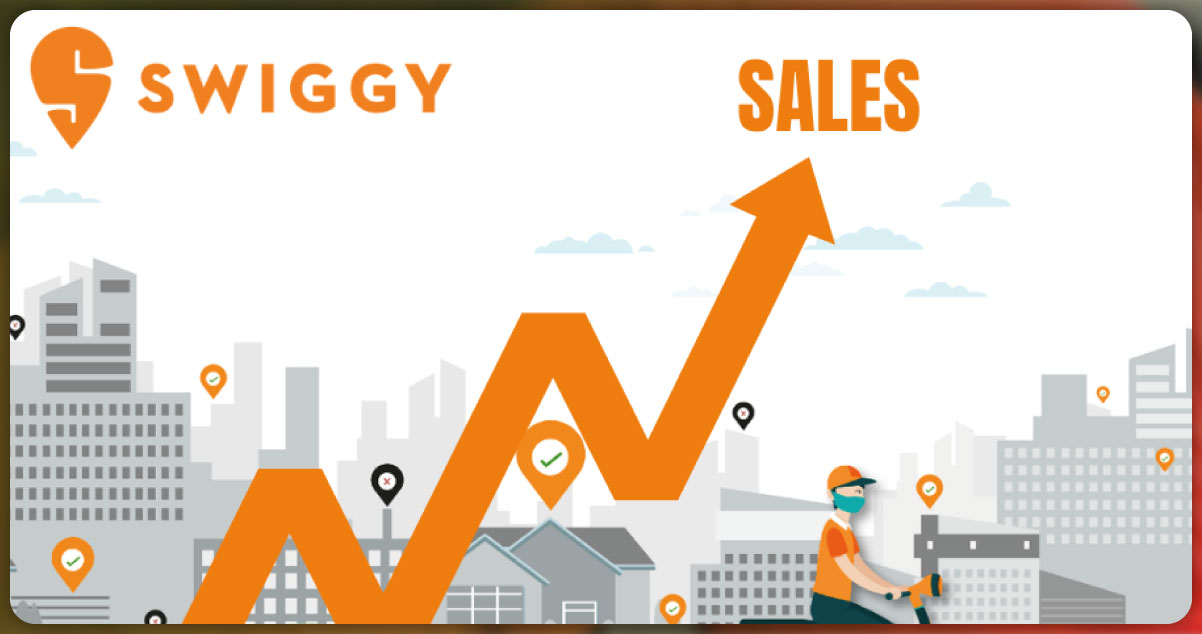 Swiggy's marketing campaign is integral to its fierce competition with its major rival, 'Zomato.' Recently, Swiggy introduced a captivating marketing initiative that has garnered widespread attention. The campaign prompts viewers to answer the question, "Why is this a Swiggy ad?" based on a picture shared by Swiggy.
This unique challenge has struck a chord with numerous customers, igniting curiosity and engagement. Swiggy sweetened the deal by announcing a reward of Rupees 1 lakh worth of Swiggy money to the individual who provided the correct answer. The response was astounding, with approximately 800,000 people participating online and presenting their theories behind the campaign. This user-generated approach has catapulted the campaign to become one of Swiggy's most successful marketing ventures, with "Why is this a Swiggy ad" emerging as one of the most searched topics on Google during that week.
Conclusion
Both Zomato and Swiggy are thriving in their efforts to deliver top-notch food experiences to consumers. Zomato is stronger in market share, marketing prowess, innovation, and successful acquisitions. On the other hand, Swiggy provides essential relief and support to its dedicated delivery executives, resulting in heightened consumer satisfaction.
While Zomato's market presence, marketing campaigns, innovative initiatives, and strategic acquisitions have solidified its standing in the industry, Swiggy's focus on the well-being and welfare of its delivery partners has fostered positive customer experiences. Both companies excel in different areas, contributing to the overall growth and success of the food delivery sector in India.
If you want to know more about out Zomato data scraping or Swiggy data scraping services, contact Actowiz Solutions now! You can also reach us for all your mobile app scraping, web scraping, or instant data scraper service requirements.
FAQs:
What are the top 3 food delivery apps in India?
The top 3 food delivery apps in India are Zomato, Swiggy, and Dominos.
Is Swiggy considered successful in India?
Yes, Swiggy is regarded as a successful startup in India, despite facing some challenges. It has established itself as a prominent player in the market and serves as an example for other startups to learn from.
Is Swiggy losing to Zomato?
Based on insights shared by Jefferies, Swiggy's gross value for food delivery operations in the first half of 2022 was $1.3 billion, while Zomato recorded $1.6 billion. This suggests that Swiggy may have lagged behind Zomato at certain points. However, the real winner in this competition remains a debatable topic.
Is Swiggy ahead of Zomato?
The competition between Swiggy and Zomato is intense. In terms of gross value, Swiggy has lagged behind Zomato. However, Swiggy has made strides in the quick commerce space by acquiring Blinkit, enabling it to expand its presence in various e-commerce markets and move ahead of Zomato in this domain.