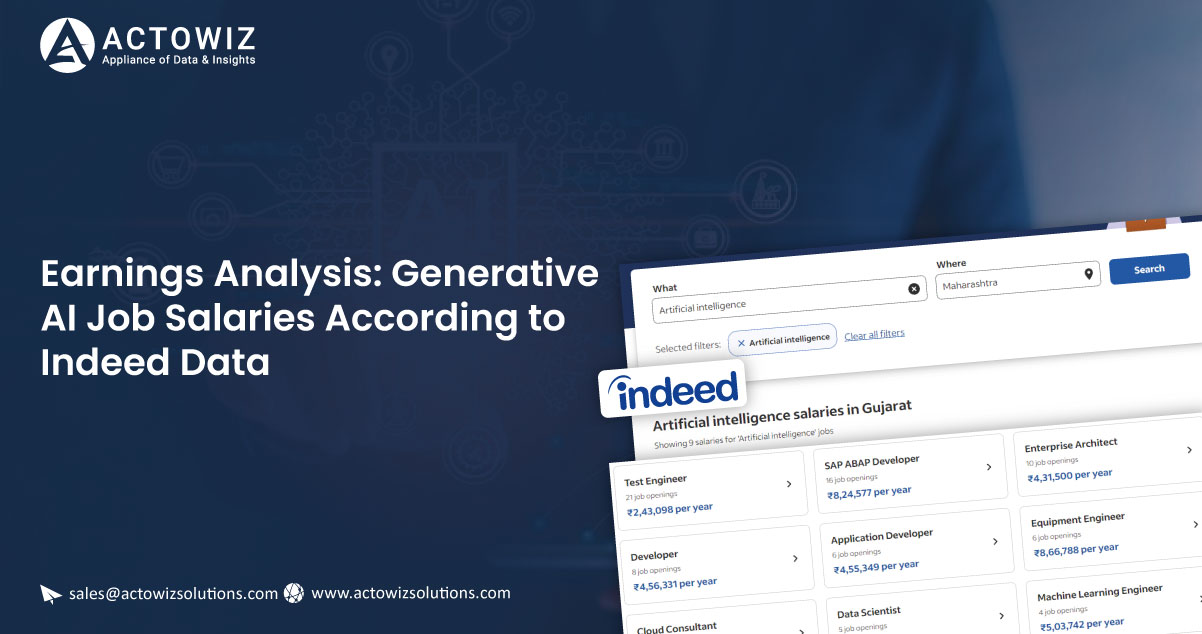 The field of Generative Artificial Intelligence (AI) is witnessing a remarkable surge in demand, and with it, the job market for professionals with expertise in this cutting-edge technology. Generative AI encompasses areas like deep learning, natural language processing, and computer vision and has found applications in a wide range of industries, from healthcare and finance to entertainment and e-commerce.
In the dynamic landscape of Generative AI, a pivotal question emerges for job seekers and employers alike: What defines the earning potential for AI jobs? To decipher this inquiry, we delve into invaluable understandings from Indeed, a premier job search platform. Through a meticulous analysis of salary data extracted from job postings on Indeed, we gain a comprehensive understanding of the compensation landscape within the burgeoning field of Generative AI. This exploration serves as a roadmap for individuals aspiring to embark on Generative AI careers and furnishes employers with key insights into salary trends, fostering informed decision-making in talent acquisition.
In this analysis, we delve into the salary trends, regional variations, and critical factors influencing the compensation packages for Generative AI roles. Whether you are a professional considering a career in Generative AI or an organization looking to hire top talent, these insights will provide you with a data-driven perspective on salary expectations.
Let's explore the numbers, trends, and factors shaping the compensation landscape for Generative AI jobs using Indeed Jobs Data Scraping Services, helping job seekers and employers make informed decisions in this dynamic and rapidly evolving field.
List of Data Fields for Analyzing Generative AI Job Salaries Based on Indeed Data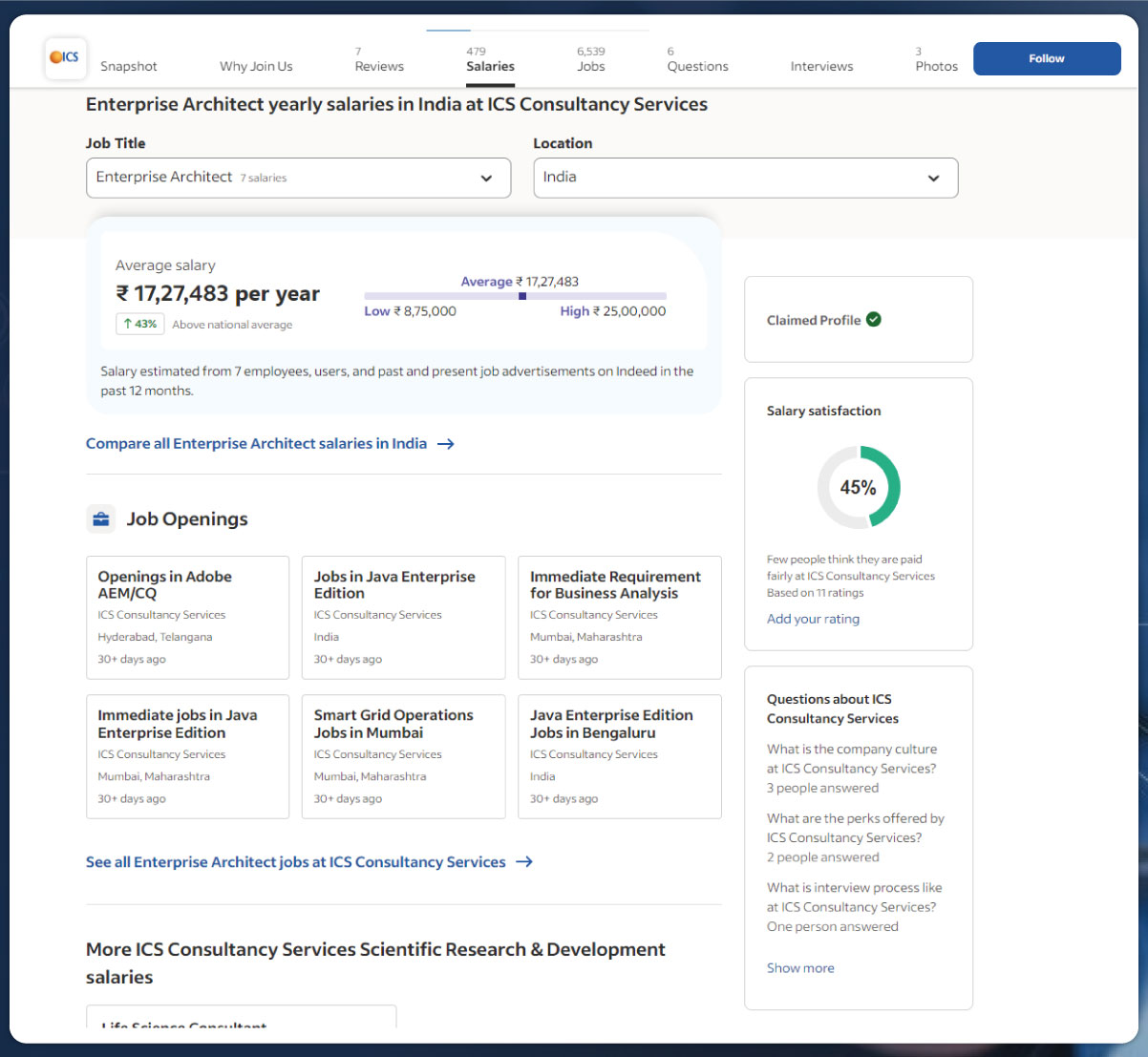 When analyzing Generative AI job salaries based on Indeed data, the following data fields are essential for gaining comprehensive insights:
Job Title: The specific title of the Generative AI position being analyzed.
Location: The geographic region or city where the job is located, as salaries can vary significantly by location.
Company Name: The name of the hiring company or organization can also impact salary offers.
Experience Level: The experience required or preferred for the job, as more experienced professionals often command higher salaries.
Educational Qualifications: The role's minimum or preferred educational background, as more advanced degrees can influence salaries.
Salary Range: The salary range or specific salary figures for the Generative AI job, providing the core data for analysis.
Benefits and Perks: Additional benefits and perks offered, such as health benefits, stock options, or remote work flexibility, which can affect the overall compensation package.
Job Description: A brief description of the responsibilities and expectations associated with the role.
Industry: The industry or sector where the hiring company operates, as salaries can vary by industry.
Company Size: The size of the hiring company, such as small startups or large corporations, can influence compensation.
Skills Required: The essential skills and technologies needed for the job, as specific skills may be in higher demand and lead to higher salaries.
Job Type: Whether the position is full-time, part-time, contract, or freelance, job type can impact pay structures.
Date Posted: The date when the job posting was listed, which can provide insights into the currency of the salary data.
These data fields collectively offer a comprehensive view of Generative AI job salaries, enabling in-depth analysis and comparisons.
Now, let's proceed with our examination and analysis.
Data Analysis: Generative AI Job Openings in Major US Cities
In the realm of generative AI, there are a total of 300 job openings spread across five major cities in the United States. These opportunities come from 150 distinct companies, underscoring the increasing demand for skilled professionals in the Generative AI field. Now, let's analyze these job openings by examining them by company and location.
Job Openings As Per Company
As previously mentioned, the 300 job openings are dispersed among 150 companies. To gain a clearer perspective, we've charted the top companies based on the number of job openings they offer, shedding light on the distribution of job opportunities within each organization.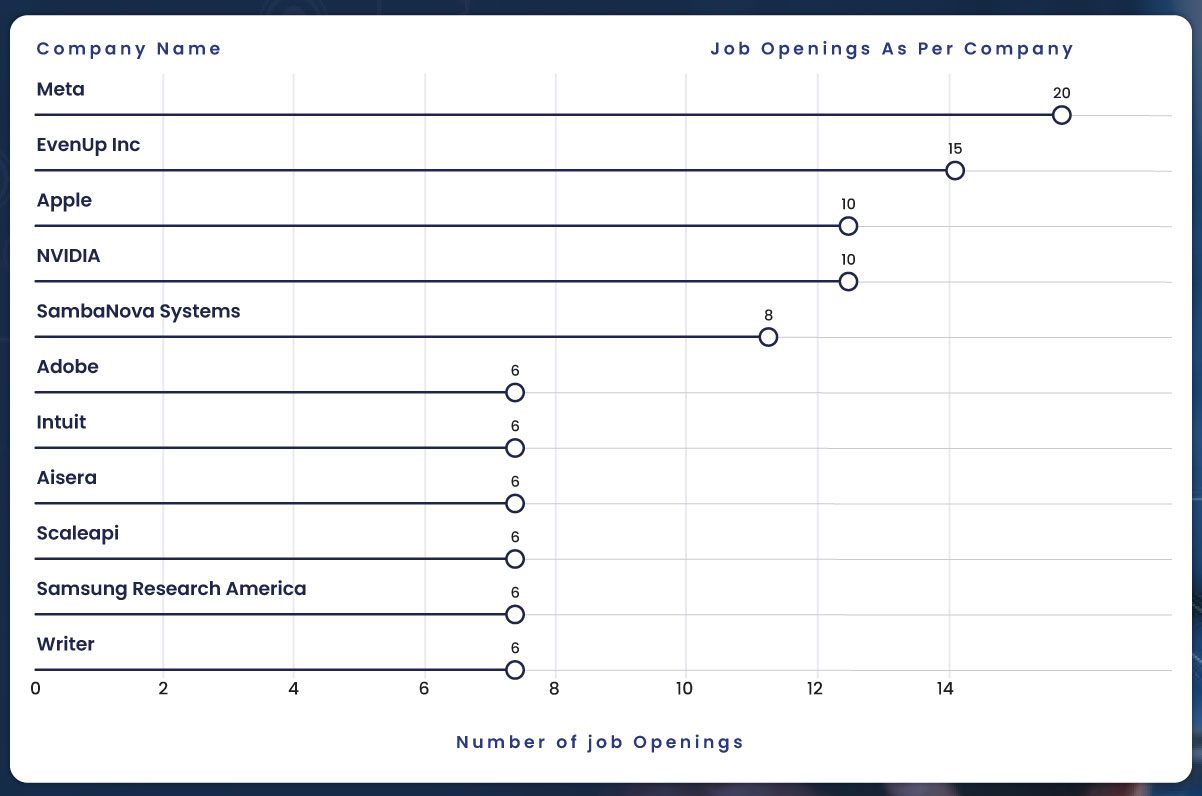 Key Insights from Our Analysis
Meta Leads the Way: Meta emerges as the frontrunner with the highest number of job openings in the generative AI field across all five major US cities. This signifies generative AI technologies' growing significance and rapid evolution in the tech industry.
EvenUp Inc Shows Strong Demand: EvenUp Inc secures the second spot with 15 job openings, highlighting its robust commitment to harnessing generative AI talents. Apple and NVIDIA are closely behind, with 10 job openings each, emphasizing the substantial need for generative AI expertise within these tech giants. SambaNova Systems also demonstrates noteworthy demand with 8 job openings.
Job Openings by Location
The 300 generative AI job openings are dispersed across five major cities in the United States, each contributing to the growth of this field. Here's a visual representation of the distribution of job opportunities in these cities, providing insights into the geographical landscape of generative AI job prospects.
Job Openings by Location: Unveiling Geographical Trends
Our analysis reveals distinctive patterns in the distribution of generative AI job opportunities:
California Dominates: California emerges as the epicenter of generative AI opportunities, boasting the highest number of job openings, a staggering 161. New York follows suit, maintaining a substantial presence with 66 job openings.
Los Angeles Lagging Behind: In contrast, Los Angeles trails with the least number of job openings, amounting to just 11 positions.
Salary Analysis: Decoding Compensation Trends
Understanding salary trends is pivotal for both recruiters and job seekers, providing insights to tailor competitive compensation packages. Let's delve into our salary analysis, scrutinizing average salaries and salary ranges across the five cities.
Exploring Salary Ranges: Unveiling Compensation Boundaries
Our salary range analysis dissects the minimum and maximum salary levels for generative AI positions in each city, offering a comprehensive view of compensation boundaries. The subsequent visualization illustrates these salary dynamics, providing valuable insights for both recruiters and job seekers alike.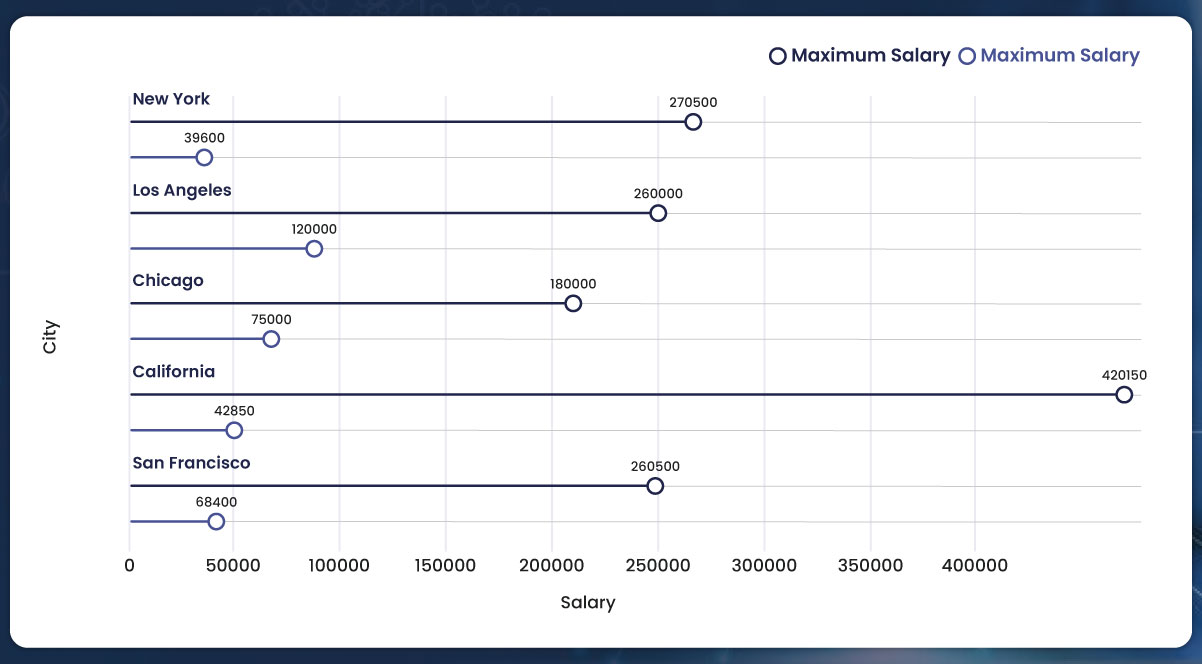 Deciphering Compensation Patterns: A Deeper Dive
Our salary analysis transcends the graphical representation, unraveling crucial insights into the generative AI job landscape:
Pinnacle of Earning Potential: California stands as the pinnacle of earning potential, boasting the highest salary in the dataset at an impressive $420,150.
New York's Compensation Landscape: On the other end, New York reflects the lower spectrum, with the minimum salary at $39,600.
Analyzing Average Salaries: Illuminating Earning Norms
To gauge the earning norms for generative AI roles, our average salary analysis offers a comprehensive overview. This examination provides a nuanced understanding of the typical compensation expectations for professionals in this dynamic field.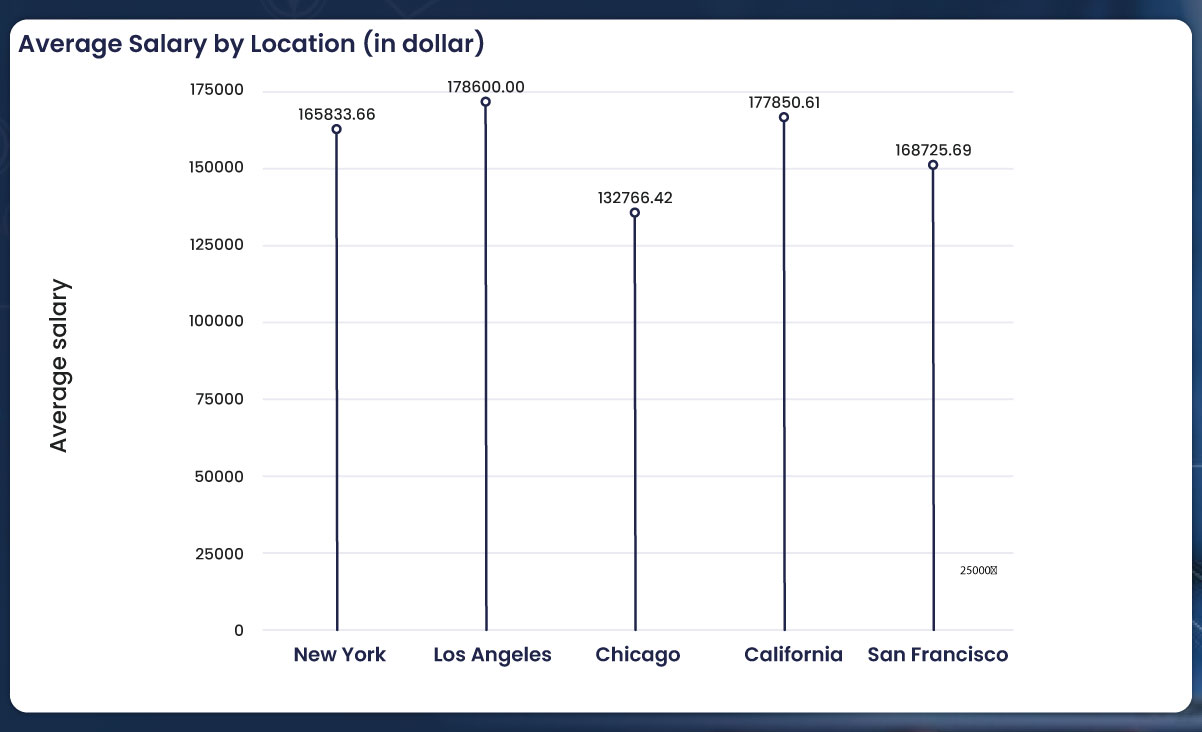 Deciphering Compensation Norms: Insights Unveiled
Upon scrutinizing the graph, pivotal insights into the average annual salaries for generative AI roles emerge:
Los Angeles Leads the Pack: Taking the lead, Los Angeles commands the highest average annual salary, reaching an impressive $178,600. Hot on its heels, California closely follows with an average annual salary of $177,850.61.
Chicago's Compensation Landscape: At the opposite end of the spectrum, Chicago charts the lowest average annual salary at $132,766.42, emphasizing the regional variations in compensation norms for generative AI professionals.
This analysis empowers recruiters and job seekers to navigate the intricate terrain of compensation expectations within the generative AI job market.
Conclusion
Embark on a dynamic journey into the world of Generative AI, where innovation meets unparalleled career opportunities at Actowiz Solutions. Generative AI's enticing realm promises exciting roles and offers attractive compensation, making it a prime choice for aspiring professionals.
In the evolving landscape of Generative AI, Actowiz Solutions is a guiding force, providing a platform for continuous learning and skill development. For individuals seeking to thrive in this transformative field, Actowiz Solutions catalyzes success.
Our analysis of Generative AI job opportunities across major US cities reveals a surge in demand for skilled professionals. This valuable insight is a compass for both recruiters and job seekers, offering a comprehensive understanding of current compensation trends and the abundance of job openings in diverse locations.
Seize the opportunity to shape your career in Generative AI with Actowiz Solutions – where every innovation unlocks a new horizon. Join us to navigate and conquer the dynamic landscape of Generative AI careers.
Explore the Future of Generative AI Careers with Actowiz Solutions – Your Gateway to Innovation and Opportunity! You can also reach us for all your Job Recruitment Data Scraping Services, mobile app scraping, Indeed Jobs Data Collection, web scraping service, and instant data scraper service requirements.