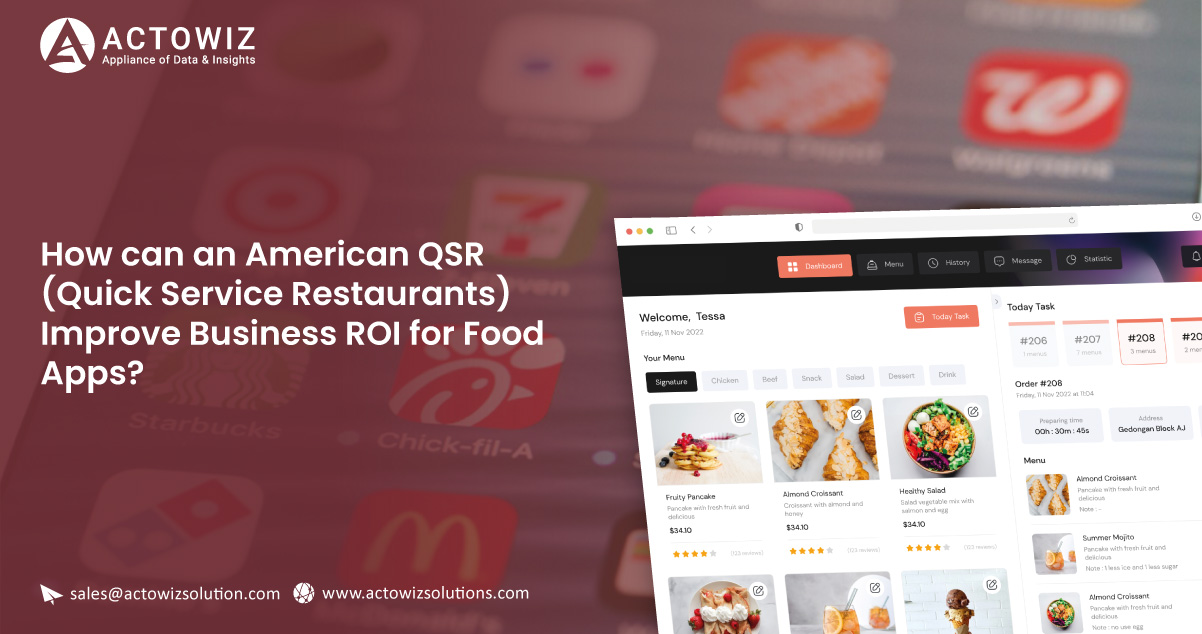 The association between food delivery apps and QSR chains has benefits and drawbacks. Among the crucial complaints, QSRs have against the food apps are incremental marketing spending needed to take part on a platform and the incapability of measuring investment impacts.
At Actowiz Solutions, we allow QSRs to outline measurable metrics to get positive ROIs for app marketing investments. We also equip QSRs using the tools to track their competitive performances at coarse, zip code- depending levels so that restricted strategies can be modified as required. Here is the example of 1000+ store chain QSRs we have partnered with for optimizing pre-existing investments made with the larger food aggregator apps. With the months engagement with us, they have achieved a 3X increase in sales without giving any extra marketing dollars.
Lets understand the pain points that we have recognized and solved:
1. No Well-defined Metrics
Problem – No leading metrics for tracking marketing performances
Among the fundamental issues, we have realized was that sales werent an effective metric to track marketing performances because its a dawdling metric that doesnt apprehend the problems that help grow or suppress the sales.
Most sales are determined by ranks in the food category and search for the branded keywords. However, a QSR chain cant track those ranks.
In reality, 70%+ of the sales go to the top five restaurants in the category and keywords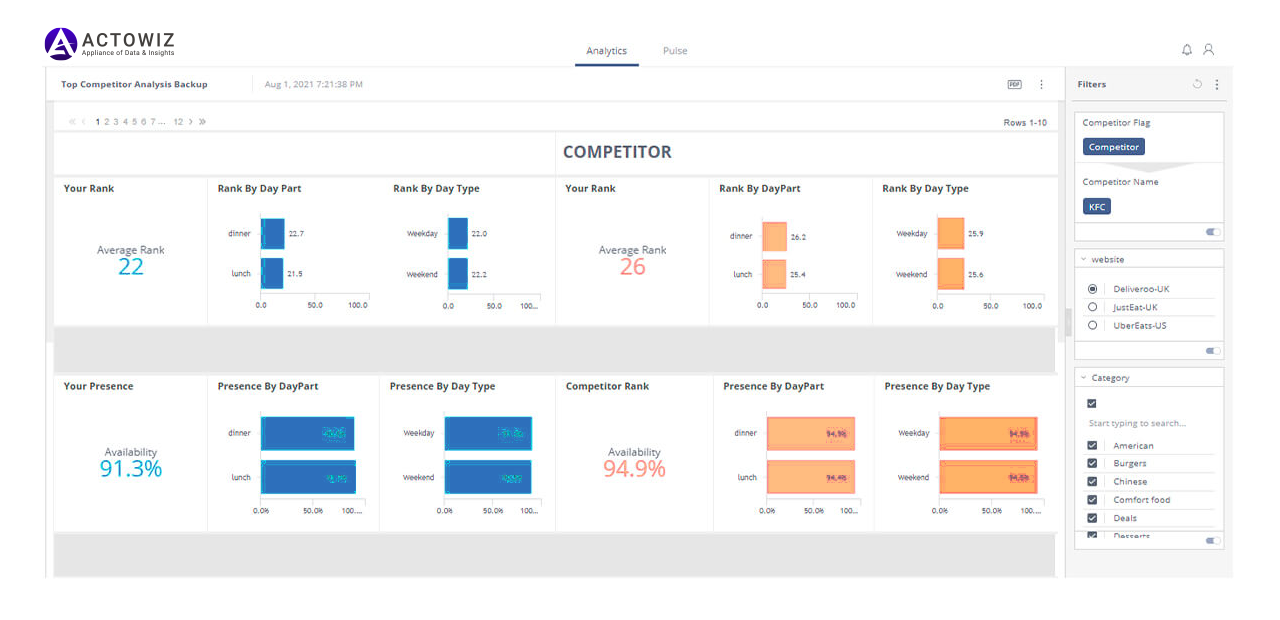 Solution – Use ranking as the clear marketing metrics
By data aggregation across various food app platforms expansively, i.e., in locations, at multiple times a day, we have established the QSR chain ranking in essential categories and for important keywords, recognizing where they over or under-performed related to competition. Because we did that every day- it became a candid metric that helped establish the marketing campaign performance.
2. Categorical & Geographical Challenges
Problem: Recognizing poor-performing zip codes and stores
We understood it wasnt easy to recognize well-performing stores on food apps as sales rely on different factors like competition, area population, local cuisine preferences, etc.
Solution: Attributes and Ranking of Zip Codes
We have tracked the Ranking of every store with every Zip Code for keywords and made a listing of poor-performing stores. Also, we have scraped attributes like Estimated Time of Arrival (ETAs), Ratings, Delivery Fees, Reviews, etc., for all the poorly-performing stores to recognize the reasons for poor Ranking.

E.g., We comprehended that 356 stores werent on the first page, mainly due to High ETAs and poor ratings. After the intensive initiative, 278 stores started coming on the first page with a 23% increase in sales.
3. Lack of Sensitivity Analysis
Problem: Not sure about the contribution of ETAs, Fees, Ratings, etc., to Ranking
The precise ranking algorithms for food apps are not shared publicly. Therefore the QSR chain wasnt sure which variables of ratings, fees, ETAs, ad spend, or accessibility has contributed relatively to the general Ranking.
Solution: Measuring Contribution with Sensitivity Analysis
Comprehensive data for different zip codes in different timestamps were analyzed to determine which variables contribute most extensively to the Ranking. We have also directed A/B testing – concurrently testing two variables like decreasing ETAs at one store and improving ad spending at another, analyzing which has led to better ranks and sales impacts.
4. An Unidentified Competitive Landscape
Problem: Following competitor performance
For instance, we have found a QSR chain done well in the main urban centers; however, the competition was doing much better; however, there wasnt any good way of tracking and comparing the competitors performance.
Solution:
We also tracked the QSR chain with competition for all the metrics and compared performances.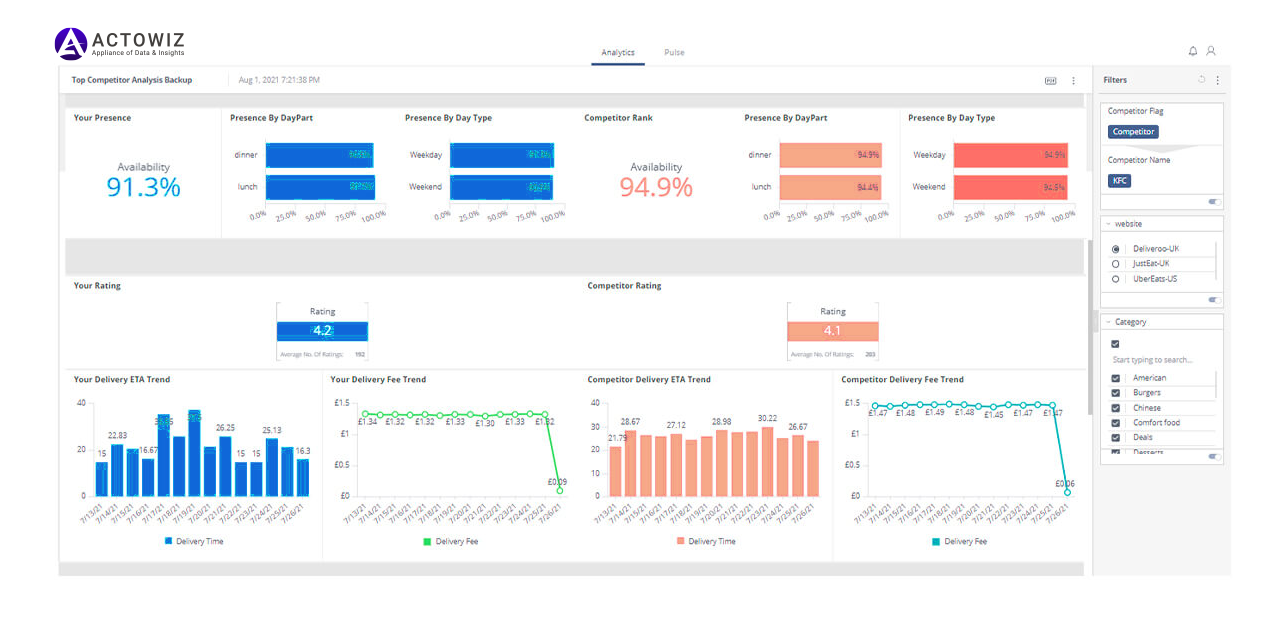 We rapidly realized Ranking began quickly improving because we gained a slight edge in every metric against competitors. For instance, 5 minutes lesser ETA adds to a higher Ranking.
After six months of exercise with the QSR chain, we have improved the average rankings to 11 from 24 for a QSR chain, having them featured on the first page.
5. Investment Opportunities in Blind
Advertising
Problem:
The QSR chain wasnt clear about which banners to select for investment and needed to rely on food platforms recommendations.
They werent given a clear view about which position has made a banner visible, and at what ranks among the flags the promo was visible.
Solution:
We have combined data for different banners populated in every zip code and found Ranking and at which position a QSR chain was noticeable.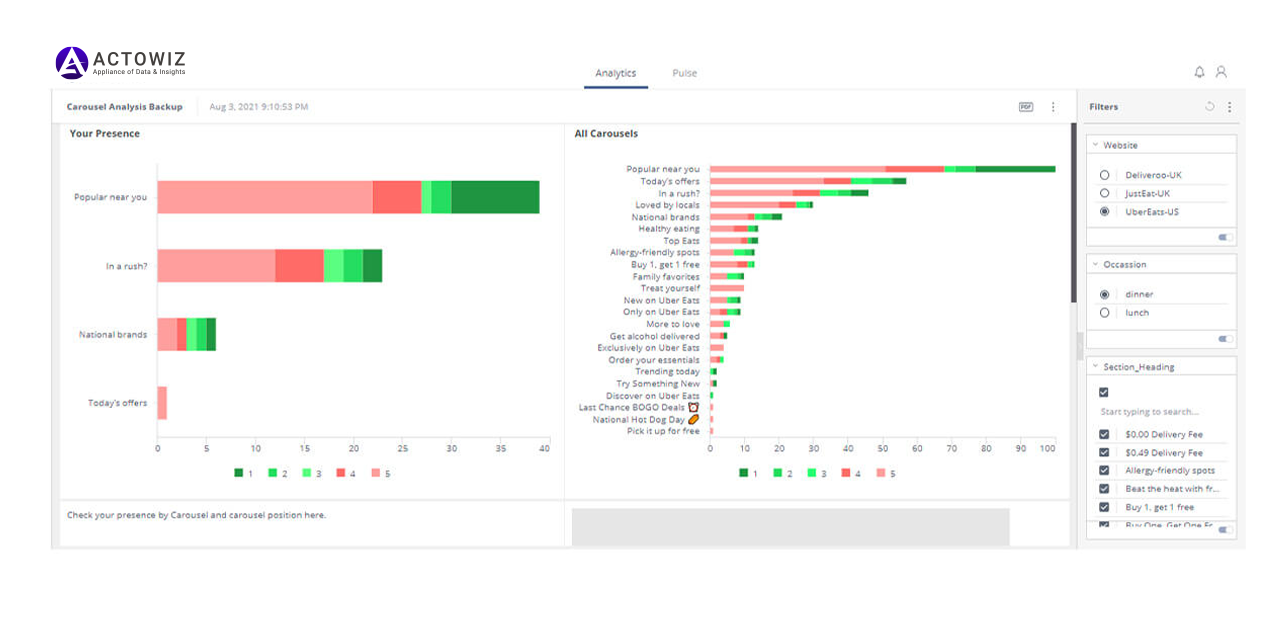 The QSR chain capitalized on 630 zip code-based banners having guaranteed visibility; however, our assessment directed that the banners were visible in only 301 zip codes. After choosing suitable banners for promotions, we improved visibility at 533 zip codes to improve the budget.
We are now using a similar strategy to refine offers, discounts, coupons, and promotions.
6. Lacking Campaign Performance Monitoring
Problem: Not sure about the long-term effects of marketing spend
Usually, increasing the marketing spend gives a temporary boost to sales; however, the question of the QSR chain was how we could determine long-term impacts, i.e., ranking keywords and targeted zip codes.
Solution:
We have created an easy widget for all marketing campaigns that shows the Ranking for keywords for particular zip codes before a campaign, during a campaign, and after a campaign, clearly founding the midterm effect of the movement. This continuous monitoring permitted QSR to quickly hinge on the strategy for national holidays etc., and work accordingly.
7. Measuring Non-Existent ROI
Problem: Creating an impact on the sales ranking
Though a QSR chain might track sales coming through a food app channel, they had no way to know incremental organic volumes done by marketing efforts.
One missing aspect was how much extra sales might be attributed to QSR ranking improvement.
Solution:
By compounding sales data and aggregated insights, we have established a QSR chain and how much sales they might expect from a ranking increase. We also understand which changed aspects led to the percentage of change increases.
A sales increase of 3x in six months was just the beginning, and the journey of impulsive marketing competence using channel and competitive data has just started.
Actowiz Solutions for QSRs
Actowiz Solutions has been dealing with worldwide QSR chains, assisting them in driving growth on aggregators platforms by helping them to observe key metrics, recommend action, identify improvement areas, and determine interventions impact. Actowiz Solutions strategy removes the dependency on food apps to get accurate data. We combine websites and food app data to analyze and justify marketing spending to drive the growth of 10-15%.
Contact us if you need to know how your brand can influence Actowiz Solutions data insights with better sales. You can also reach us for mobile app scraping and web scraping services requirements.