Geolocation is a technology of using data obtained from an individual's device (mobile or computer) to identify an exact physical location. Using this technology, two data types are collected – Active user or device-based information and Passive server-based data correlation. These two data are cross-referenced to get the final and accurate result.
Active or Device Based-Information: This type of data gets collected from the user's software on their computer or mobile device. When working with cellular and satellite networks, active trackers continuously emit a signal that is processed. This processed signal delivers an individual's geolocation data in a real-time. This data collection process is dependent upon GPS and cellular networks.
Passive or Server-Based Data Correlation: Time is the major difference between active and passive data collection. The passive collection doesn't provide real-time updates. In this, geolocation data is collected silently and stored until it needs transmission or downloading.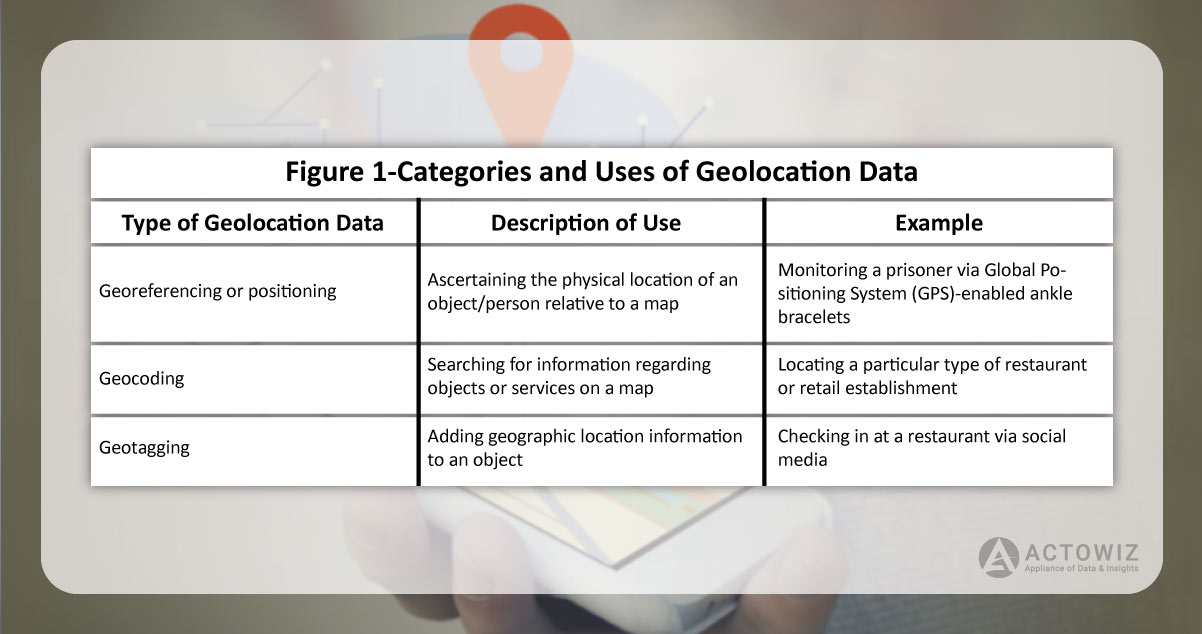 It gives real-time information on the user's location. With the continuously evolving smartphone users available in both iPhone and Android markets. The importance of geolocation will significantly rise.
Since a user's device is continuously actively or passively collecting data, geolocation data can share a defined amount of the user's personal information. It clearly identifies the user's physical address, its exact longitude, and latitude at a time.
What are Different Geolocation Methods?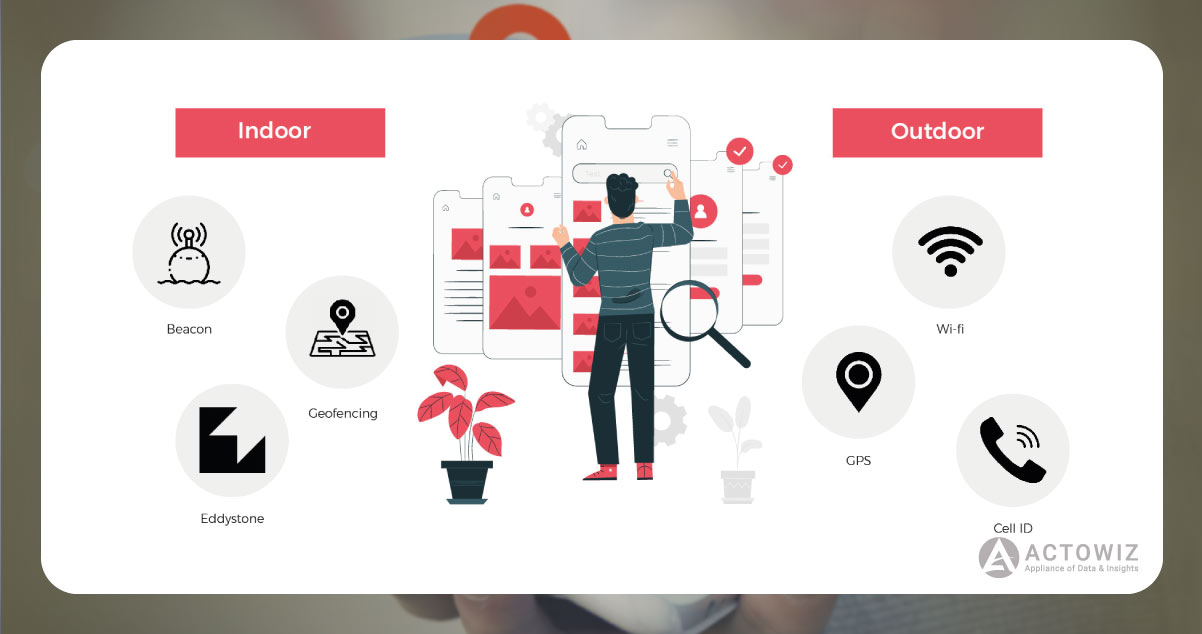 Geolocation methods is categorized into four major categories:
Geocoding: It includes a specific address associated with map coordination. Let's take an example; If you search for an address or type in a place name, you will see a market in the exact location on a map.
Geo-positioning: It is also known as Georeferencing, which determines the geographical position of an object. The information is achieved via a GPS tracker and provides real-time information.
Geotagging: This process includes adding a geographical location to your social posts, photos, or videos.
Geofencing: This allows targeting consumers depending upon their real-time location. With this method, you can set your own boundaries for your business, like a one-mile radius. When the customer enters geofence/boundary, push notifications, text messages, and social media campaigns are automatically triggered.
How Brands Can Benefit from Geolocation Data?
Geolocation can provide brands and businesses with the utmost benefits:
Targeting and segmenting Customers: While implementing a data-driven strategy to define a target market, the business relies on data obtained from customers through direct customer interactions using multiple touchpoints. With precise customer geolocation information, making a regional analysis and targeting a physical location is easy. You can easily attain high conversion rates with personalized messaging and regional-specific offers.
While planning business: Location-based market segmentation helps predict a physical store's performance. The analysis is done through area suitability in terms of proximity to competitors. By understanding the distance between competitors and customers, you can easily determine potential opportunities for store expansion or closures or Click and Collect services.
Fulfillment of Delivery: Sometimes, simply having customer addresses isn't enough to reach customers. Additional information along with address requires by logistic companies to make efficient delivery of parcels and keep the transportation cost to a minimum. Property tracking based on the radius also eliminates the chance of fraud and ensures smooth deliveries. Using geolocation with a valid postal address will help track any hindrance in advance.
Increase overall sales: By collecting and analyzing customer geolocation information, brands can double their marketing plans by targeting their key clients and maximizing their sales.
Measurable results: Using geolocation, businesses can easily track customer movements and understand their sales in a particular location.
Risk Assessment: Before stepping into the market, it is imperative for any business to conduct a thorough analysis using geolocation analytics. Because getting into the market unprepared will cause heavy losses for the business. Geolocation tools help to undertake different risk assessments in multiple areas. Data collected through this method will help evaluate how profitable the area is for your business. You can get access to customer trends and patterns, competitive behavior, and other aspects that might negatively impact your business if not taken into consideration.
Different Sectors Benefitting from Geolocation Data
Retail Outlets: In the retail sector, geolocation data plays a significant role in the deep understanding of customer's behavior and the performance of customized offers. The collective data obtained from this technology help marketers determine the most visited place for their stores, different marketing channels' efficiency, optimize the display and goods arrangement on the shelves inside the stores, and much more.
Shopping Centers: This data helps shop owners track their stores' performance. In addition to analyzing their customer's behavior and optimizing traffic influx, they can easily monitor the working of their staff members, evaluate task execution by employees, and act within a stipulated time if there is any emergency.
Logistics and Warehouses: Today, with a geolocation analytics platform, tracking assets and goods, employees' performance, and managing day-to-day operations is no more a hassle. Warehouse owners benefit from all types of analytic reports it generates and automate the warehouse operations.
Healthcare: When it comes to healthcare facilities, hospitals, clinics, and polyclinics are extremely benefitting from this application. Geolocation data analytics give a brief estimate of hospital occupancy, occupancy status of every ward, and admissions forecast. It also provides deep information related to occupancy rate, hospital equipment, usage, any faults, and location.
Offices: In the case of offices, location-based analytics give insight into employee performance. It gathers information on several real-time actions of employees and also monitors staff members, tasks and duties, office performance, and optimization of the business working processes.
Museums: Museums do also get benefits from geolocation data. It provides detailed information with respect to visitors and their behavior. The information gathered is:
Average time spent by visitors inside the museum
The most visited exhibits
Most crowded halls
Regular and one-time visitor
Conclusion: Thus, to conclude, in today's era, where everyone is looking to stay ahead of competitors, getting geolocation applications and services is a boon for the brand. It adds significant value to customers and businesses. Understanding the role of geolocation analytics platforms will ensure pinpointing all the advantages of geolocation in the future.
For more information, contact Actowiz Solutions now! You can also reach us for all your mobile app scraping and web scraping services requirements.