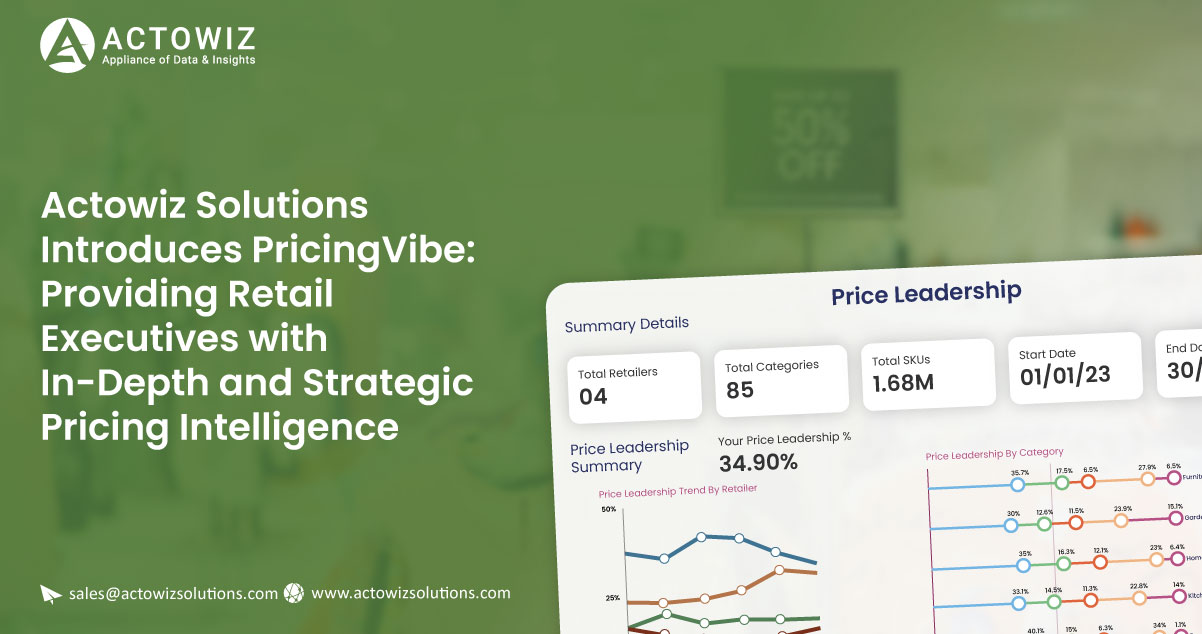 In today's ever-evolving retail landscape, the key to success frequently revolves around one central factor: pricing. A recent survey conducted by Statista has revealed that 70% of online users in the United States prioritize competitive pricing when making digital shopping decisions. In this highly competitive arena, where outperforming rivals is crucial, a profound understanding of pricing intricacies has transitioned from being an advantage to an absolute necessity.
Retailers are progressively accepting pricing intelligence solutions which thoroughly analyze competitor pricing data using competitor price monitoring, performing detailed comparisons all the way down to SKU levels. This comprehensive analysis equips their price teams with invaluable insights needed to competitively price their products on a daily basis.
However, in a landscape where a staggering 50 million price adjustments occur daily, reliance on a reactive pricing intelligence solution, while effective in numerous ways, often needs to be revised. To construct a strategic and predictive pricing mechanism, retailers also require the capability to track historical pricing about market conditions, competitor actions, seasonal fluctuations, the timeliness of competitor pricing adjustments, and more. This feature would be particularly beneficial for senior retail pricing executives and business unit leaders as they seek to gain a strategic overview of their competitive pricing landscape. Regrettably, even the most prominent retail pricing intelligence solutions providers currently lack this capability, resulting in a somewhat limited perspective on competitive pricing, even within large retail organizations.
Introducing Actowiz Solutions' PricingVibe
PricingVibe from Actowiz Solutions is a tool designed to extract retail price data and empower retail leaders with a comprehensive understanding of their competitive pricing strategies and the evolving market dynamics. This feature serves as a bridge between the daily activities of competitive pricing and the in-depth analysis and strategic decisions made for the long term. It grants senior retail pricing leaders the ability to unravel the complexities of their pricing strategies. Presented through a dashboard interface, it offers an elevated view of pricing dynamics within the industry, arming retailers with the insight needed to navigate market fluctuations, anticipate vulnerabilities, and capitalize on emerging opportunities.
PricingVibe is an add-on to Actowiz Solutions' Pricing Intelligence solution and pricing strategy services, available to all Actowiz Solutions retail customers.
The insights provided by PricingVibe empower retailers to address critical questions about competitor pricing behaviors, their position in pricing leadership within various product categories, the timing of price adjustments, and the efficacy of capitalizing on opportunities for price improvement. Some of the questions that PricingVibe can help answer include:
How frequently do my competitors modify their prices, and which products are most affected?
How does my pricing leadership compare across crucial product categories?
On which days of the week or month do my competitors make pricing changes most and least frequently?
How effectively do I seize opportunities for price improvement over time?
Strategic Pricing Insights with PricingVibe
In the upcoming section, we present a selection of perspectives accessible to retail leaders through our PricingVibe dashboard. Please request a demo today for a comprehensive list of insights featured on the dashboard.
Assessment of Competitive Pricing Leadership Across Categories and Retailers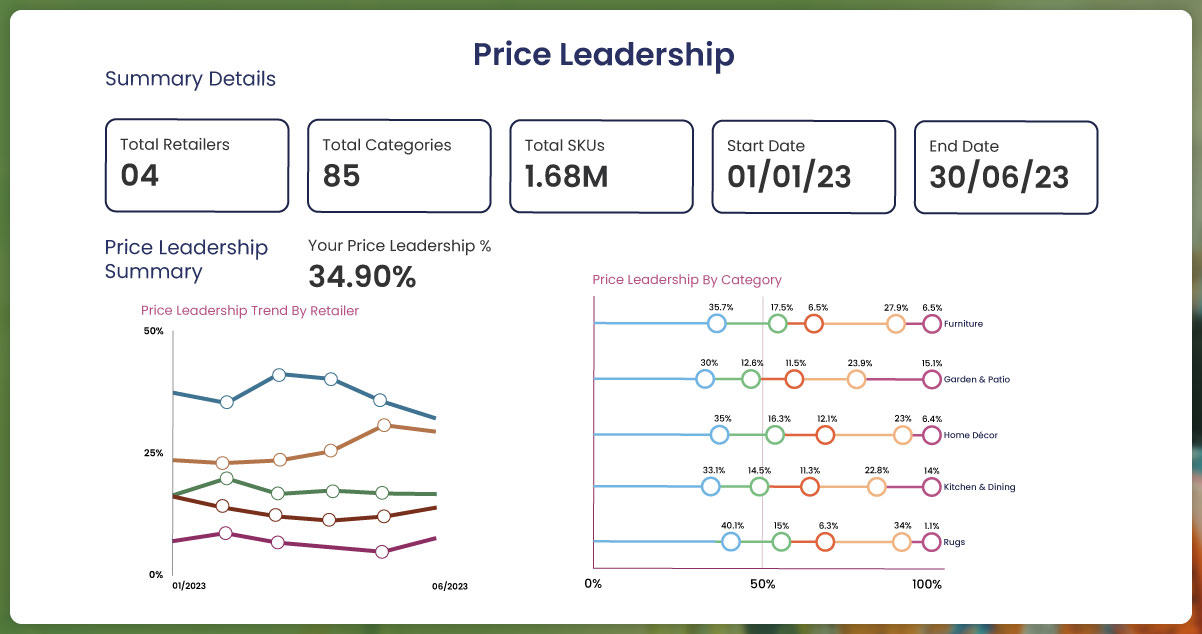 This perspective furnishes retailers with a plan of the leading players in pricing across different product categories and how this evolves. Frequently, retailers aspire to establish themselves as price leaders in specific categories while also ensuring healthy profit margins in others.
Retailers can utilize this view to assess their track record and effectiveness in sustaining competitive advantage within crucial categories over time. It allows them to reinforce their strong points and pinpoint opportunities for refining their pricing strategies.
Furthermore, the dashboard monitors a retailer's price index across various categories, a metric that gauges their price competitiveness.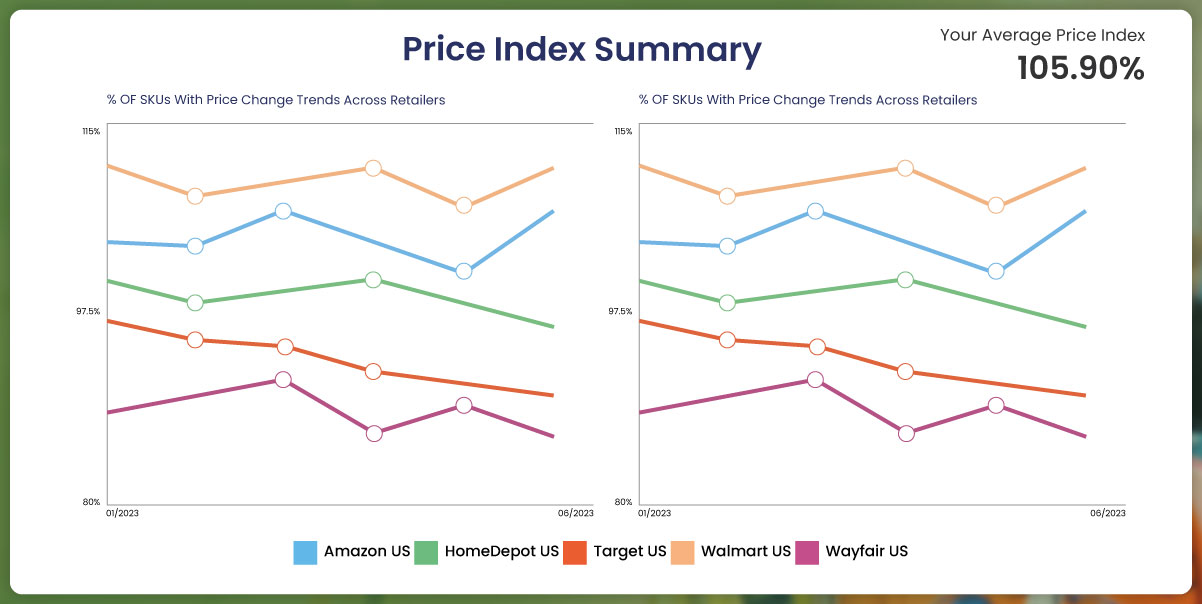 The price index is calculated by dividing the retailer's price by competitors' lowest price. A ratio below 1 signifies that the retailer has the lowest price in the market. This metric is also showcased for competitors, offering insights into which competitors have the most appealing prices in the market. A timeline depiction of this metric allows for monitoring of how retailers' price leadership evolves.
Price Change Trends
This perspective offers an overview of the frequency of price adjustments made by a retailer and its competitors over a specific time frame. This includes information on the average extent of price modifications and the percentage of the retailer's product assortment that experienced these changes.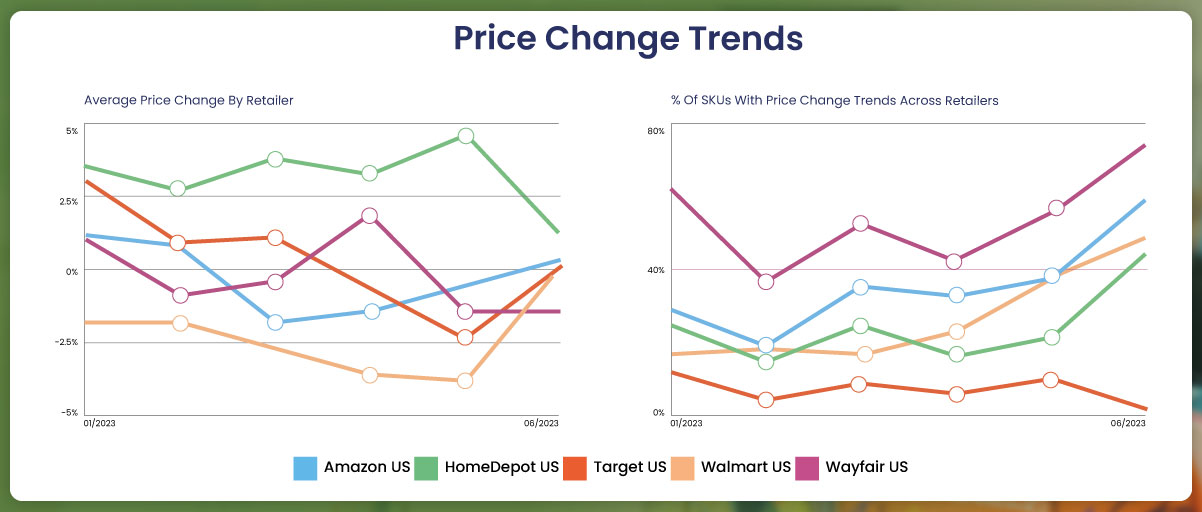 Change the curves given in the graph just a little
Furthermore, the monthly count of price adjustments is presented for each retailer, with a further breakdown of the total number of price changes occurring on each day of the week.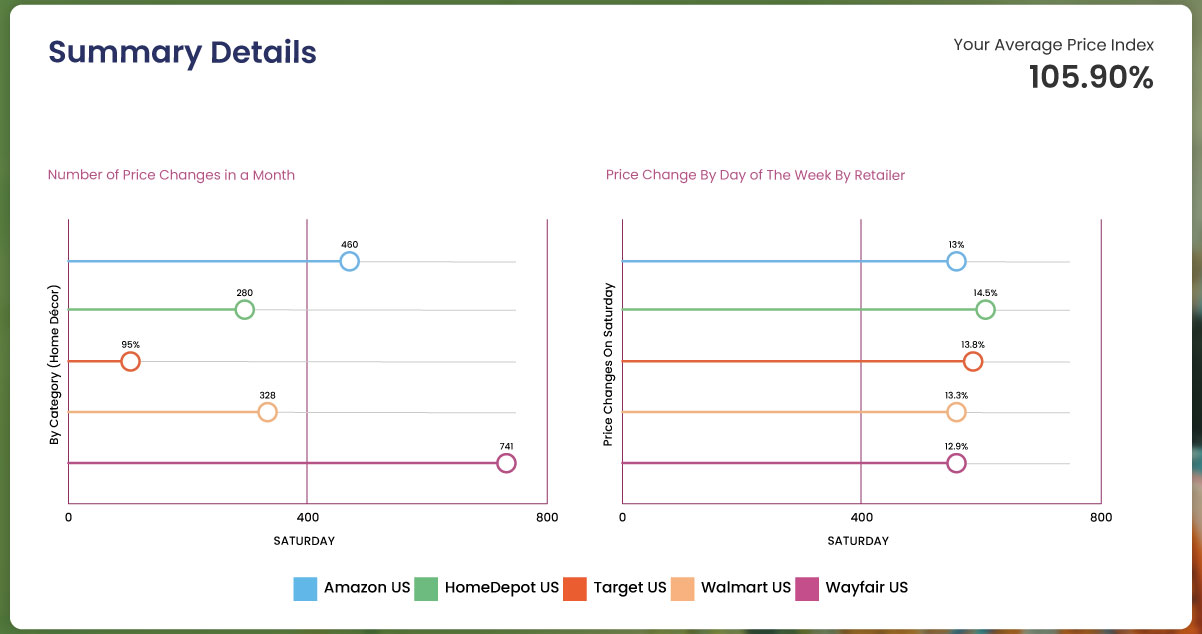 These insights assist retailers in discerning which competitors engage the most and the least in their pricing activities, the degree of aggressiveness in their pricing actions, and whether there are any discernible patterns in terms of price changes on specific days of the week or month.
Opportunities for Price Enhancement and Actions
The dashboard provides real-time updates on opportunities for price improvement, encompassing both the potential for price increases and decreases for a retailer and its competitors across various categories as they evolve. A price increase opportunity arises when a product is notably underpriced (by more than 2%), while a price decrease opportunity presents itself when it is considerably overpriced (by more than 2%).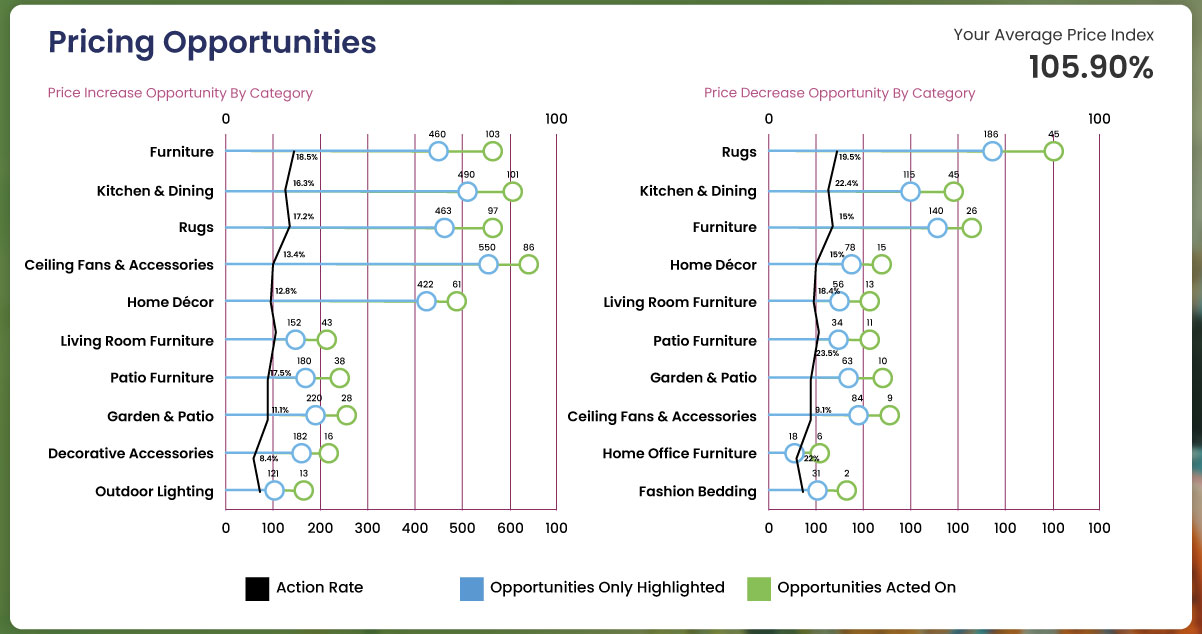 Furthermore, the retailer gains insights into the number of price improvement opportunities that were acted upon within 15 days of their emergence. This "action rate" enables retailers to measure how effectively they capitalize on price improvement opportunities, resulting in increased sales and improved profit margins. Additionally, the dashboard provides data on the average number of days it took for a retailer to act upon a price improvement opportunity, offering a quantifiable measure of pricing teams' responsiveness and agility.
This information holds significant value for pricing leaders when assessing the effectiveness of their pricing teams. When comparable insights are analyzed for a cluster of competitors, retailers can acquire a more comprehensive grasp of the sophistication level inherent in their competitors' pricing strategies and operations.
Ready to Enhance Your Pricing Strategy?
The introduction of Actowiz Solutions' PricingVibe represents a significant advancement in retail pricing data scraping tailored for retail leaders. As the retail landscape undergoes continuous transformation, the importance of precise pricing strategies cannot be emphasized enough. PricingVibe is the industry's first and only pricing view that seamlessly connects tactical pricing decisions with comprehensive strategic analysis.
In a world where adaptability and foresight are imperative, PricingVibe's ecommerce price monitoring services empower retail leaders to anticipate competitor actions, optimize pricing strategies, and maintain a competitive edge.
If you are a senior pricing leader or oversee a retail business unit, don't hesitate to reach out to us today for the opportunity to scrape pricing data or to obtain further information!
You can also reach us if you have any requirement related to data collection, mobile app scraping, instant data scraper and web scraping service.