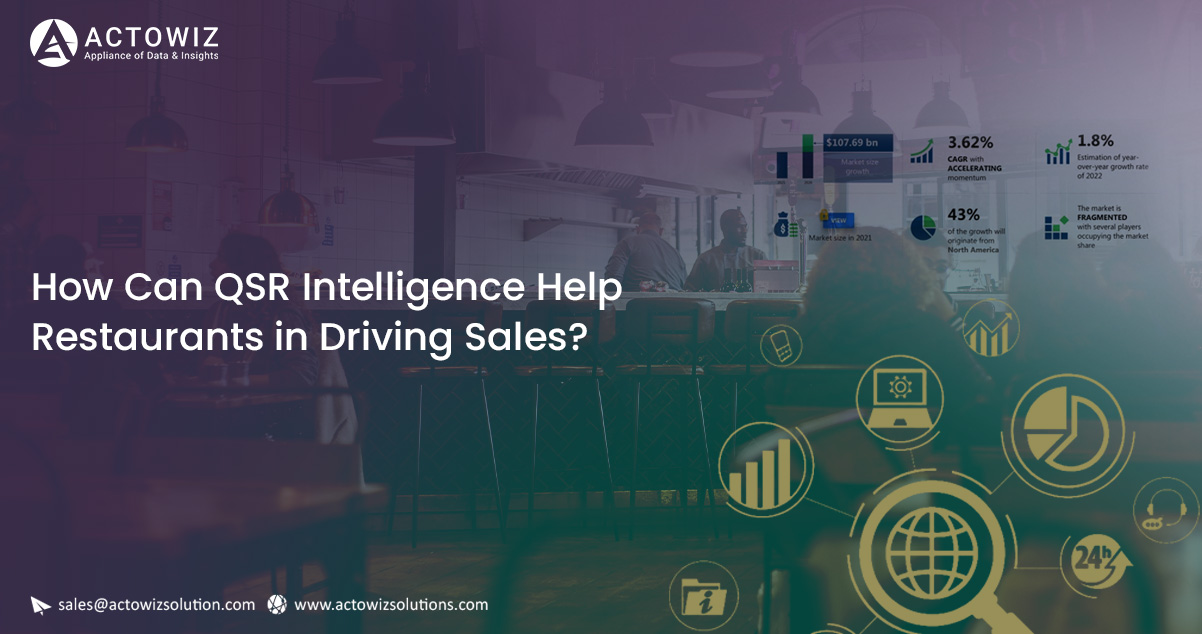 Introduction
Quick Service Restaurants or QSRs are not about offering great food. They also overcome challenges like logistics, delivery, and reasonable pricing, particularly since Coronavirus has stunned the whole industry. QSR intelligence assists restaurants in getting real-time insights into performances across various food delivery apps. Using QSR intelligence, the restaurants can recognize the maximum paying purchasers across all customer segments, locations, and demographics. Data-driven insights will assist QSRs in improving performance, decreasing delivery time, budget, and optimization, and increasing food quality –scaling revenue and increasing orders using food apps.
The worldwide quick-service restaurant and fast-food market are anticipated to rise at a 5.1% CAGR during 2020-2027. The QSR business is quickly growing to incorporate the changing requirements of consumers. 60% of U.S. customers order deliveries or takeout once weekly, so online ordering is rising 300% quicker than in-house dining. Using QSR intelligence, the restaurants can have insights about metrics that will drive productivity by assisting them in adjusting menus, improving customer interaction, correcting advertisements, and altering inventory.
Advantages of QSR Intelligence
Constant in-detail analysis of restaurant data will assist companies in identifying trends and planning strategies to expand sales using food apps. Here are some advantages of QSR intelligence:
Better Estimates and Minimum Waiting Time
QSR intelligence helps in precise sales forecasting. Using big data, the restaurants can identify their well-liked dishes or meal combos to minimize the waiting time and increase the delivery speed. The restaurants can also recognize the upcoming trends, particularly during festivals and holidays. Observing these trends will play an essential role in making the most of efficiency with food preparation and ensuring precise food delivery ETAs.
Better ROI on Food Deliveries
QSRs could track metrics to increase ROI using food deliveries, including location-based promotions, different ratings, payment options, etc. Tracking all metrics will assist QSRs in providing accurate ETAs, advancing operational efficiency, and marking services that will increase revenue. Restaurants would also understand where they could adjust their profits to increase revenues whereas maintaining an increasing success level.
Location-based Promotions
QSR intelligence helps restaurants to aim customers depending on their restaurant proximity. The food must be delivered within a specific time to customers to enjoy the dish at the right temperature. QSRs could use demographic intelligence to control delivery charges, cancellation rates, and part of demand & supply. These metrics would assist QSRs in doing better location-based promotions.
How to Utilize QSR Intelligence?
Availability and Range
The more restaurants can understand what and how their customers eat, the better they will be prepared to serve those demands in the day. For instance, QSRs can standardize the menu, ingredient accessibility, and kitchen preparation time per the orders for lunch & dinner. For example, if your customers want to order breakfast more, it;s worth considering opening the restaurant earlier. One more way to make sure your accessibility is to analyze the busiest hours as well as adjust staff and delivery workers accordingly.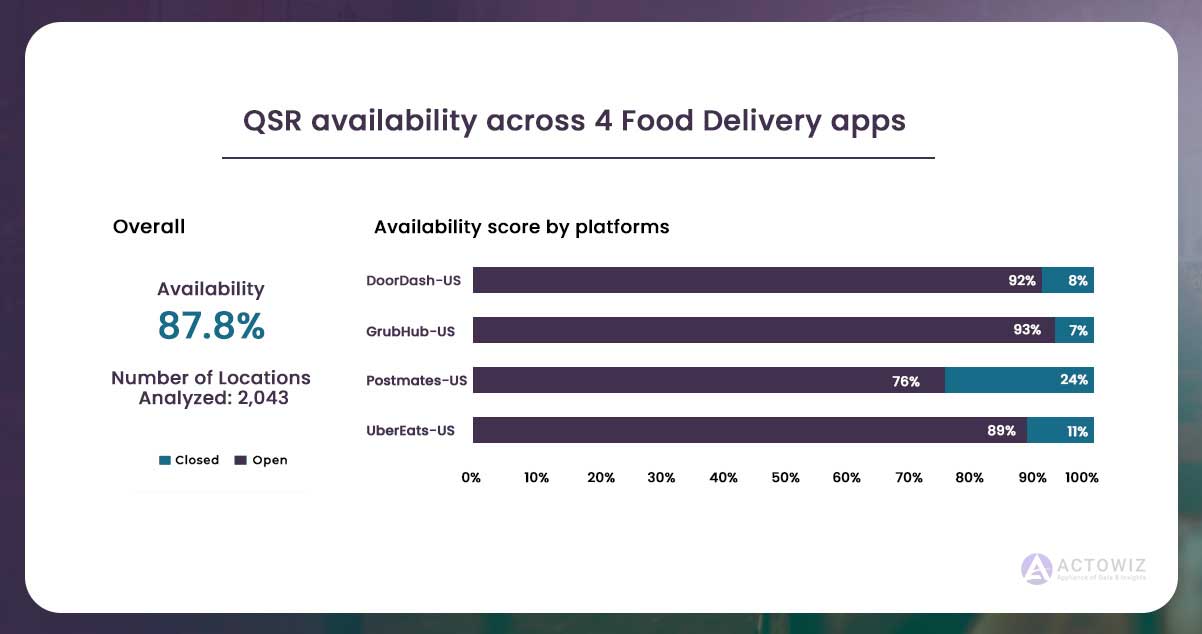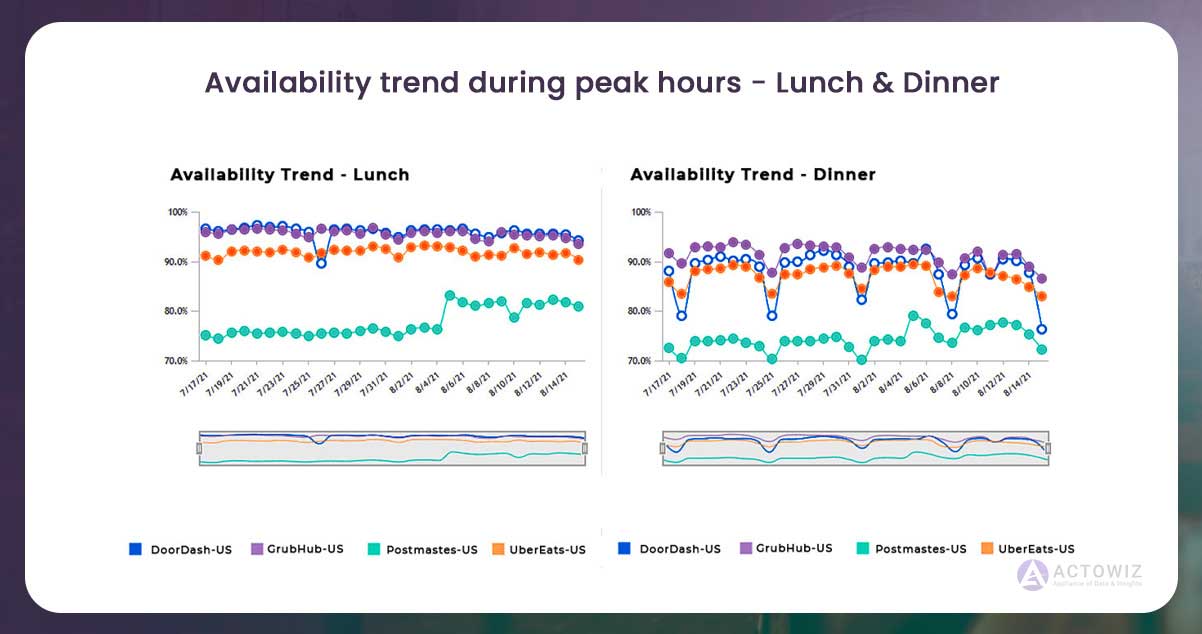 Delivery Time
Among the key driving factors for QSR success is delivery time. Restaurants must ensure that food gets delivered quickly so consumers can consume that at the right temperature. All data-driven insights can assist restaurants in tracking repeat addresses, getting shortcuts or time- saving ways, and avoiding low delivery or unfamiliar locations.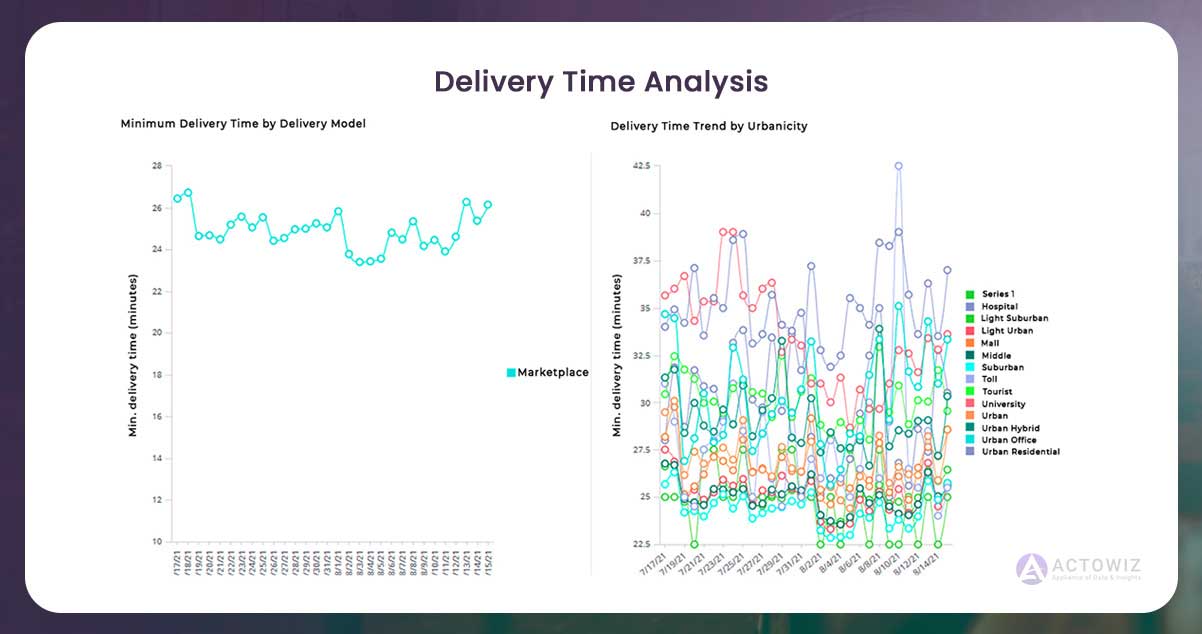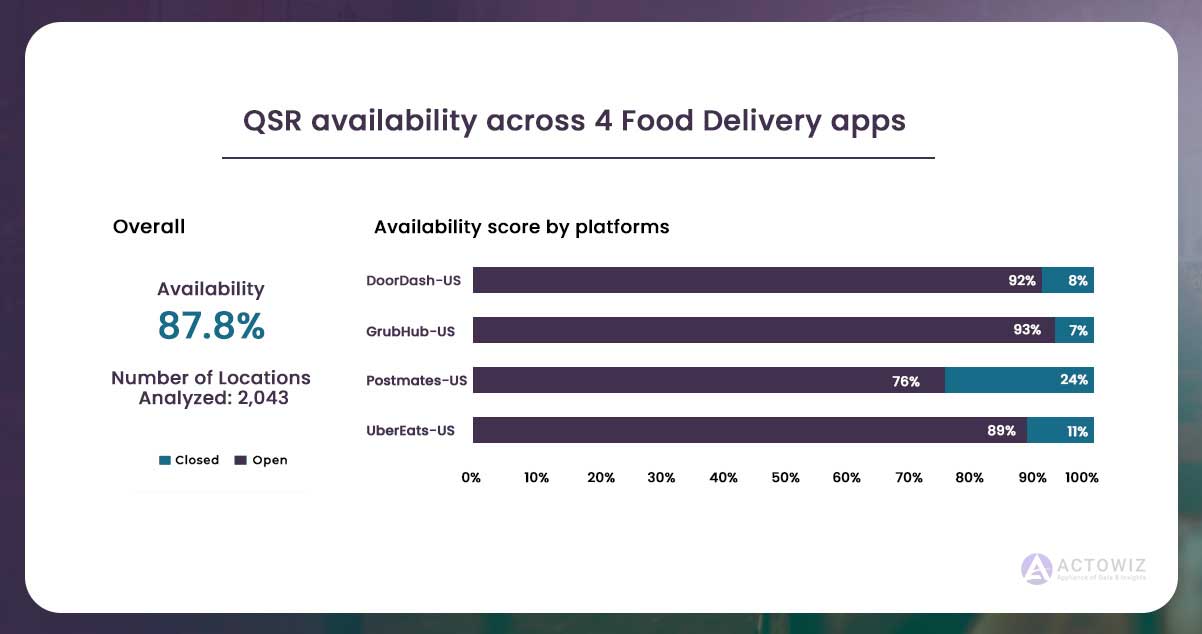 Promotion and Pricing
QSRs need to understand customers' pricing sensitivity while determining delivery costs and ensuring profitability for delivery and business partners. Customers may look for free deliveries; however, not adding any delivery charges may result in loss. A deeper dive into general transaction data across locations will help restaurants know the price sensitivity of different customer segments to help them make intelligent price decisions.
Discoverability
Restaurants need to make sure that their cuisines are on the first-page listing. Using QSR intelligence on keyword optimization, category analysis, and competition analysis, restaurants can assist their customers in discovering dishes. It also includes optimization listings for prices and ratings, delivery fees, and accessibility during the peak times like breakfast, lunch, or dinner.
Ad Optimizer
QSRs could utilize data for optimizing the ad budget and effectively improve ROI. They could track the visibility of ad banners across different locations and improve them for various times of the day. Data analysis can also assist restaurants in knowing which consumer segments are expected to convert into long-term supporters.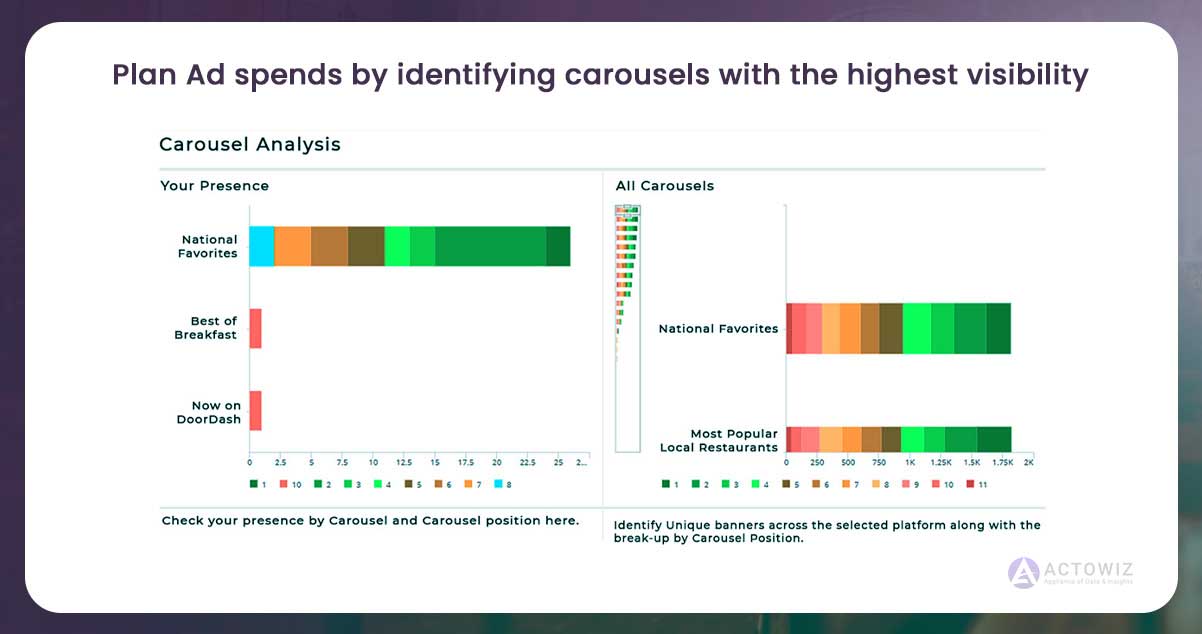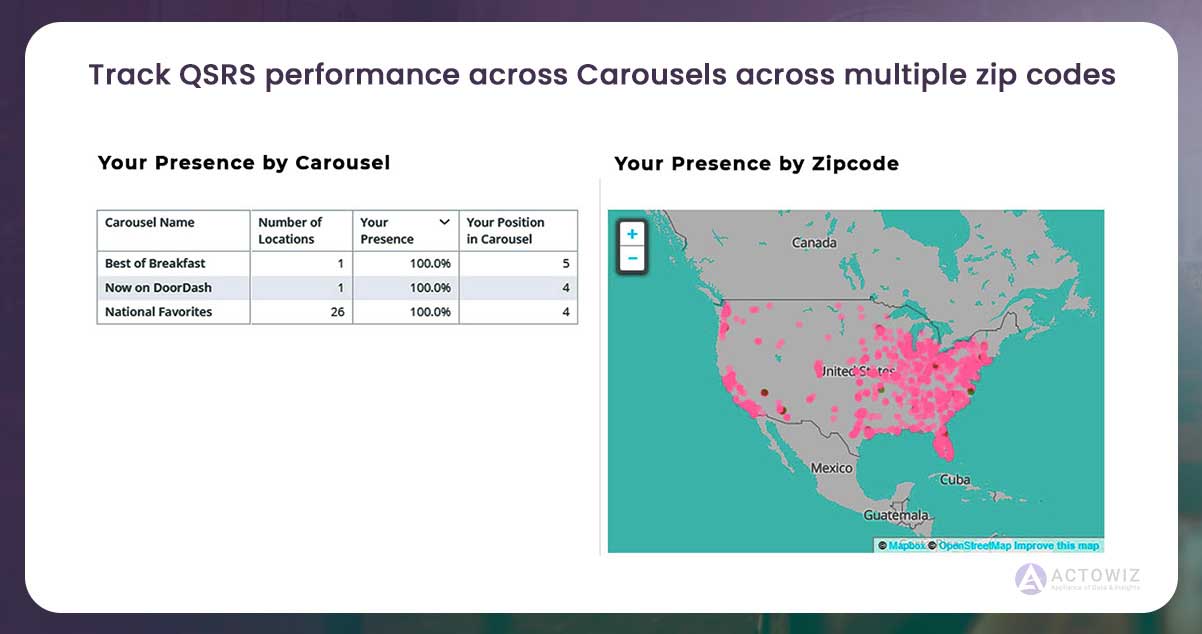 Expansion & Growth
Cross-selling and upselling are two well-known tactics that improve fast- service restaurants growth. Although, that needs a good understanding of customers preferences, price sensitivity, and performance. QSR intelligence can give information about which cross-selling and upselling provides a customer segment is expected to value and which top channels to distribute the offer.
Conclusion
Understanding how to promote, price, and offer food to customers during this pandemic could be exciting. Quick-serving restaurants can trail essential data points and utilize them to raise revenue and improve customer experience. QSR intelligence will assist brands in attracting the best clientele, adjusting inventories, reducing general marketing costs, and raising order rates. It will also help increase customer loyalty in different segments, increasing profitability and returning customers.
To know more about QSR intelligence, contact Actowiz Solutions now! You can also contact us for all your mobile app scraping and web scraping services requirements.