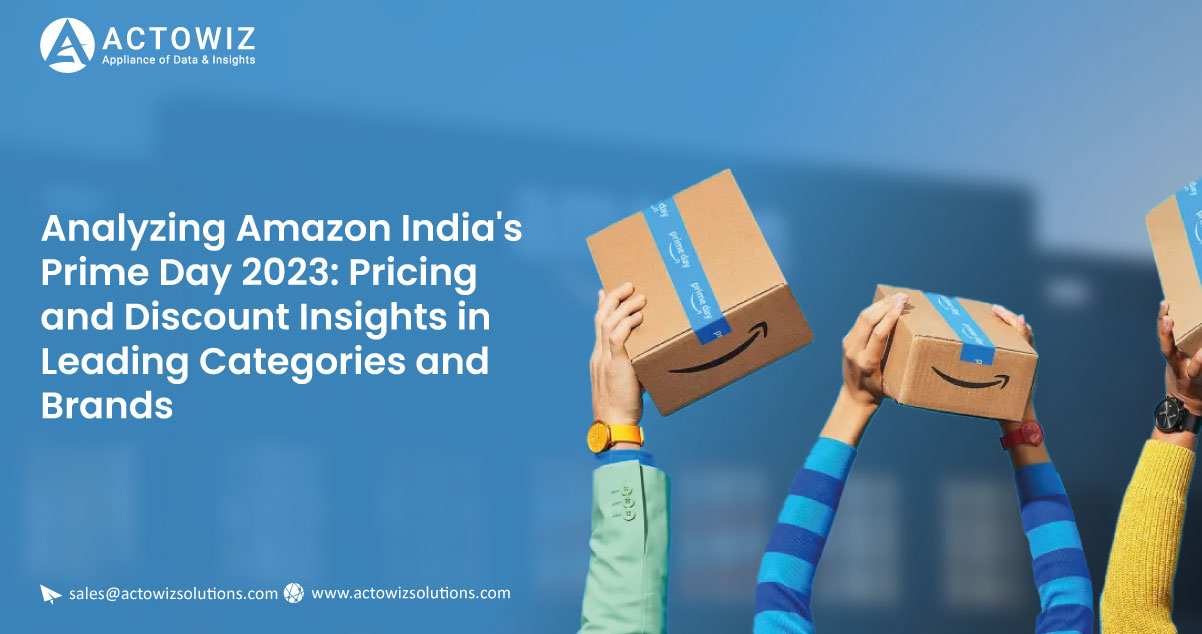 Amazon's Prime Day 2023 in India made history by recording a peak of 22,190 orders per minute. This event's significant highlight was its exclusive benefits to Prime members. Thousands of sellers, brands, and banking partners joined forces to help Prime members save over Rs. 300 Crores. Notably, the two-day extravaganza, held on July 15-16, also witnessed robust growth in Prime membership, with 14% more members participating than the previous year's Prime Day event. Over 400+ top Indian and global brands unveiled a whopping 45,000+ new products.
Our analysis through Scrape Amazon Prime Day Deals Data reveals that Amazon achieved remarkable success despite employing a relatively conservative discounting strategy during the event.
Examining Prime Day 2023 Pricing and Discounts
While Prime Day remains Amazon's standout event, delivering substantial advantages to partner brands and sellers, it's equally intriguing to observe how Flipkart, its largest competitor, responded to this massive sale. Consequently, we harnessed the power to Amazon Prime Day Data Extractor and analysis platform to scrutinize both Amazon and Flipkart's pricing and discount strategies across pivotal product categories—Apparel, Home and furniture, Consumer Electronics, and Health and beauty—during the Prime Day festivities.
Given that products on Amazon and various other eCommerce platforms frequently feature discounts even on regular non-sale days, our investigation honed in on Prime Day's actual value to shoppers. We focused on price reductions and additional discounts offered during the sale compared to the preceding week. These Amazon Prime Day India Insights illuminates the tangible benefits of the event for shoppers who rely on lower prices during this exciting sale period.
Methodology for Research
In conducting our analysis, we meticulously monitored the pricing dynamics of an extensive selection of products available on both Amazon and Flipkart, both during the Prime Day event and in the week leading up to it. Here are the specifics of our research sample: Total SKUs Examined: Over 80,000
Retailers Scrutinized: Amazon & Flipkart
Product Categories Investigated: Apparel, Consumer Electronics, Home & Furniture, Health & Beauty
Pre-Event Analysis Period: July 10th to July 14th, 2023
Prime Day Analysis Period: July 15th to July 16th, 2023
Our research methodology allowed us to comprehensively assess pricing and discount patterns across these platforms, providing valuable insights into the Prime Day offerings for the benefit of our readers
Key Discoveries
Upon conducting our in-depth analysis to Scrape Amazon Pricing Data, Prime Day we have revealed varying levels of price reductions across different product categories. Notably, the Health and Beauty category took the lead, presenting a noteworthy average additional discount of 5.1%. In contrast, the Apparel category featured relatively lower discounts, averaging 4.80%, while the Home and furniture category offered a modest 2.40% additional discount during the sale event.
In the case of the Consumer Electronics category case, typically associated with enticing price cuts during sale events, our analysis uncovered a relatively modest 0.8% price reduction. This outcome can be attributed to the category's substantial average discount of approximately 43.5% in the week leading up to Prime Day.
Moving forward, we will delve more profoundly into our examination of each category, aiming to understand better how these price reductions were distributed among crucial subcategories on Amazon. Furthermore, we will report how Flipkart responded to Amazon's pricing strategies during the event.
Apparel
During the lead-up to Prime Day, Amazon grappled with escalated costs and diminished profit margins in the apparel sector, a challenge shared by many other retailers. Amazon had already provided an average discount of 35.9% in this category before Prime Day. However, on the Prime Day event, Amazon's apparel deals exhibited a more restrained approach, with an average price reduction of approximately 4.8%, covering 43.2% of its product assortment.
In contrast, Flipkart opted for a more modest strategy, offering an additional discount of 1.7% on just 17.4% of its apparel collection. It's evident that while Flipkart tried to compete with Amazon in the apparel category, these efforts could have been more extensive in scope and applied to a smaller selection of products than Amazon's extensive offerings.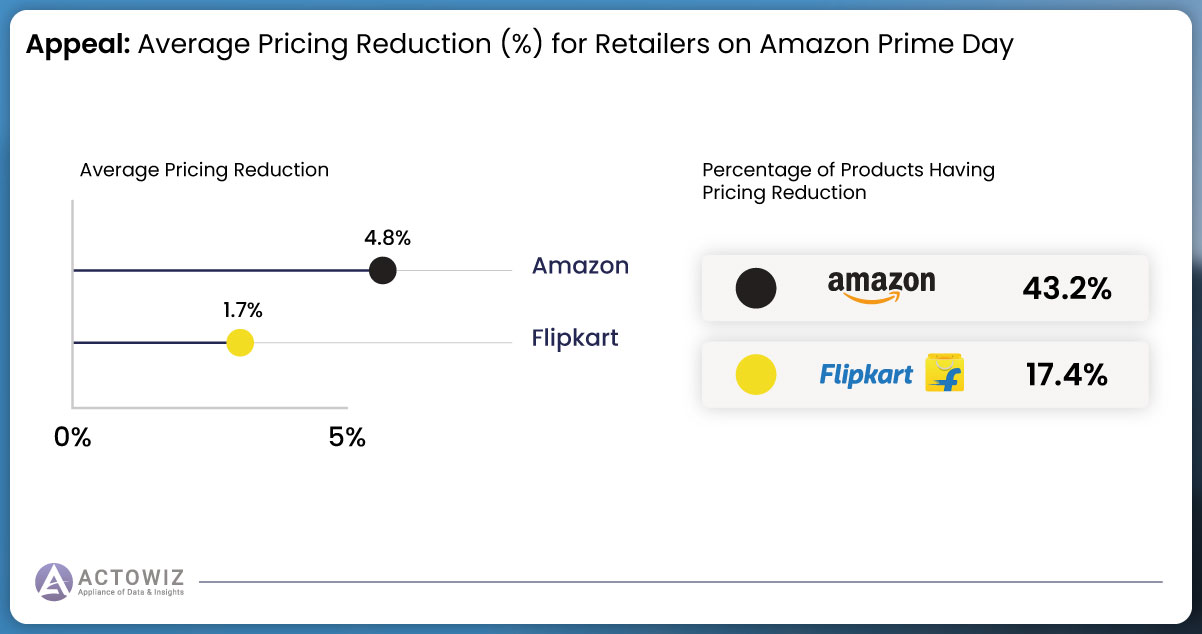 Within our comprehensive examination of various apparel subcategories, we observed that Men's Shoes (11.4%), Women's Shoes (9.2%), and Men's Shirts (8.4%) emerged as the subcategories featuring the most substantial price reductions during the analysis period. Conversely, Men's and Women's Swimwear (2.1%), Women's Innerwear (2.7%), and Women's Athleisure (3.1%) exhibited more restrained markdowns in comparison.
The pricing strategies observed within various subcategories likely originated from many factors, including inventory levels, shifts in consumer demand, and the delicate balancing act of providing competitive deals while sustaining profitable margins. These choices underscore Amazon's endeavor to cater to a consumer demographic known for its price-consciousness.
Among all the apparel subcategories we assessed, prominent brands that offered the most substantial price reductions included Sweet Dreams (64.9%), Ketch (54.5%), Clarks (43.2%), and Kibo (37.6%). Additionally, Reebok and Adidas extended significant additional discounts at 25.6% and 23.8%, respectively.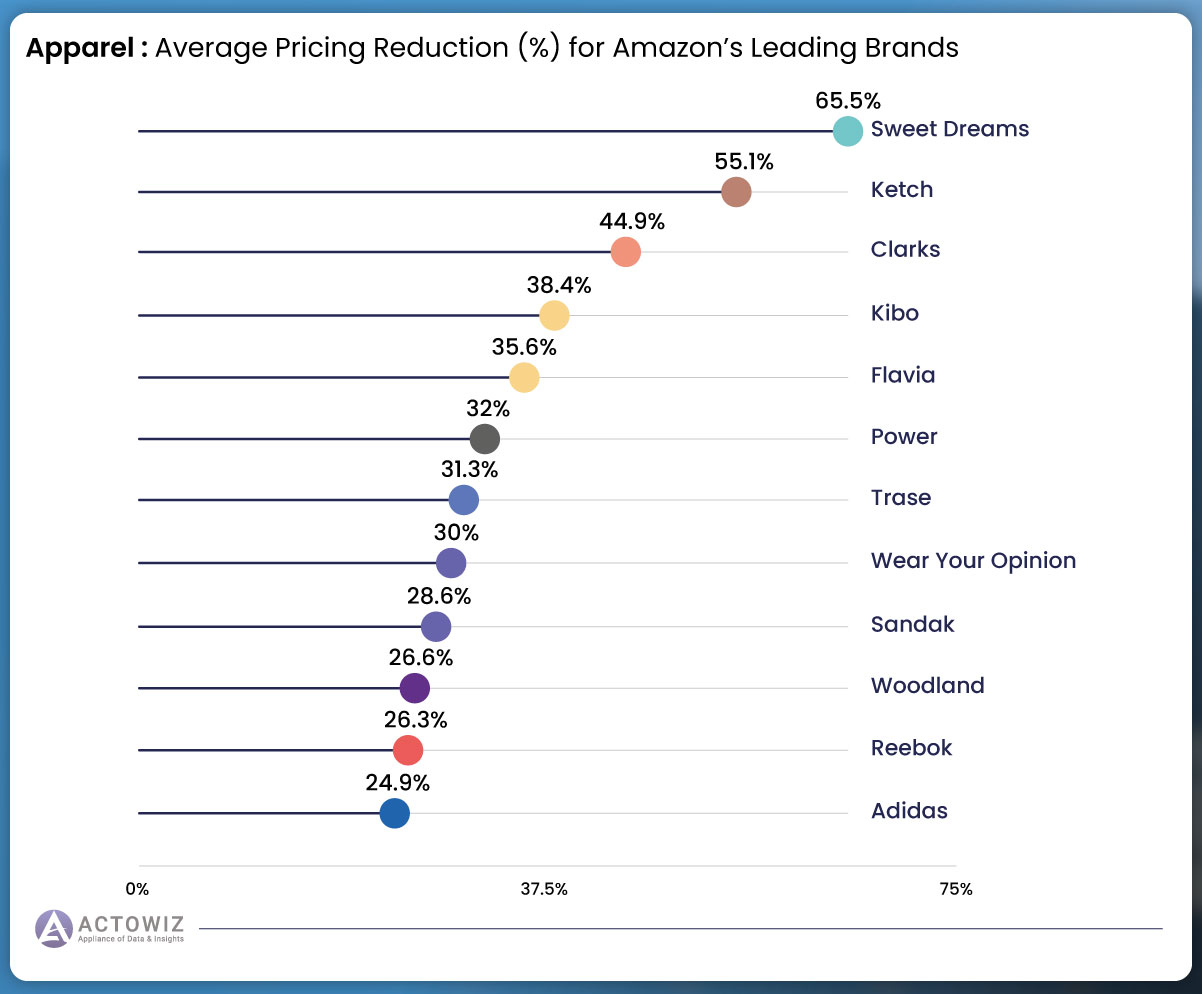 For brands, price reductions represent just one facet of attracting shoppers. Equally crucial is ensuring their strong visibility and easy discoverability in search results of Amazon. This considerably enhances their potential to generate more clicks and conversions. In our study, we closely observed brands' "Share of Search" with a range of commonly utilized search terms, along with evaluating discounts they offered. The "Share of Search" metric measures the proportion of a brand's products that appear within the top 20 search results for specific search queries.
Our data clearly indicates that during Prime Day, some brands managed to bolster their discoverability, while others lagged behind. Brands like Van Heusen in Women's Athleisure (38%), Campus in Men's Shoes (49.9%), and Rovar's (28%) in Women's Swimwear, among others, made significant strides in enhancing their Share of Search during Prime Day.
Conversely, during the event, brands such as Sparkx (Men's Shoes), WomanLikeU (Women's Swimwear), Xyxx (Men's Innerwear), and Adidas (Women's Shoes) experienced a notable decline of approximately 40% to 80% in their Share of Search. This is likely to have had an adverse impact on their sales volumes.
Home & Furniture
The Home and furniture sector encountered difficulties marked by decreased demand and surplus inventory over the past year. Consequently, even before the advent of Prime Day, the average discounts within this category on Amazon were strikingly high at 43.5%. As a result, during Amazon Prime Day, supplementary discounts averaged a modest 2.3%, covering approximately 30.7% of its product range. Flipkart, in contrast, appeared to forego direct competition with Amazon in this category by offering a minimal additional discount of 0.7% across only 13.50% of its assortment.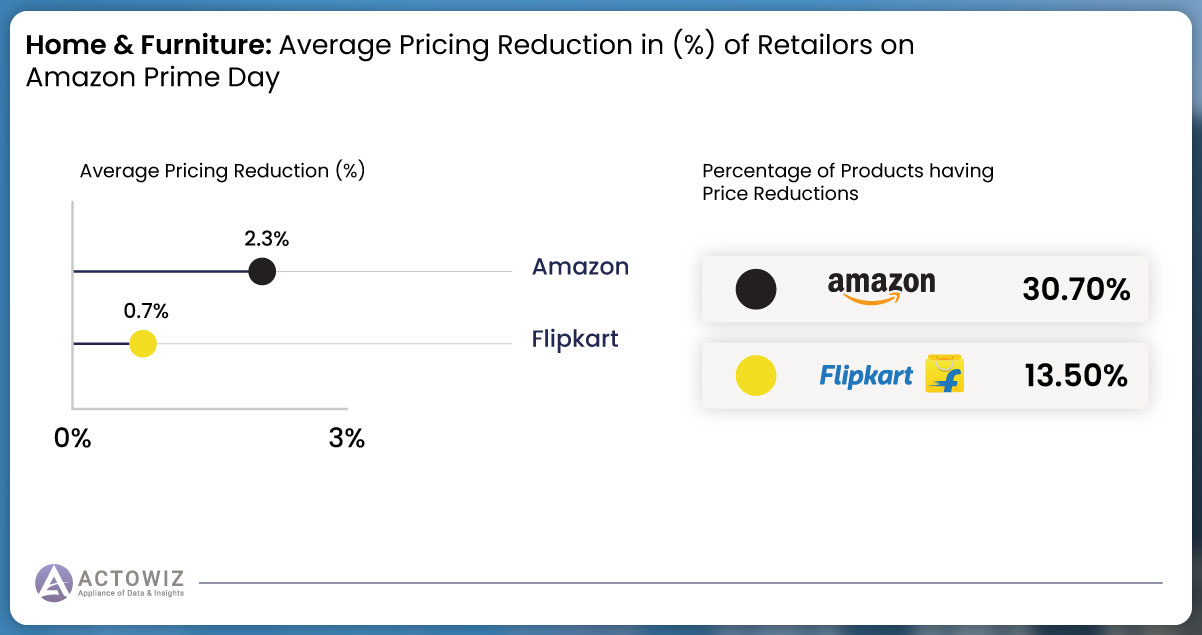 Among the various Home and furniture subcategories scrutinized, Luggage (5.0%), Beds (3.7%), and Coffee Tables (3.2%) exhibited substantial price reductions. Conversely, Rugs (0.5%), Bookcases (1.4%), and Washer/Dryers (1.3%) featured comparatively modest markdowns. This underscores the influence of differing consumer preferences across geographical regions, with rugs regarded as more discretionary in India but considered a staple in the United States.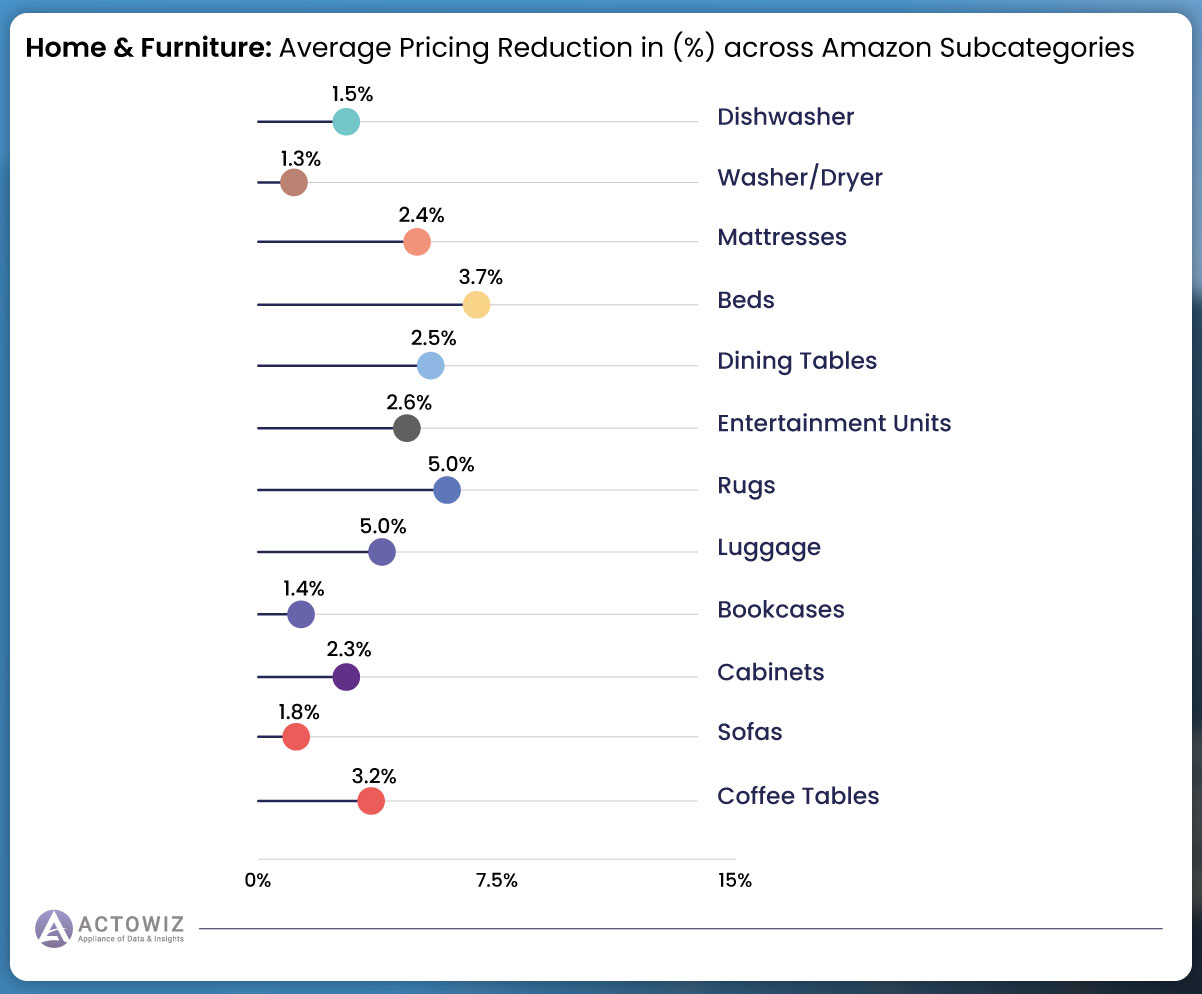 Brand loyalty is not commonly associated with the Home & Furniture category among shoppers. Hence, brands often turn to enticing pricing strategies to capture consumer attention. During this Prime Day, standout brands in this category that presented the most substantial markdowns included It Luggage (38%), Story@Home (25.5%), Couch Culture (23.1%), and Verage (20.2%).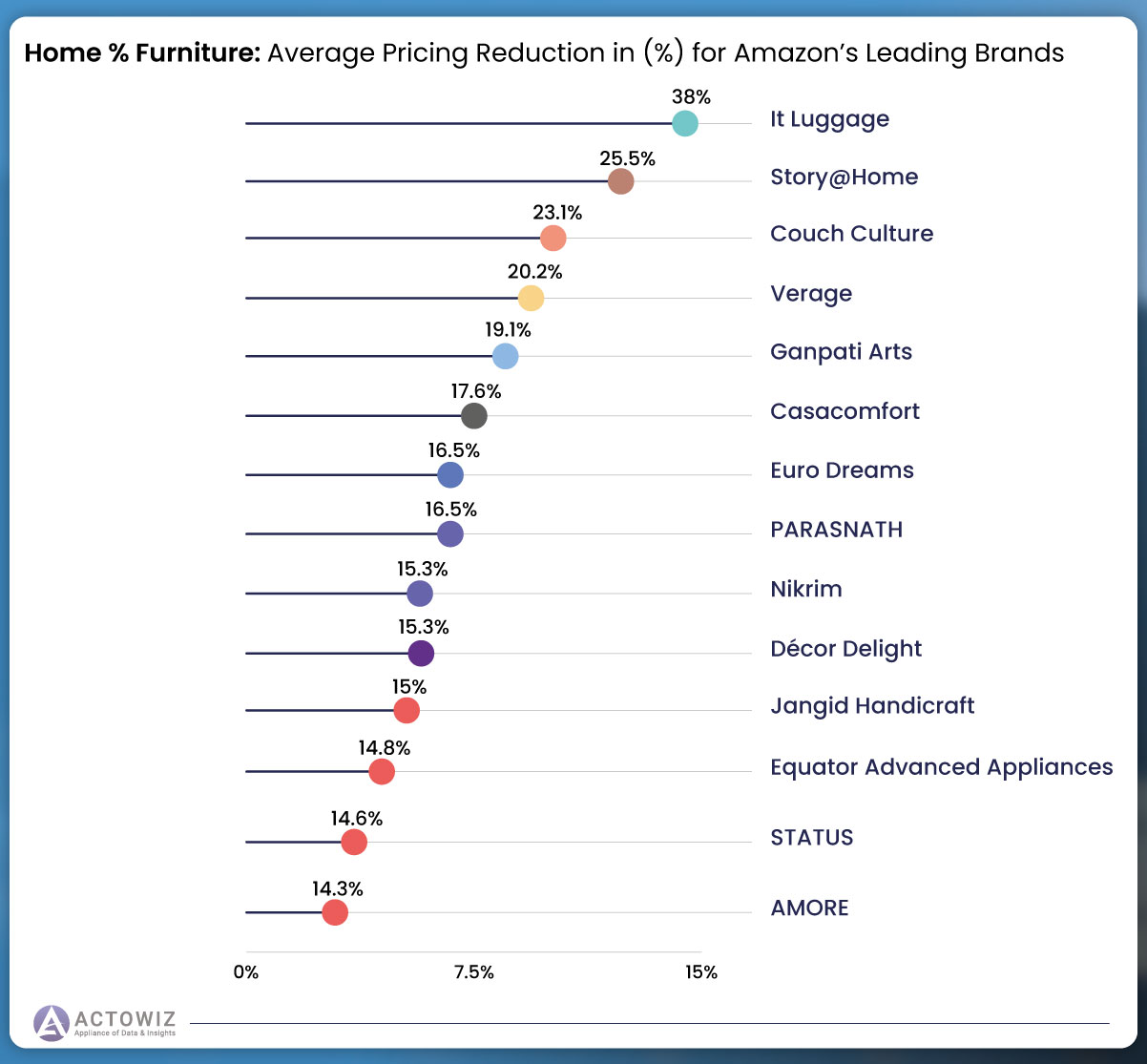 Regarding the "Share of Search" metric, Wudparadise emerged as the frontrunner in Entertainment Units, securing the highest share at 48%. Solimo, an Amazon Brand, made significant strides in its respective categories, including Beds (39%), Sofas (29%), and Coffee Tables (9%). In contrast, About Space in Bookcases experienced a notable decline of -50% in discoverability. Anika in Entertainment Units saw a decrease of -30%, and Sleepyhead in Mattresses faced a -35% reduction in their respective categories during the event.
To secure a competitive advantage during sales events like Prime Day, brands must monitor their "Share of Search," particularly within categories like Home and furniture, where brand loyalty tends to be less pronounced.
Consumer Electronics
During this year's Prime Day, an impressive statistic emerged: five smartphones sold every second. Notably, 75% of this demand hailed from Tier 2 and 3 cities in India. This surge in smartphone sales predominantly comprised foldable smartphones and newly launched models, including the OnePlus Nord 3 (5G), Motorola Razr 40, Samsung Galaxy M34 (5G), Realme Narzo 60, and iQOO Neo 7 Pro (5G).
Furthermore, Prime Day witnessed many new product launches from prominent brands such as OnePlus, Realme Narzo, iQOO, Samsung, boAt, Sony, Motorola, and others in the Indian market.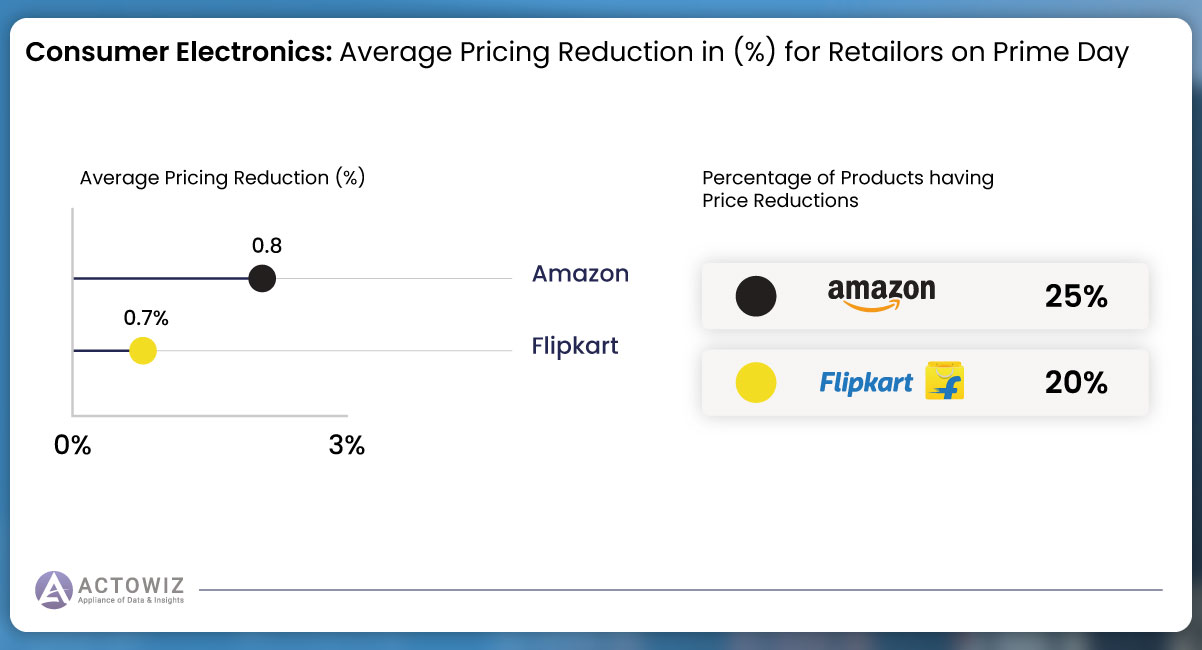 Despite the significant demand and the introduction of new products, Amazon's price reductions in the Consumer Electronics category were modest, averaging just 0.8% and covering 25% of its product range. This trend mirrors what we observed in the Home and furniture category and can be attributed to the substantial average discount of 43.5% offered in the week leading up to Prime Day. In the Consumer Electronics realm, shoppers don't necessarily need to wait for sale events like Prime Day to access attractive deals; many are already available in the days leading up to the event.
When analyzing specific subcategories, it becomes evident that Earbuds (2.3%), Wireless Headphones (1.5%), and TVs (1.2%) received the highest price reductions, owing to their popularity and robust sales volumes during sales events. In contrast, Smartwatches (0.5%), Drones (0.3%), and Smartphones (0.2%) witnessed more modest markdowns.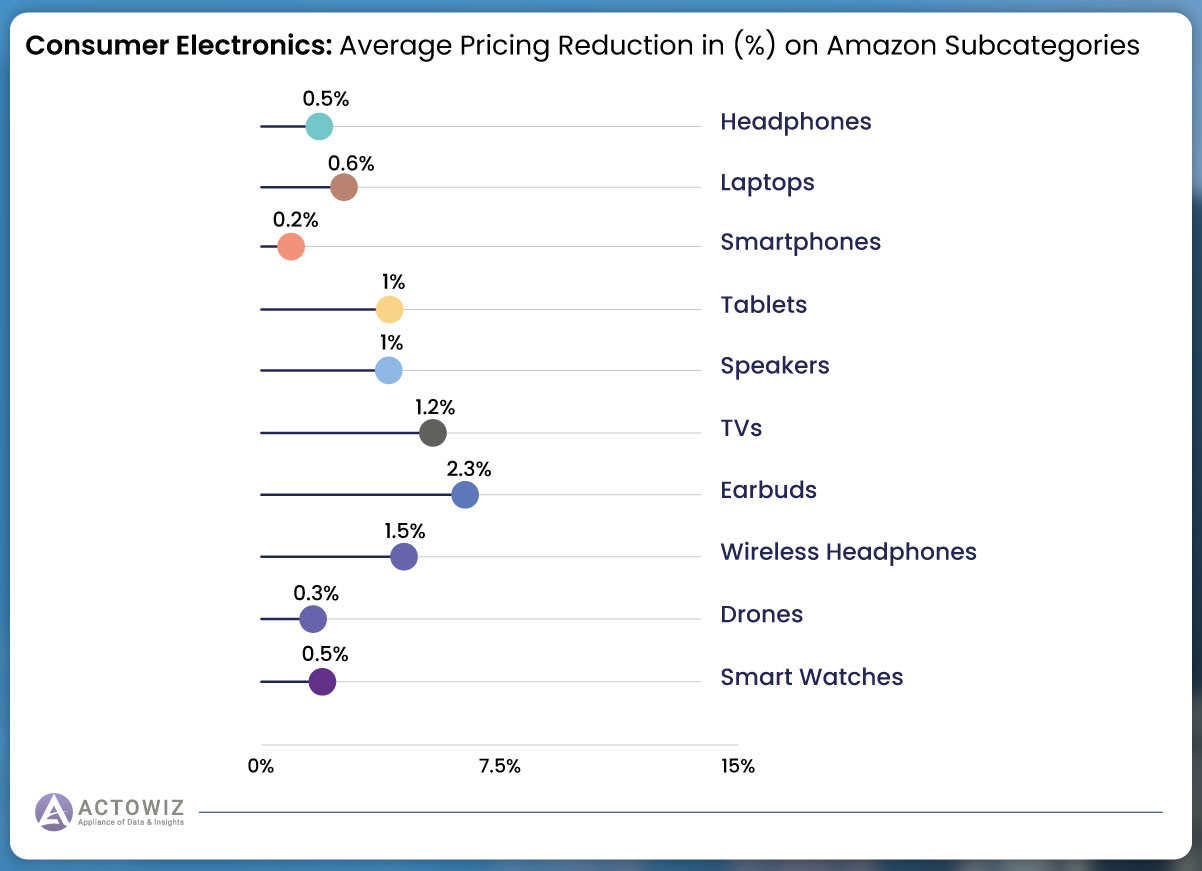 When examining price reductions within brands in the Consumer Electronics category, it becomes apparent that Da Capo (51.7%), Muzen (32.2%), JLab (22.5%), and Earboss (20.6%) led the way in offering the most appealing deals. Interestingly, Amazon Basics also provided reasonably attractive discounts at 11.8%, underscoring Amazon's strategic emphasis on promoting its in-house brands.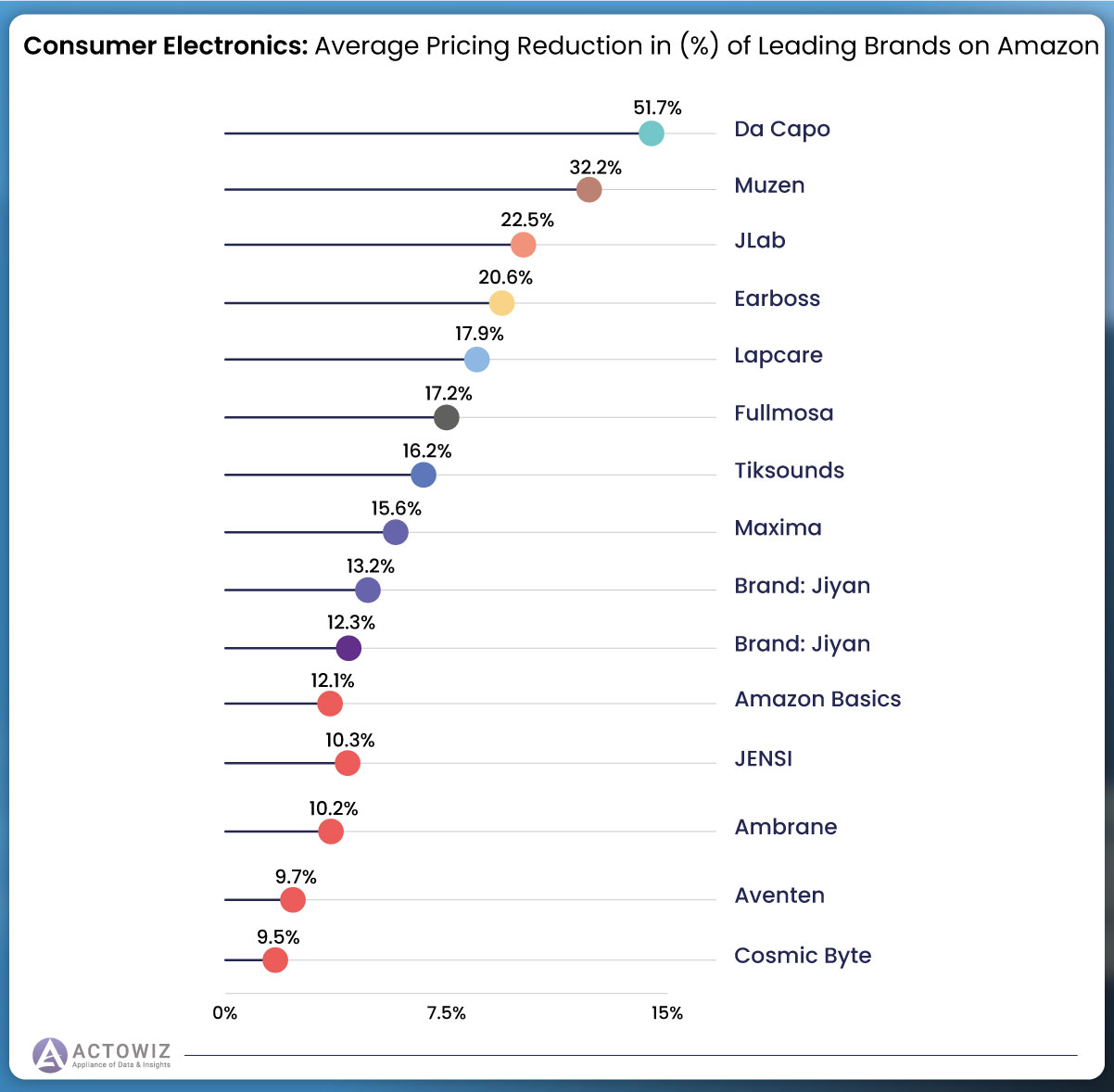 The category of Consumer Electronics boasts a devoted shopper base, yet generic search terms like "headphones," "earbuds," and "tablets" continue to be pivotal for enticing high-intent shoppers and enhancing brand visibility. Consequently, in terms of "Share of Search" metrics, brands like Noise (Smartwatches), Samsung (Smartphones & Tablets), and HP (Laptops) all made significant strides in bolstering their discoverability on Amazon during Prime Day.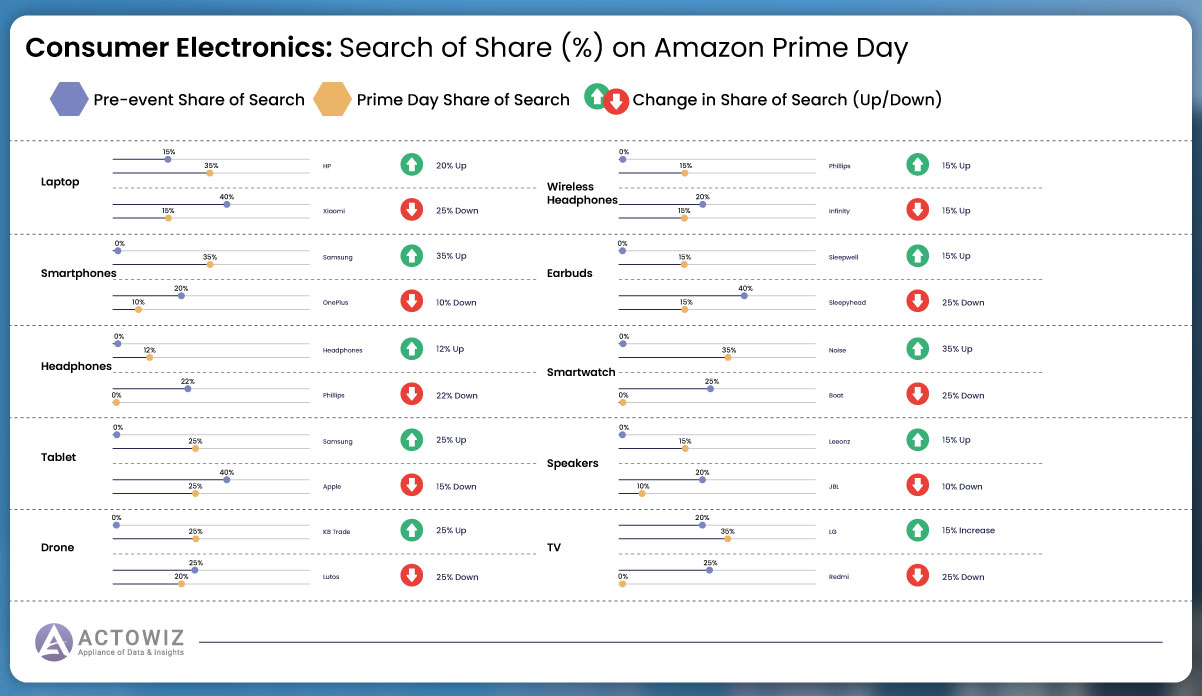 Xiaomi in the Laptops category, Ekko in Earbuds, OnePlus in Smartphones, and Apple in Tablets faced stiff competition from other brands and saw reduced prominence during the sale event.
Health & Beauty
Health & Beauty emerged as the top-performing category in terms of added discounts during India's Prime Day. Our data reveals that Amazon provided an average additional discount of 5.2% on nearly half of its products (45.7%) within this category. In a head-to-head competition with Amazon in this category, Flipkart matched the pace by offering 5.3% additional discounts across 35.4% of its product range.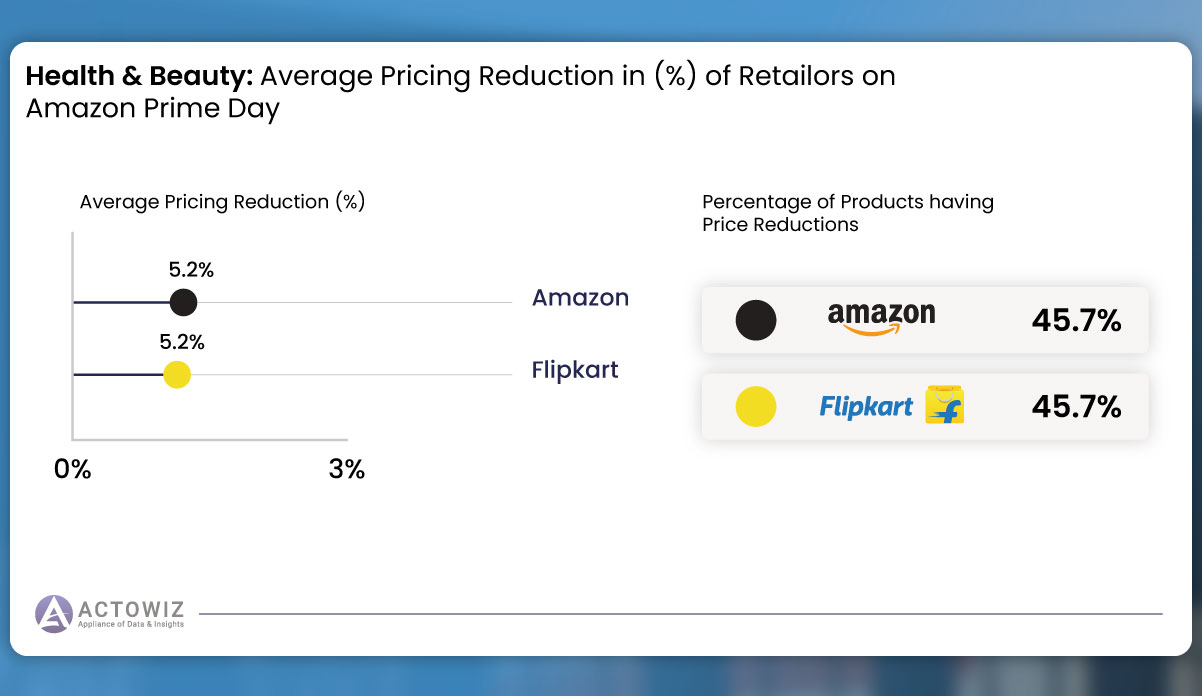 Among all the subcategories subjected to our analysis, products like Sunscreen (7.3%), Make-Up (7.1%), Shampoo (6.3%), and Moisturizer (6.2%) witnessed the most substantial price reductions on Amazon. In contrast, everyday essentials such as Toothpaste (3.1%) and Beardcare (3.4%) received comparatively modest markdowns.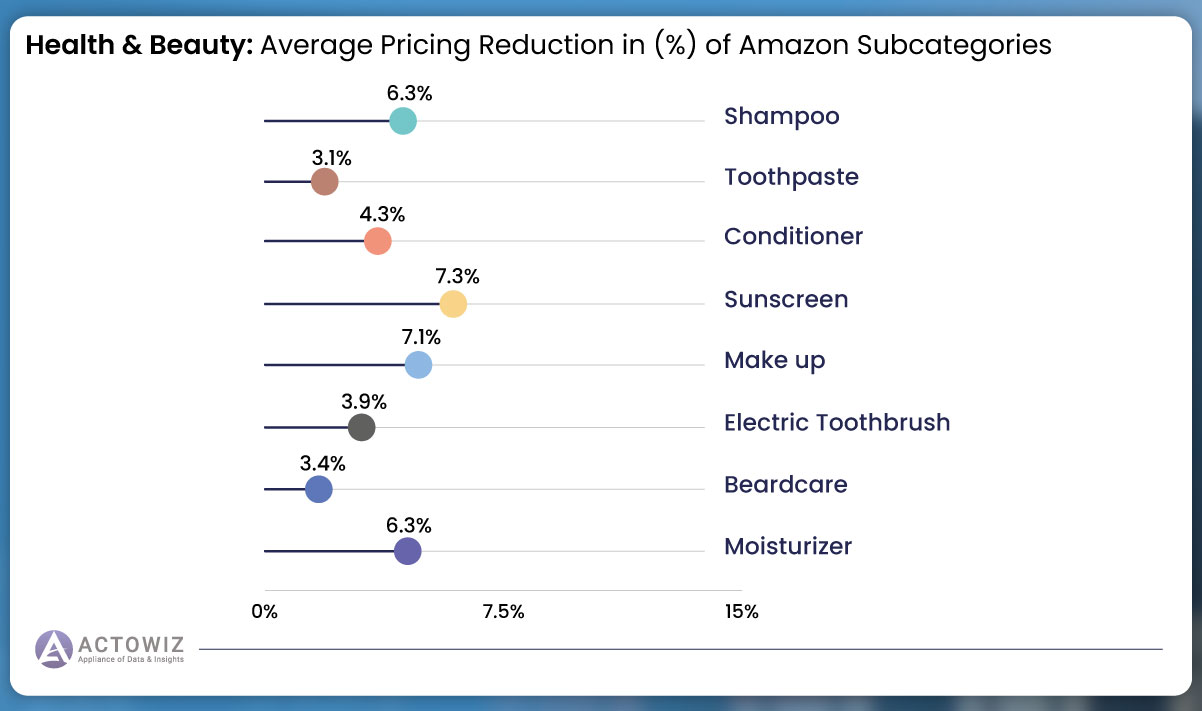 Throughout the sale event, brands such as Sadhev (42.5%), Clear (41.3%), Teenilicious (40.1%), and Coal Clean Beauty (38.1%) stood out by offering the most enticing deals.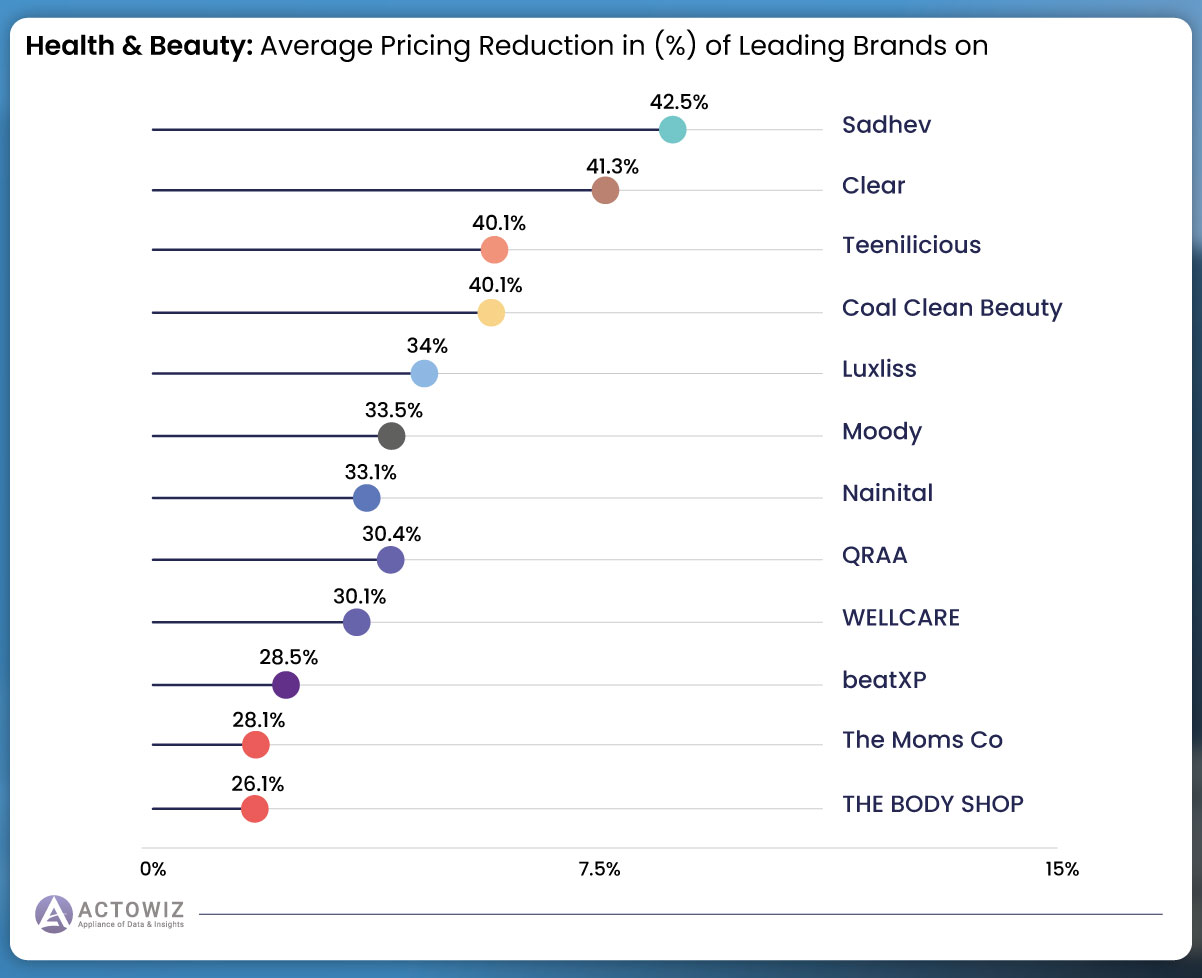 Regarding substantial increases in Share of Search for brands, L'Oreal Paris (Shampoo & Conditioner) category took the lead, closely followed by The Formularx (Moisturizer) and Oracura (Electric Toothbrushes). Furthermore, Ustraa (Beardcare) and Perfora (Toothpastes) achieved remarkable gains, each experiencing a growth of over 10% in Share of Search in the sale event.
Surprisingly, other renowned brands like Swiss Beauty (Make-Up) and Tresemme (Conditioners) and experienced diminished visibility within the top search results for their respective subcategories.
Mastering the Competitive Arena: Strategies for Success in Sale Events
Amazon's astute pricing approach during Prime Day underscores the delicate equilibrium between profitability, inventory management, and competitive dynamics. Access to competitive pricing insights empowers retailers to make judicious choices, fine-tune their strategies, and flourish during these pivotal events. Prime Day represents a pivotal opportunity to stimulate sales, engage new customers, and foster brand loyalty. Consequently, the precise and comprehensive monitoring of competitor prices is a cornerstone for crafting influential pricing strategies.
To gain deeper insights into maintaining a competitive edge during sale events, do not hesitate to get in touch with us today!
You can also reach us for all your mobile app scraping, instant data scraper and web scraping service requirements.